Eric Trump Denies Telling A Sportswriter The Trumps Got Golf Course Funding From Russia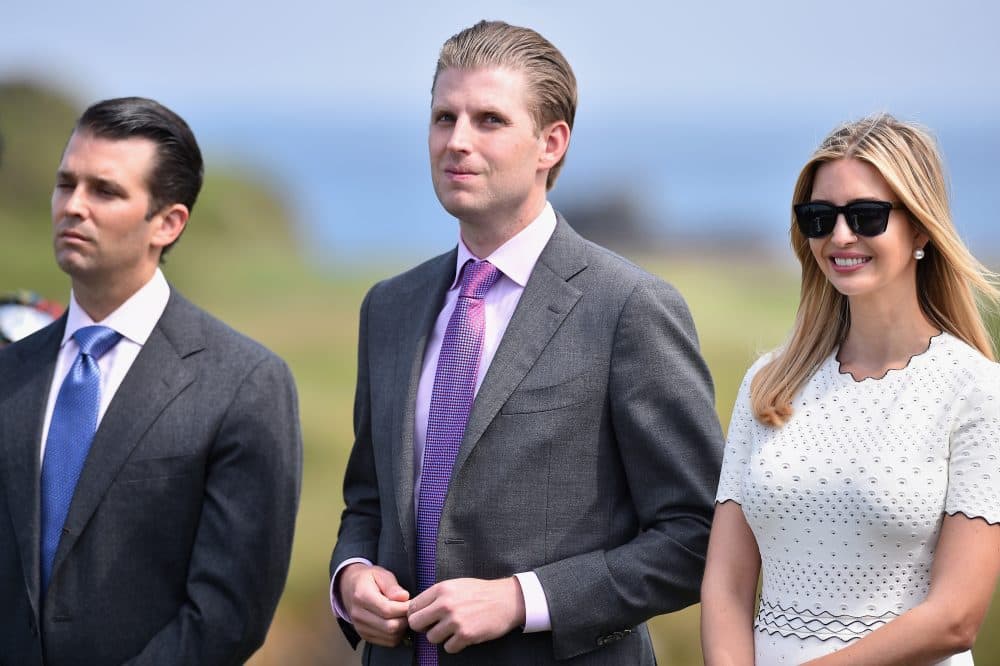 This article is more than 5 years old.
Eric Trump, a son of President Trump, responded forcefully Monday morning to an alleged comment he made to a golf writer in 2013. The comment was shared by the writer on WBUR's Only A Game in a story that published Friday and aired on Saturday.
The golf writer, James Dodson, recalled asking Eric Trump about golf course funding during the Great Recession while at a Trump course in Charlotte, to which Trump allegedly replied: "Well, we don't rely on American banks. We have all the funding we need out of Russia."
The U.S. intelligence community has concluded that the Russian government attempted to influence the presidential election in President Trump's favor, and several members of Trump's campaign had ties to Russia.
Early Monday, Eric Trump tweeted a story in The Hill, on Dodson's comments, and said: "This story is completely fabricated and just another example of why there is such a deep distrust of the media in our country. #FakeNews"
To the New York Post, Trump called the story "complete garbage."
"We have zero ties to Russian investors," Trump added to the Post.
Reached by Only A Game on Monday, Dodson said of the encounter: "That's what Eric said to me. Absolutely. That's the long and short of it, I'm afraid."
Dodson said his memory of that day is "very clear. Very clear."
Dodson said there was no reason to feel this was a "controversial" comment.
"It didn't mean anything to me at the time," he said. "I thought, Good on you! In fact, I think I congratulated him. I said, 'Good. You're the one guy who can find funding for golf courses.' "
Here's the full section of our earlier story:
"[Donald] Trump was strutting up and down, talking to his new members about how they were part of the greatest club in North Carolina," Dodson says. "And when I first met him, I asked him how he was — you know, this is the journalist in me — I said, 'What are you using to pay for these courses?' And he just sort of tossed off that he had access to $100 million."

...

"So when I got in the cart with Eric [Trump]," Dodson says, "as we were setting off, I said, 'Eric, who's funding? I know no banks — because of the recession, the Great Recession — have touched a golf course. You know, no one's funding any kind of golf construction. It's dead in the water the last four or five years.' And this is what he said. He said, 'Well, we don't rely on American banks. We have all the funding we need out of Russia.' I said, 'Really?' And he said, 'Oh, yeah. We've got some guys that really, really love golf, and they're really invested in our programs. We just go there all the time.' Now that was [more than] three years ago, so it was pretty interesting."
Correction: An earlier version of this post relied on a previous comment from Dodson that the golf course conversation with Eric Trump occurred "three years ago," which WBUR took to mean 2014. In fact and after review, Dodson says the events happened in 2013. We regret the error. 
This article was originally published on May 08, 2017.