As Chargers Leave, PR Director Stays In San Diego With Wife, Family
10:03
Play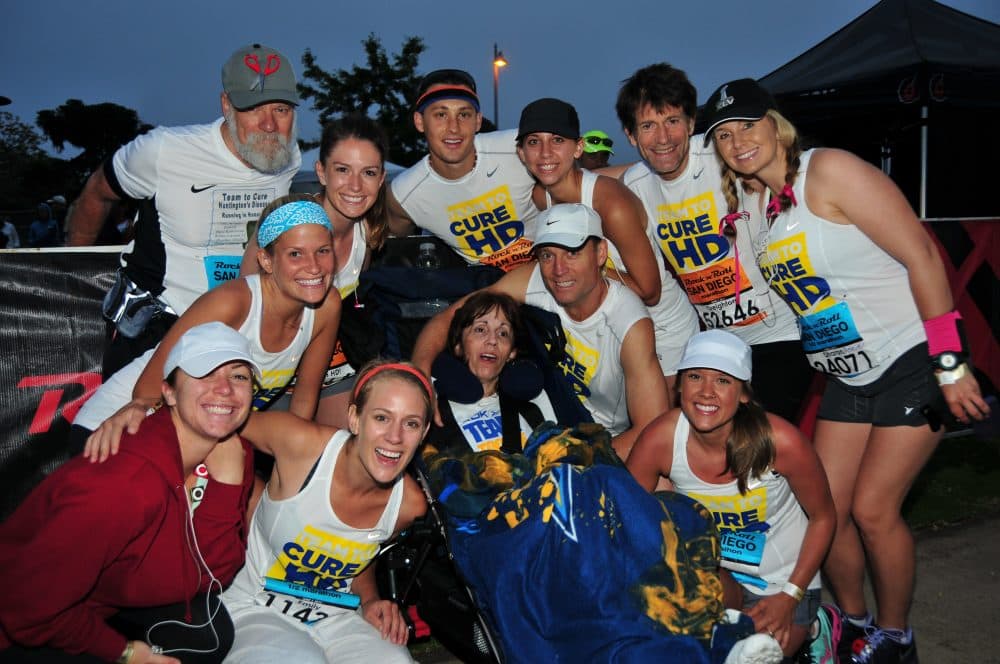 This article is more than 3 years old.
Michael Gehlken's first gig covering the San Diego Chargers was for the website of a local TV station. It paid $15 a story.
"Which barely covered my lunch, whenever I would go to practice," he says.
It was 2010. Gehlken was fresh out of college and wanted to prove he could make it as an NFL beat writer. After two seasons churning out stories at 15 bucks a pop, Gehlken landed at the newspaper he grew up reading: the San Diego Union-Tribune.
He was just 24 years old, covering the biggest team in town for the biggest paper in town. And he got pretty good at it. The job sometimes required bothering people well after dinner time – and this is where a guy named Bill Johnston comes into the story.
"Working with the media, it's 24/7," says Johnston, who started working in the Chargers' public relations department in 1979. "You know, I'll get the texts. But if it's a call, I go, 'Oh, no. Now what?"
Over the past 38 years, Johnston's fielded more than a few late-night calls from Gehlken and other reporters about injuries and arrests, among other things.
But, starting a couple years ago, when Gehlken and Johnston spoke casually, the conversation often turned to the Chargers' potential move from San Diego to Los Angeles. The No. 1 question: If the Chargers decide to move to LA, would you move with them?
"Whenever I would ask, you know, he would kinda quietly just say, 'You know, I'm not sure yet. I've got some things to consider. I've got Ramona.'"
'I Got To Get To Know This Girl'
Bill Johnston met Ramona back in high school.
"I noticed her immediately, because she was a cheerleader. But she was very quiet, very sweet," Johnston recalls. "I go, 'I got to get to know this girl.'"
Bill and Ramona both grew up in San Diego County in the '70s. Ramona was a year younger — the sister of one Johnston's friends.
"I said, 'All right, Huntington's disease. What is this? I gotta look this up.' ...  My heart just dropped, because I'm reading the words 'no cure.' I'm reading 'degenerative.'"

"Bill
When Johnston got his driver's license, he asked her out.
"I think we went out on two dates, and that was the most she would put up with me," he says.
Bill and Ramona ended up at San Diego State University. For years, they didn't talk much. Then, during Bill's senior year, they wound up in a class together.
"I think it was a history of movies class — some bizarre kind of thing you just want to take just to pass. There she is. And, all the times that I had asked her out over the years, I was determined I wasn't gonna embarrass myself again and let her say no. So I kinda played the hard-to-get role, and eventually she ended up asking me out. Two years later we were married."
In 1985, they had a son. Then a daughter in '88. Meanwhile, Johnston was rising through the Chargers' PR department, eventually becoming the director. Everything seemed to be going well.
Until Ramona started having problems.
Huntington's Disease
"She was noticing things, mentally, she couldn't remember how to do — things that used to come so easy for her," Johnston says. "Or just a train of thought — she would lose her ability to focus."

Johnston says his wife sometimes couldn't come up with the words she wanted.
"She also started having a lot of car accidents. I mean, she was never hurt in a car accident, but our cars sure took a beating," he says. "But we both agreed it was time to go see a doctor, and she was very excited about that — to see what was wrong with her. She had no idea."
This was early 1999. For the next few months, the Johnstons visited doctors. No one could figure it out.
Finally, after about six months, one doctor said he had an idea.
"He was hesitant to tell us what he thought,"Johnston recalls. "And then we basically pried it out of him. And he said, 'Well, I think it's Huntington's disease.' And, at the time, we both kinda looked at each other and said, 'Oh, OK. Really? OK.' And it was almost like a little bit of a sigh of relief, because it was the first time somebody had actually said what they thought could be the problem."
The doctor told Ramona to take a blood test, and then the Johnstons went home.
"And I said, 'All right, Huntington's disease. What is this? I gotta look this up,'" Johnston says. "And you go online and you read about it, and I just said — my heart just dropped because I'm reading the words 'no cure.' I'm reading 'degenerative.' And then I'm reading it's a genetic disease where it could be passed down to your children — a 50-50 chance that your children could inherit this gene and this disease. So it was a scary time."
The results from the blood test came in: Ramona had Huntington's.
"I remember standing out front of our house at the time," he says. "Both of us just holding each other and crying 'cause we didn't want to go in the house. We didn't want to face our children with this news. And that was probably the hardest — one of the hardest days of our lives."
Settling Into A Routine
The Johnstons tried to adjust. When climbing stairs became too difficult for Ramona, Bill converted a first floor room into a bedroom.
Huntington's breaks down nerve cells in the brain. And as Ramona lost more control of her muscles, she moved into an assisted living home. Then a skilled nursing home. For the past few years, she's needed a feeding tube. She can no longer walk or talk.
Meanwhile, Bill Johnston developed a daily routine.
"I see her every morning, because she's more alert in the mornings. So I usually get there about 5:30," he says. "They've got her up and watching TV. And so I'll come in, I'll sit and we'll talk — I will do all the talking, obviously. And I'll talk to her as if she knows and understands every word I'm saying. I don't know if she does."
Johnston tells his wife about his plan for the day, the latest on their children.
"I'll just try to talk to her like I would if we were sitting around a breakfast table at home," he says.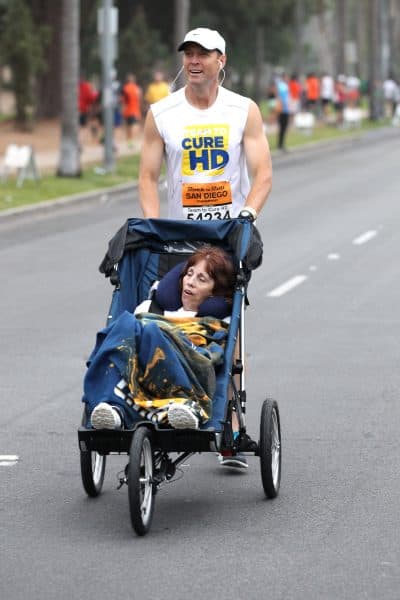 Before he leaves, he turns on one of Ramona's favorite movies. Nurses switch them out throughout the day. Then Johnston goes to the gym or on a run — he runs marathons to raise money for Huntington's disease research. And then he heads to work.
On Fridays, he buys two boxes of donuts — one for his colleagues with the Chargers and one for Ramona's nurses.
For years, that's been his life. Then in January, the Chargers announced that the move to LA was going to happen. The team's employees had to decide whether they wanted to go with the team.
Johnston made some trips to LA. He was looking for a new nursing home. It would have to be in Orange County, in the same neighborhood as the Chargers' future office, so he could still see his wife every morning before work.
He visited seven different facilities.
"It didn't take me long to realize there wasn't anything like what my wife had here in San Diego," he says. "I trust the people where she is, and I just came to the realization that, for her to have the best care and for me to have peace of mind, it was best for everyone if I didn't go with the team."
'I Really Got To Tell This Story'
When reporter Michael Gehlken learned of Johnston's decision, he had a request for the longtime PR director: he wanted to tell Johnston's story in the San Diego Union-Tribune.
Johnston says his initial reaction was no — he always believed it was his role to be behind the scenes. But he thought about it. And eventually he agreed.
So Gehlken and Johnston met at a coffee shop in Mission Valley, and Johnston told Gehlken all about his life with Ramona and his decision to stay in San Diego.
"As a reporter, you start thinking, 'Man, I really got to tell this story. I need to tell this story,'" Gehlken recalls. "And then, two days later, on Monday morning, I received a phone call from my editor-in-chief — a phone call that I was, sort of, expecting at some point. The phone call was, you know, 'With the Chargers having moved from San Diego to Los Angeles and us being a San Diego newspaper, we're going to be dissolving your position.'
"I told my editor, I said, 'Jay, I'm only going to ask for one favor in all of this.' And he said, 'What's that?' And I said, 'You gotta let me tell Bill Johnston's story. People in San Diego need to know that he's up for hire.' And he said, 'OK.'"
So Michael Gehlken's final article for the San Diego Union-Tribune ran three days after his last day on the job. It was the story of Bill and Ramona Johnston. The headline: "Love Keeps Longtime Chargers PR Director at Home."
It ended like this:
He knows he'll find comfort in the belief that while he's in the office, Ramona is there, receiving the best possible care. San Diego is home for her. San Diego is home for him.
'When Might You Be Available?'
"I started hearing from people — a lot of people saying, 'Congratulations on the decision.' A lot of people saying, 'I'm sorry to hear it,'" Johnston says. "And then a lot of — you know, I was getting some people asking, 'Well, when might you be available? Would you be interested in this or that?'"
Johnston says he hasn't yet settled on his next job. But he feels good knowing there are opportunities that will keep him near his wife.
He'll also be near his two children. They're both adults now living in San Diego. Johnston's son has gotten tested for the disease — he doesn't have it. Johnston's daughter has decided not to get tested.
Michael Gehlken has already found a new job. Last month he started covering the Raiders for the Las Vegas Review-Journal.
He says he will keep in touch with Johnston — though he no longer plans to bother him after dinner.
"It will be more of those afternoon, morning check ins," Gehlken says. "But, yes, I definitely am confident that Bill and I will keep in touch."
This segment aired on June 3, 2017.