3 Stories: Back Pain, Olympics 2024/2028, Mr. Met's Middle Finger
09:43
Play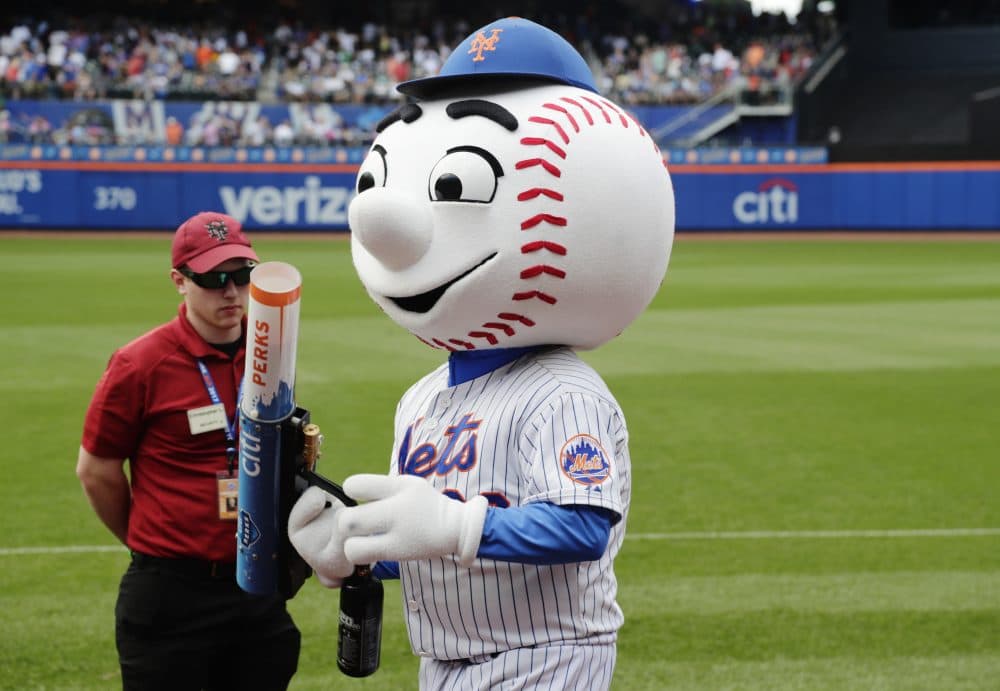 This article is more than 4 years old.
Life for the New York Mets doesn't appear to be getting any easier. About one-third of the way through the MLB regular season, they sit about a half-dozen games under .500 — and their mascot gave the middle finger to some fans during a home game this week.
Controversy in Queens — that and more on this week's edition of "3 Stories You Should Know." Rachel Bachman of the Wall Street Journal and Craig Calcaterra of NBC Sports joined Bill Littlefield.
1. How Athletes Deal With Back Pain
Tiger Woods and Steve Kerr are just two of the latest examples of athletes who have suffered from chronic back pain during their careers. Woods says his recent DUI was caused by a mix of prescription meds, and Kerr has missed months of coaching as a result of a surgery from two years ago. How should athletes — and all people — go about alleviating pain? Rachel Bachman sets up the conflict.
Their stories really highlight this awful dilemma that millions of Americans face, and that is to treat chronic back pain with heavy-duty and potentially addictive drugs or undergo the knife — or, what some people are faced with, essentially doing both.
2. IOC Looking Toward Paris And LA
The International Olympic Committee is eyeing Paris for the 2024 Games and Los Angeles for the 2028 Games, according to an article in the Wall Street Journal. The deal would reportedly give the U.S. and LA organizing committees financial assistance from the IOC as well as funding for youth sports programs in the city in return for waiting four years to host the Games. Bill Littlefield thinks he knows why the IOC would go this route.
If true, this would be the first time the IOC has named two Summer Olympics hosts at once ... With more cities wising up — almost all of them, in fact — the IOC is desperate to lock in two major cities while there are still two major cities willing to be locked in, perhaps even enthusiastic about being locked in.
3. No More Mr. Nice Met
During the New York Mets' 7-1 loss to the Milwaukee Brewers on Wednesday night, the home team's mascot, Mr. Met, made an obscene gesture at several ballgame goers. As a result of flipping off the fans, the Mets initially fired the man who was dressed in the costume.
But then, as people expressed sympathy for the mascot, the Mets changed their mind and only reassigned the employee. Craig Calcaterra sees a lesson for sports teams in all of this.
If you had to go into an office every day where things were going as badly for you as they were going for Mr. Met, you might flip somebody the bird, too ... And I think the lesson here is that when sports teams and sports leagues go on to level discipline for bad behavior, it's not really about what's right and what's wrong, or how bad ethically or morally the behavior is. It's about what the fans are willing to tolerate.
More Stories You Should Know
This segment aired on June 3, 2017.