'A Life On The Flip Side': A Boy, A Hoop And A Future NBA Coach
Play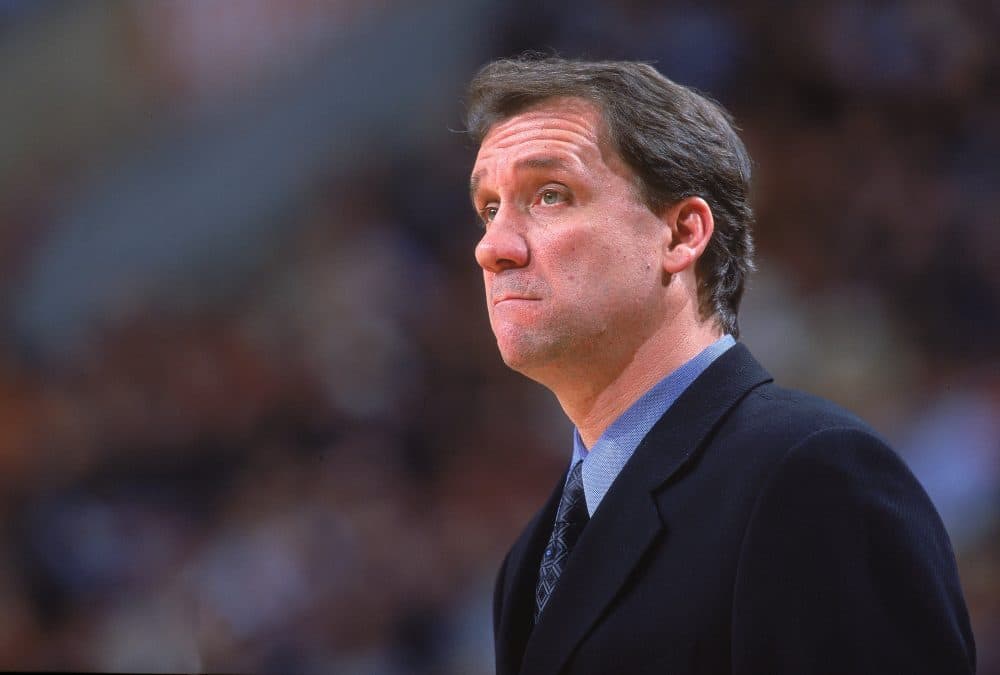 This article is more than 5 years old.
Former NBA coach and executive Flip Saunders died of cancer on Oct. 25, 2015. He was 60 years old.
Before he led the Minnesota Timberwolves and the Detroit Pistons, Saunders coached at Golden Valley Lutheran College. And it was then that he gave a couple of "hoop-crazed" kids a chance to play basketball on his backyard court.
Over the years, SI's Steve Rushin and his friend Mike McCollow became close with Saunders. So close that Saunders once introduced Rushin to basketball great Kevin McHale by saying, "Have you met Rush? I got him his job at Sports Illustrated."
In his column "A Life On The Flip Side," Rushin remembers Flip's career in coaching and the tinfoil basketball trophy that "changed lives."
To hear our "Double Play" of Steve Rushin's column, "A Life On The Flip Side," click the play button next to the headline at the top of the page. You can also read it below. Thanks to our actors: Tom Berry, Rob Mattson and Jamie Bologna.
Looking for more from our "Double Play" radio theater series? Find more stories here.
A Life On The Flip Side
By Steve Rushin
You never forget your first felony. Mine was mail tampering. As a hoops-crazed 13-year-old, I rifled through a new neighbor's mailbox to confirm that the occupant of the split-level on 98 1/2 Street in Bloomington, Minn., really was former Gophers basketball star Flip Saunders.
Then my brazen best friend, Mike McCollow, dribbled for hours in front of Flip's house, hoping the homeowner would come outside, if only to make the noise stop.
When that failed, we shot basketballs against the streetlight pole on Flip's corner, even though it had no hoop. The endless parade of air balls that followed was more than Flip could abide and — after several torturous evenings — he finally came out with his hands up. We had smoked him out of his hole.
By then, Flip was a 24-year-old coaching prodigy at Golden Valley Lutheran College, where his teams would go four full seasons without losing a home game. Yet he did an extraordinary thing: He invited us to shoot hoops in his backyard.
It was a concrete half-court overlooked by the luxury suite of a small deck. We called him Flip, and he called us Mike and Rush — or more accurately, Mike&Rush, a single entity joined by an ampersand, always two feet behind him, like backup singers. We were Flip's Pips.
On Flip's court, we organized an annual, all-day, two-on-two tournament in which a couple of lucky teenagers (Mike&Rush) got to play with and against NBA players (like Houston Rocket Jim Petersen) at a time when teens and NBA players were not one and the same.
An aspiring writer with a weakness for wordplay, I suggested we call our shindig the Saunders Hoop Invitational Tournament, whose acronym Flip gleefully scrawled on a piece of white trainer's tape and adhered to the trophy, which he made from a Cool Whip tub and Nerf ball wrapped in aluminum foil.
And thus was born the SH*T, at which, on June 23, 1984, play was suspended every time Ryne Sandberg, our athletic ideal, hit for the Cubs. On the Game of the Week, against the Cardinals' Bruce Sutter, Ryno hit two game-tying homers that day.
When we got older, Flip and Mike ran small basketball camps all over Minnesota, with a talent show on the last day, when Flip might close the show by dancing to Billie Jean, with steps choreographed by his wife, Debbie, an alumnus of the dance line at the University of Minnesota.
Flip was chasing ballers, not dollars. When he became the coach of the CBA's Lacrosse Catbirds and Mike was assisting him, I visited them in that Wisconsin city, happily the home of the G. Heileman brewery, maker of affordable tipples like Old Style and Special Export.
After the Catbirds won the '92 CBA title, his players cranked Boyz II Men's "Motown Philly" on the bus and Flip danced the Robot in the aisle. "I can't imagine a happier human being," Mike says.
In 1995 Flip was hired to coach the Minnesota Timberwolves by his former Gophers teammate Kevin McHale, to whom he once introduced me after a Wolves summer league game. "Have you met Rush?" Flip said. "I got him his job at Sports Illustrated."
It's true, in a way. In high school I wrote a letter to SI about the SH*T, and basketball writer Alex Wolff wrote me back, starting a correspondence that led to my job.
I was at the Western Conference finals in 2004, and Flip called to me from the Target Center court before warmups one game: "Hey, Rush, you think the winner of this thing gets a Cool Whip tub covered in tinfoil?
This season, when Flip became coach of the Detroit Pistons, I felt — not for the first time — something like paternal pride, but in reverse. Call it protégé pride.
Mike, still my best friend, has now coached in Division I, Europe and the NBA. And he owns a successful sporting goods concern in Minneapolis.
Flip and Debbie now have four kids, the oldest a sophomore guard at Minnesota. His name is Ryan, a nod to the immortal Ryne Sandberg.
And me? You'll forgive me if I openly rooted last week for the Pistons — playing Miami in the Eastern Conference finals — to win one for the Flipper. Not that it really matters. In the scheme of things, he's already won.
This spring, as Flip was leading the Pistons to their best-ever record, he sent me a congratulatory note — for winning a writing award. "You've come a long way from the SH*T," he wrote.
And while he fervently wants the Tiffany trophy that goes to the NBA champs, Flip knows what Mike and I do: A Cool Whip tub wrapped in tinfoil can change lives too.
This segment aired on June 10, 2017.