Dancing With The Athletes: When Sports And Dance Collide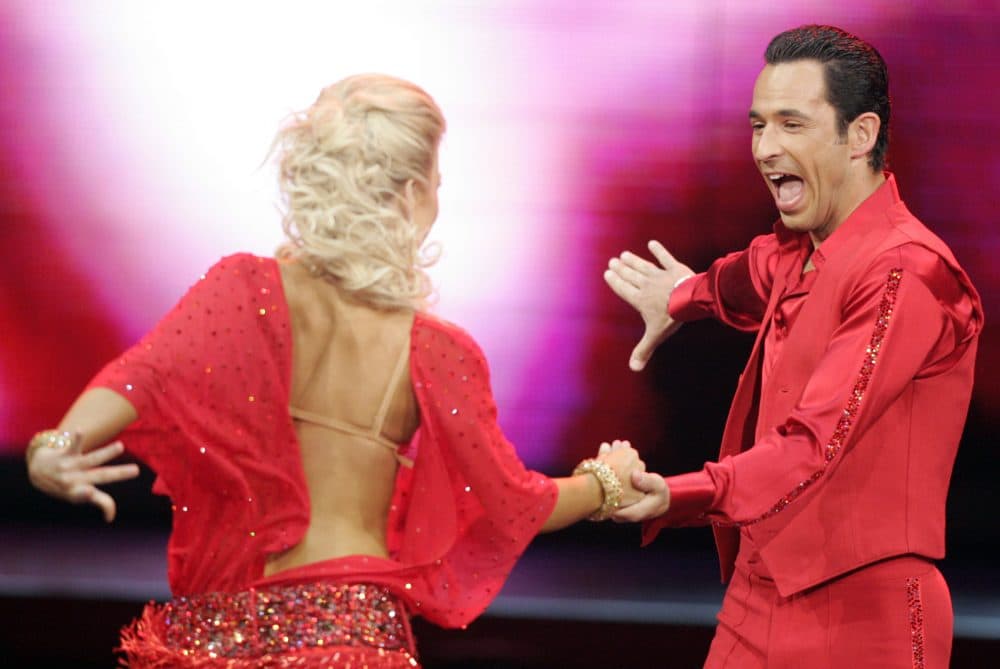 This article is more than 5 years old.
Like sports, dancing requires dexterity, athleticism and timing. So it's no surprise that professional athletes have dominated the hit TV show Dancing With The Stars. In the show's 24 seasons, athletes have won 10 times. Olympians and NFL players fare especially well, with nine combined championships.
Here are the 10 athletes who have won Dancing With The Stars:
Emmitt Smith
Emmitt Smith, the NFL's all-time rushing leader, couldn't help but sing along and grin during his samba with Cheryl Burke. He received perfect scores in the samba, mambo, rumba and Cha-Cha-Cha en route to becoming the DWTS Season 3 champion.
Apolo Ohno
Eight-time Olympic speed skating medalist Apolo Ohno left the ice behind to turn up the heat with partner Julianne Hough in their Cha-Cha-Cha. Ohno went on to win Season 4 of DWTS.
Hélio Castroneves
Three-time Indy 500 winner Hélio Castroneves was almost as fast to pick up dancing as he is on the racetrack. Though his jive was not his best dance according to the judges, Castroneves left it all out on the floor, starting the dance on a sprained ankle and finishing with ripped pants and a bloodied knee.
Kristi Yamaguchi
Olympic figure skating gold medalist and DWTS Season 6 champion Kristi Yamaguchi took it slow with a rumba to John Mayer's "Say What You Need To Say." That decision clearly paid off, as she and partner Mark Ballas put on a romantic show for the audience.
Shawn Johnson 
Olympic gold medal gymnast Shawn Johnson and partner Mark Ballas hopped, skipped and flipped their way to a Season 8 championship in the freestyle dance for the season finale.
Hines Ward 
Super Bowl XL MVP Hines Ward may not have been the biggest or fastest receiver in the NFL, but his strength and quick feet were more than enough to secure a place among the greatest all-time NFL receivers. In DWTS, Ward's technique and smooth footwork stole the show, as he and partner Kym Johnson sambaed to the top of Season 12.
Donald Driver 
Donald Driver showed off his NFL-caliber strength by throwing partner Peta Murgatroyd into the air and catching her as if she were no heavier than a football. Projecting a football field onto the stage for a freestyle dance set to Cowboy Troy's "I Play Chicken With A Train" was an interesting choice, but this dance was credited with putting the pair over the top in Season 14.
Meryl Davis 
Olympic ice dancer Meryl Davis and her partner Maksim Chmerkovskiy's intimate freestyle dance in the Season 18 finale prompted judge Carrie Ann Inaba to say, "I think you guys should get married." Davis' Olympic form was on display during one particularly impressive aerial maneuver at 1:14.
Laurie Hernandez
Olympic gold medal gymnast Laurie Hernandez is DWTS' youngest champion. Her partner, Valentin Chmerkovskiy, was starstruck at their first meeting. In their Cha-Cha-Cha, the chemistry between the two is unmistakable, and it's hard not to love Hernandez for grinning the entire dance.
Rashad Jennings
Rashad Jennings played three years for the New York Giants before teaming up with dancer Emma Slater. Together they won Season 24, the most recent season of DWTS. Jennings showed off his athletic physique, slowly twirling Slater around the floor with his shirt wide open, in this contemporary dance with an emotional finish.