Chess And The Hijab: Iran's Dorsa Derakhshani Finds Her Way
Play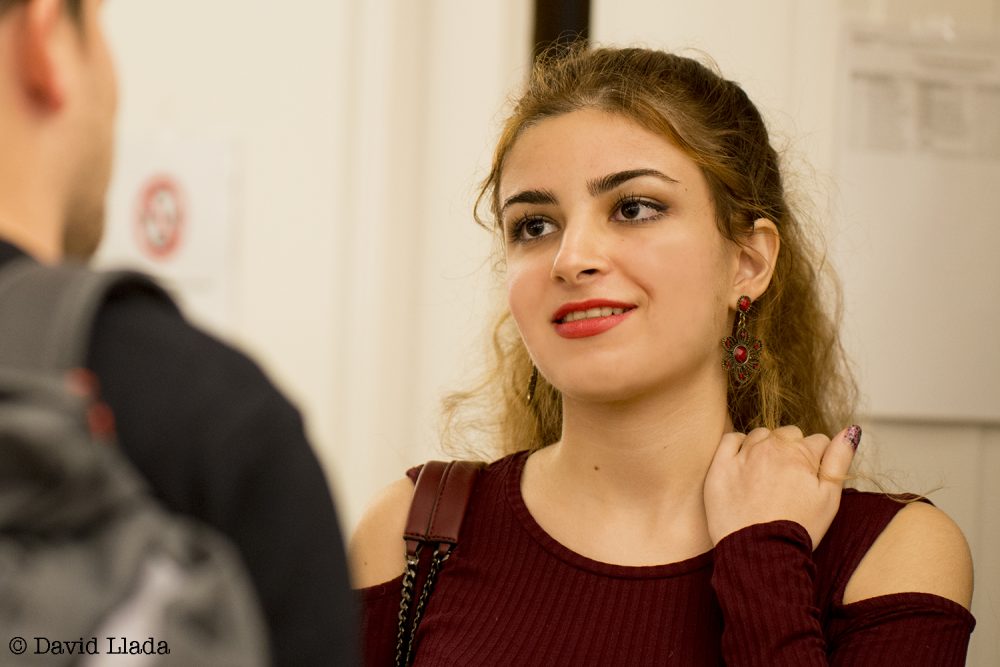 This article is more than 5 years old.
On Feb. 19 of this year, Dorsa Derakhshani found herself at the center of a controversy. She didn't see it coming. 
But this story begins a few years earlier than that. OK, a lot of years earlier. 
---
The year was 2000. Dorsa was 2, and appearing on a children's television show.
Dorsa wears a red velvet dress with puffy sleeves and dark tights. She's tightly clutching a stuffed puppy, so the interviewer holds the microphone for her. Dorsa breaks into song, with the poise of seasoned performer, and the studio audience applauds.
Story continues below
Subscribe to the podcast
The camera cuts to the audience. Most of the girls are sitting in the back, many are wearing headscarves. Dorsa's head is uncovered.
Dorsa was born in Tehran in 1998. And this is just one of many times she appeared on Iranian TV. This time, she reads a story from a children's book. It's not the broken staccato of many early readers.
"My mom used to make up stories everyday, just to teach me one word," Dorsa says. "And then she would write that word down on a card and show it to me. And I would learn that word. So I finished first grade when I was 2 years old."
"In the United States, first grade would be finished when you're 6 or 7," I say, "and most first graders can basically read. Are you saying you could read at the age of 2?"
"No," Dorsa says. "I could read when I was 1 1/2. But I finished first grade when I was 2."
Dorsa's television career as a child prodigy was never going to last forever, but it ended abruptly when she was 6.
"They made me wear a scarf against my will," says Dorsa, "and I thought that that was pretty stupid, because, 'Well, I'm 6. Why would I need to wear a scarf?' So I ruined the live TV and I ran out. Then they told me that whenever I changed my mind, I can go back. I never did, so I never went back for the TV.
"I finished fourth grade when I was 4 1/2. Math, science, everything. But the government never had anybody else who managed to finish those grades so quickly, so there was no protocol.  So I had to go to first grade when I already finished fourth grade. So my parents tried to fill my time with other things like music, swimming, ballet, gymnastics, painting."
Right next door to her painting class was a chess class. Dorsa decided to join. Her younger brother came along too, milk bottle in hand.
'I Came Out Of Nowhere, And I Won The Tournament'
"Was chess different than most of the other things you were learning because it was so difficult?" I ask.
"Yeah, chess was really different, because you are actually playing with a live human being," Dorsa says. "I mean, even in swimming you are doing your skills, but it's not really a fight. Or in studying, just, the more you study, the more it pays off. In chess it's not like that. I mean, you can't be 100 percent ready and sure that you play good when you go to a tournament."
Dorsa's first big success came in the Iranian national youth under-8 tournament.
"It was a big surprise for everyone, because there were players who already had private coaches and they came to win," Dorsa says. "I came out of nowhere, and I won the tournament. I remember that everybody else was wearing a scarf, even under 8. But I wore a princess dress and a tiara. And it was really cute.
"I didn't really have a female chess role model, and even if I wanted to, there were no Iranians to look into and be like, 'Oh, I want to be like this girl.'"
Dorsa went on to win three straight gold medals at the 2012, 2013 and 2014 Asian Junior Championships. In the numerical chess ratings lists, Dorsa was at the top for all girls in Asia.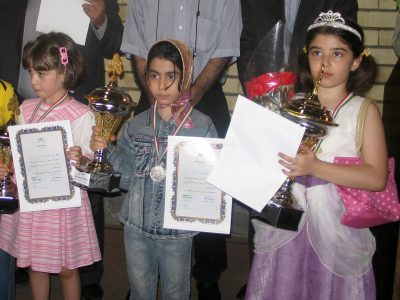 "When you played in these tournaments, did you wear a headscarf? And when did you choose to either do so or not do so?" I ask.
"Well, actually, in Iran, there is no rule that when the girl is 8 or 10 years old, she has to wear a scarf," Dorsa says. "So between 10 until 12, the girls start to want to wear one, because everybody else is wearing one. But I tried to delay as much as possible. So I wasn't wearing the scarf up until I was 12. And when I entered under 13, I decided, 'OK, it's time that I start wearing the scarf.'"
Dorsa says the head of the Iranian Chess Federation, Mehrdad Pahlevanzadeh, often saw her at tournaments without a headscarf.
"I remember, actually, he told me and everybody else that how you wear the hijab doesn't matter. Just don't get photographed," Dorsa says.
'I Felt That It Was Very Unfair And Cruel'
I first met Dorsa at the Chess Olympiad in September 2016. She was attending as a journalist, not a player. The tournament was in Baku, the capital of Azerbaijan, a country that is 98 percent Muslim. She did not wear a headscarf at the tournament or on the street. I've never seen her wear one.
Dorsa no longer had much desire to compete for her country. She explains the decision this way:
"If they're actually giving services to me, like coach, training, tournaments, money, anything, then I would feel responsible to do as I'm told. I chose not to use government money, so the rules don't apply to me."
"How did you first find out that something had happened?" I ask.
"How did I find out? That's very funny. I was traveling, and I didn't have internet connection. When I connected to Wi-Fi at first, I started getting about three requests per second on Instagram. So I was, like, 'OK, this is crazy.' Something must have happened, but I didn't know what. So I just blocked Instagram notifications, and I slept. And the next day when I woke up all of my high school friends asked me, 'What did you do? Are you OK? Did they jail you?' And I was, like, 'Wait, what's going on?' So they told me that they saw on newspaper that my federation banned me--my brother and I, actually, both of us. It was just very out of the blue and without any warning, without anything."
Dorsa and her brother, Borna, played an international tournament in late January and early February in Gibraltar. A computer decides the matchups, and in the opening round, 14-year-old Borna was paired with grandmaster Alexander Huzman. Borna played the game, but there was one problem. Huzman represents Israel, a fact that the pairings sheet didn't show. Tournament organizers usually manually manipulate the pairings to avoid these matchups, but for this one, the organizers apparently forgot.
A few weeks after the tournament ended, Mehrdad Pahlevanzadeh announced that Borna was banned from both playing for Iran and entering tournaments inside Iran. In the same press conference, he also banned Dorsa for not wearing a headscarf.
"I didn't have any problems for myself because I was not living in the country, but somehow I felt that it was very unfair and cruel," says Dorsa. "They should not assume that a 14-year-old would know what's the right thing to do."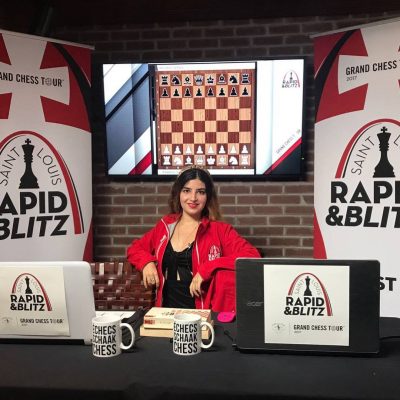 Dorsa has a theory. She believes the action against her and her brother was a tactic to divert from other news. The announcement came in the middle of the Women's World Chess Championship, which was being held in Tehran.
Several notable players, including the reigning U.S. women's champion, boycotted the event because players were required to wear a headscarf. All three Iranian women competing had just been eliminated in the opening round. The federation was also on shaky financial ground with FIDE, the international governing body of chess.
"So in the middle of all this, they needed another distraction. And somebody tipped off the reporters to specially ask about my brother and I, which worked perfectly," Dorsa says. "Everybody started talking about us."
I attempted to contact Mehrdad Pahlevanzadeh, the head of the Iranian Chess Federation, for comment. But he hasn't responded.
Moving On From Iran
Dorsa doesn't give interviews to Iranian media. She no longer trusts that her words won't be used out of context. She was already living in Spain by the time she was banned. Shortly thereafter, her brother began attending school in England. Her parents stayed behind in Iran.
"My family didn't want to become refugees or anything," Dorsa recalls. "I mean, there was a time when I was considering to offer it to my brother, but then a 14-year old becoming a refugee, that's just — that's not even sad, it's just all of the negative emotions all together. So, fortunately, we never actually had to consider it seriously. His student visa came earlier than expected, and he moved."
Dorsa had mixed results playing in tournaments this spring all over Europe. This July, she moved to the U.S. after being accepted to the chess team at St. Louis University. She said there were no problems when she landed in New York and cleared immigration.
"I'm hoping to become a dentist," Dorsa says. "I'm looking forward to finally having a stable trainer and a team, and I really wish to become grandmaster."
---
Earlier this month, Dorsa officially changed federations. She now represents the United States at chess tournaments.
This segment aired on September 30, 2017.