Steinholding, Cheese-Rolling And More: When Food, Beer And Sports Clash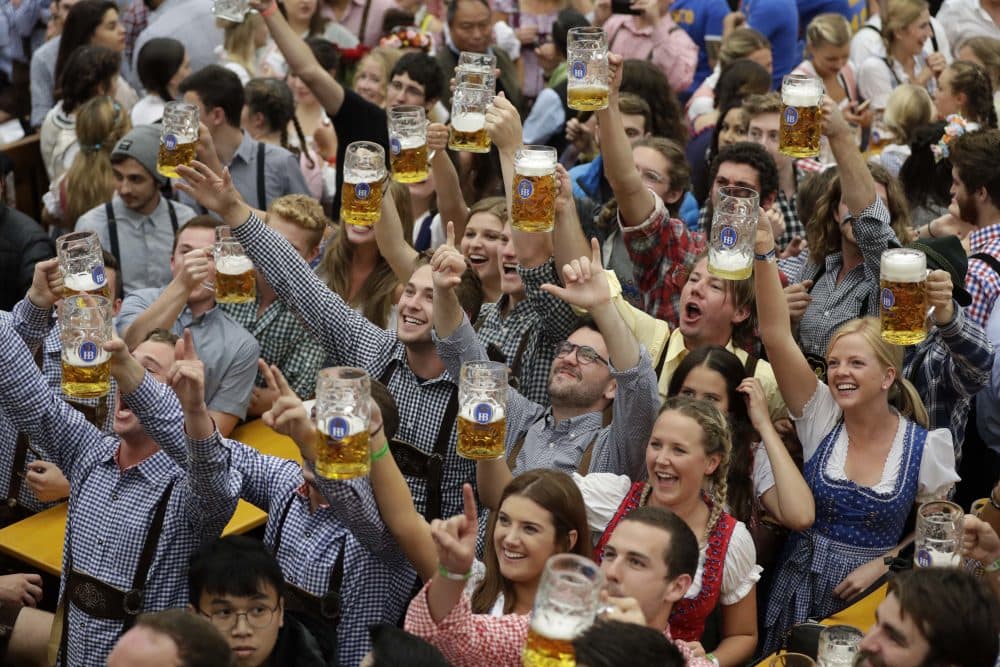 This article is more than 3 years old.
For sports fans, October means the MLB playoffs, the start of the NHL and NBA seasons and more NFL. But it also means the return of some classic fall treats — pumpkin pie, apple cider (and apple cider donuts) and seasonal beers.
And for some food and sport junkies, it means a combination of the two: food and drink competitions. Not contests that pin competitive eaters against one another in a battle to see who can eat the most (we've all seen a pie or hot dog eating contest). Instead these competitions mix athletic endurance with seasonal and regional specialties.
Favorites from fall include steinholding and sausage throwing. But these got us thinking about all of the other events throughout the calendar year that bring out the competitive — and culinary — spirit.
Steinholding And Beer-Carrying
Take the steinholding contest, also known as Masskrugstemmen. Folks flex their muscles and test their arm strength by holding a pitcher out in front of themselves for as long as they can. And in the U.S., it's not just one event; it's an association. Every fall, breweries and bars across the country host their own steinholding contests. (The U.S. Steinholding Association has a map to help find an event near you).
But steinholding isn't the only beer-related test. There's also beer carrying, a challenge for beer-lovers who look to break records, not glasses.
This past September, Oliver Strümpfel of Germany carried 29 beer steins in his hands — sans tray — down a 40-meter walkway. Strümpfel accomplished the feat at the Gillamoos Fair in Abensberg, in Southern Germany. It broke his previous world record of 25 steins.
Cheese-Rolling
Meanwhile, in Gloucestershire, England, thrill-seeking foodies take to a different sort of challenge, one that also incorporates a local specialty — cheese.
Every May, participants in the Cooper's Hill Cheese-Rolling and Wake chase a single wheel of cheese down a remarkably steep hill, somersaulting and toppling over in attempts to reach the bottom first.
The event has become tradition in Gloucestershire, dating back to 1826, though some believe that Gloucestershire cheese-rolling has its origins in a pagan tradition. Today, the event attracts thousands of spectators and dozens of participants. And the winner? Well, they get to keep, and presumably eat, the wheel of Gloucester cheese.
Sausage Throwing And Pudding Tossing
The Harwich Sausage Festival contest takes place in Essex, England. It's an event where participants hurl sausages as far as they can, some managing heaves of up to 150 feet.
And just north of Essex, in the village of Ramsbottom, outside Manchester, contestants at the World Black Pudding Throwing Competition take aim at Yorkshire puddings perched atop high platforms. It's best understood as throwing pudding at ... more pudding. Contestants try to throw "black pudding" — a mixture of pigs' blood, fat and rusk encased in pig intestine — at the Yorkshire puddings above.
Rolling In The Grits
The city of St. George, South Carolina, claims to eat the most grits in the world, and subsequently, every April, it hosts the World Grits Festival. But the festival is not just about eating grits.
The Rolling in the Grits Contest has been a staple of the festival since 1985. In this sloppy event, contestants have 10 seconds to roll around in a pool of instant grits. Their goal is to collect the most grits on their body — in their shirts, pants, pockets, and mouth as possible in the allotted time. The world record? Sixty-six pounds worth of grits, accomplished by Tiffany McGirr in 2015.
Tomatoes ... Everywhere
But the event with the most participants — and the biggest mess — is tomato-throwing.
It's called La Tomatina. It's an annual festival that takes place every August in Buñol in eastern Spain. This year, 22,000 people took part in the event, throwing an estimated 150 tons of fresh tomatoes. It's not so much a competition as an experience. No winners. No losers. Just a lot of clean up.
La Tomatina got to be so big that in 2015, festival organizers started charging for admission. But that didn't stop participants from painting the town red.