New Nike Uniforms Rip Through The NBA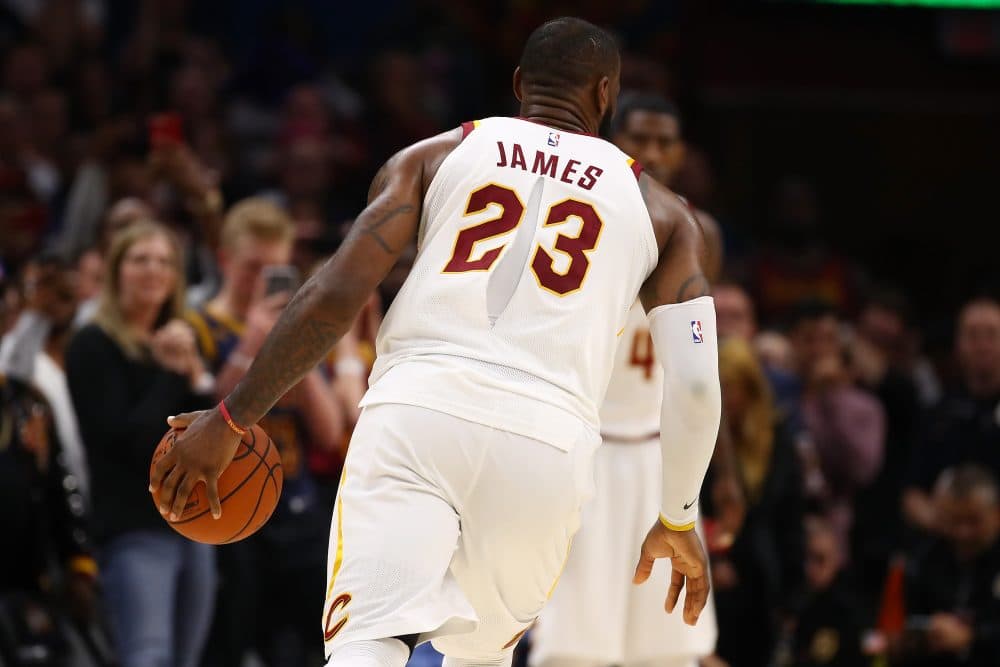 This article is more than 3 years old.
Tuesday marked the start of the 2017-18 NBA season. And it featured two big games — a conference finals rematch between the Celtics and Cavs and a highly-anticipated matchup between last year's NBA champion Warriors and the newly improved Rockets.
But it wasn't just the season opener for the players and coaches.
It was also the regular season debut of Nike's new 'Statement' edition uniforms, which replace the Adidas uniforms worn by players in recent years. The new jerseys feature Nike's trademark swoosh above the team logo. And on the opposite shoulder, teams can opt to feature, for the first time ever, corporate logos, similar to those in professional soccer.
And as teams across the league showcase their new looks, one concern has emerged. It was brought to national attention during the Cavs' season opener on Tuesday.
With under a minute to play in the fourth quarter of Tuesday's game, Celtics small forward Jaylen Brown reached for Cavs forward LeBron James. The back of LeBron's jersey was torn in two, right along the numbers.
And this wasn't the first time a Nike jersey has ripped. During the preseason, Lakers guard Tyler Ennis and Nuggets center Nikola Jokić also fell victim.
Ripping Off The Sleeves
But ripped jerseys aren't entirely new to the NBA.
Four years ago, Adidas (then the NBA's apparel partner) added sleeves to some jerseys. Part of the idea was to increase jersey sales.
But not all players were keen on the idea. It seemed the sleeves may have prevented optimal arm movement.
And in a game against the Knicks, LeBron didn't wait for his jersey to be torn — this time, he did the ripping himself.
But the sleeved-jersey era seems to have come to an end, as Nike plans to stick with sleeveless jerseys.
The new Nike jerseys have already made it onto the cover of NBA 2K18. Whether they'll stay on the players in real life remains to be seen.