Messed-Up Rims And 'Magic': The Story Behind The NYC Style Of Basketball
Resume
The West 4th Street Courts in Manhattan's Greenwich Village are wedged between Sixth Avenue and a handball court.
Also known as "The Cage," this is one of New York's most famous outdoor basketball venues. That's where I met Antoine.
"I been playing here for a couple months, but I been playing ball across the City my whole life. That's 22 years," Antoine says.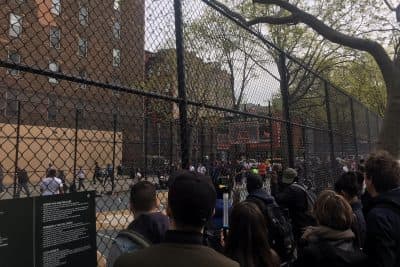 Like a lot of New Yorkers, Antoine thinks people here play a unique style of basketball.
"All of us wanna be scorers and all of us wanna hit you. Getting hits means you got crossed over. We wanna make you touch the floor. All of the offense. Basically, offense is just New York City. Period," Antoine says. "We might not play too much defense, though."
"What about shooting?" I ask.
"Shooting? Yeah, we care about shooting, but I noticed a lot of New York dudes like going to the basket more," Antoine says.
For years, that has been the perception: New York City produces hard-nosed guards — slick dribblers who would rather fight their way to the basket for layups than take a jump shot from beyond the 3-point line.
"It's no secret that New York City doesn't put out the type of talent that it used to."

Jason Curry
In the past, point guards from New York City such as Mark Jackson, Tiny Archibald, Lenny Wilkens and others have relied on that style to stand out at the NBA level.
But recently, there haven't been as many elite point guards coming out of New York.
"It's no secret that New York City doesn't put out the type of talent that it used to," says Jason Curry, founder of Big Apple Basketball, a group that hosts local tournaments and clinics.
Could the New York City style of play be partly to blame for this decline? And where does that hard-nosed style come from?
The story of one player helps answer both questions.
The Story Of Sundiata Gaines
Sundiata Gaines grew up in Jamaica, Queens, and Fort Greene, Brooklyn, during the '90s. Gaines starred at Archbishop Molloy High School in Queens and hoped to make the NBA.
In high school, Gaines was a stereotypical New York City guard.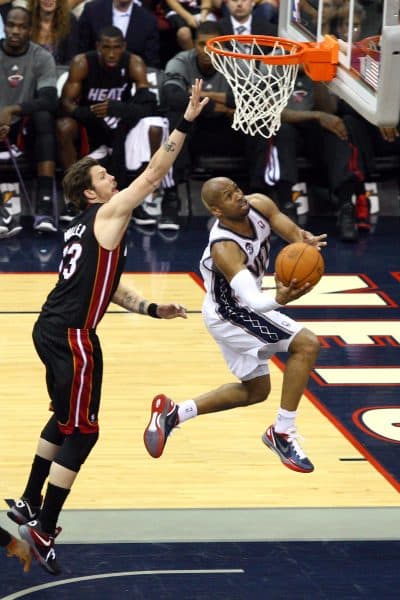 Longtime scout Tom Konchalski says Gaines played like a bull: he was great at driving to the basket, but he didn't shoot well from the outside.
Why was that? You can find part of the answer right in Gaines' neighborhood.
"When you get to the park, since the rims was messed up, the best way and the easiest way to score is to get as close as possible," Gaines says. "So I just managed to have my game around getting around to the rim."
As any New Yorker who's picked up a basketball will tell you, "messed-up" rims aren't unique to Gaines' neighborhood. In fact, compared to other courts in the city, Gaines says the one near his house was actually "pretty nice."
"Most playgrounds in New York City, the rims are kinda halfway broke, hanging off, or there's no net," he says. "Here at my court, at least we had some nets on the rim."
According to The New York Times, most major U.S. cities stock their public courts with modern rims made in factories. But New York City has relied on blacksmiths from the city's parks department to make the rims by hand.
Park officials have said these rims are more economical. But the flip side is that millions of New Yorkers like Sundiata Gaines grew up on unforgiving rims that made driving seem preferable to shooting from the outside.
'It's Pretty Much Just Like How Everything Else Works'
And twisted, netless rims weren't the only thing that made Gaines focus more on dribbling and driving. There was also this:
"Guys wanna see some type of magic on the court," Gaines says. "If you gonna shoot jump shots, then you better be hitting at a very high rate. Otherwise people are not going to be too fond of that."
Big Apple Basketball founder Jason Curry (who was actually a great outside shooter back in his day) agrees.
"I definitely remember that if guys took too many jump shots out in the park, you might get the reputation that you're soft," Curry recalls. "Just the entire culture was about aggressiveness."
Bryant, another player I met at the Cage, says it's all part of being a New Yorker.
"It's pretty much just like how everything else works," he says. "Like, we didn't put in all that effort to run up and miss. We put in this effort to win, to put in that bucket. You know what I'm saying? Just like how New York City works. I didn't put that money in to get kicked out of my crib. Like, I didn't work this week so I could be homeless, you know what I'm saying?"
Courts in New York also tend to be physically smaller. The Cage is so short that the top of the 3-point line is about a size-12 Nike from halfcourt.
And games are often scored by all 1s — meaning there's no bonus for shooting from beyond the 3-point line. That also leads to a grittier style of play.
'Wow, You Called Foul?'
Growing up in that environment paid off for Sundiata Gaines when he got to the University of Georgia in 2004.
College referees would call fouls against his opponents for things he barely noticed.
"At times, I'd be like, 'Wow, you called foul? I'm surprised,'" Gaines recalls. "I mean, I'm not going to sit there and complain. I'm definitely gon' take the points."
So despite shooting just 30 percent from 3-point range as a senior, Gaines averaged a team-high 14.8 points per game. But when the NBA Draft came around, Gaines wasn't picked. He ended up on a pro team in Italy.
And there, he worked on his shooting. He had no choice.
His team practiced twice a day. The morning practices were all about shooting.
Gaines says you had to make eight or nine shots out of 10 before you could move on to the next drill.
"If you don't finish your shots, you just gon' keep standing in the gym until you done, so if it cuts into your time in the afternoon before the other practice, then it cuts into your time," Gaines says.
Back In The USA
After a year of those morning drills, Gaines returned to the U.S. This time, he got picked up by an NBA team: the Utah Jazz.
And in just his fifth NBA game, Gaines was on the court with six seconds left and his team down by two points.
The guy who was never known for shooting hit the game-winning 3-pointer.
"It just felt like somebody just took the ball out of my hand, just like, 'Let's see where it gon' fall at.' And then it just went in the net, and I was, like, 'Wow,'" Gaines recalls.
"How does your shooting ability now compare to what it was coming out of college, or when you were in college?" I ask.
"Oh, it's night and day," Gaines says. "Sometimes, now, I get too comfortable and complacent and I fall in love with the jump shot, and I tend to forget what got me there."
Sundiata Gaines played in the NBA from 2009 to 2012. Even though his jumper improved in Italy, Gaines still shot well below the NBA average from 3-point range.
Gaines isn't the only player from New York to run into this problem at the NBA level. Kevin Whitaker, from the publication NYC Buckets, recently analyzed the stats of New York City-born players who reached the NBA and found that New Yorkers actually shoot about 1.5 percentage points worse from 3-point range than other NBA players.
"So that's not a huge difference, but it's not nothing, either," Whitaker says. "Over hundreds of players over dozens of years, it's a pretty noticeable effect. And certainly any coach would rather have the 35.4 percent shooter taking a 3-pointer than the 34 percent shooter."
An Evolving Game
Since 2012, Sundiata Gaines has played overseas and in the NBA's developmental league. Like a lot of players and fans, he's noticed that the NBA game has changed in the past few years: 3-point shooting has become even more important. Every year, teams and players are setting new records for shot attempts from deep.
This, of course, isn't good for point guards like Gaines with the typical New York City skill-set.
"You gotta be a point guard that's able to score and shoot," he says.
Of course, it would be unfair and overly simple to say that's the only reason the NBA is no longer brimming with New Yorkers.
Some say it's because the best young players have been leaving for prep schools outside the city. Some think the recent struggles of the Knicks and Nets have played a role. Some say players from New York aren't as tough as they used to be.
But Jason Curry from Big Apple Basketball and others have started to notice a newer trend: younger New Yorkers, perhaps inspired by the NBA's recent 3-point bonanza, have thumbed their nose at those bent rims and started hoisting more shots from deep.
So maybe when it's time for Antoine and Bryant to cede the Cage to the next generation, the New York City style of play will become a relic of the past.
This segment aired on October 28, 2017.