Top 10 Goals From The NHL's Outdoor Games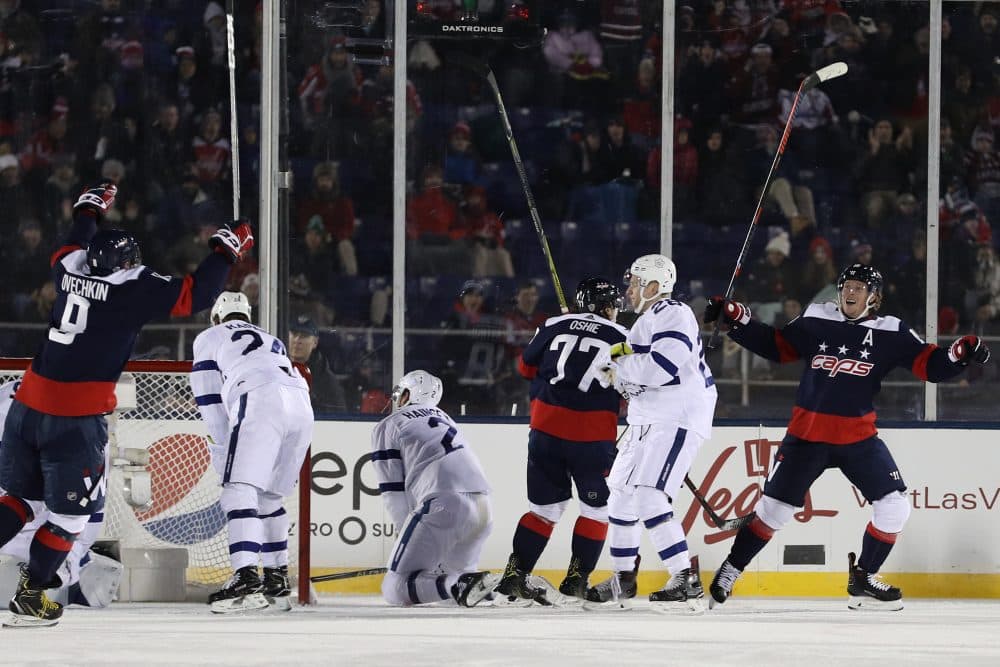 This article is more than 3 years old.
The Toronto Maple Leafs and the Washington Capitals squared off in the 2018 Stadium Series at the Navy-Marine Corps Memorial Stadium in Annapolis, Md. on Saturday night. It was the NHL's 25th outdoor game since the creation of the Heritage Classic in 2003. The Winter Classic — the annual game on New Year's Day — has been the league's most notable outdoor game, taking place every year since 2008 with the exception of the shortened 2013 season.
The NHL introduced the Stadium Series back in 2014 with four contests in New York, Chicago and Los Angeles. The event was held in Santa Clara, Calif., in 2015 and in both Denver and Minneapolis back in 2016.
Outdoor games have not only given fans the opportunity to watch competitive contests in unpredictable weather, but they've also provided viewers with some highlight-reel goals.
Of the 135 goals scored in outdoor games since 2003 – including six in a shootout – here are the 10 best:
10.) Nathan MacKinnon (Colorado) vs. Detroit (2016 Stadium Series) 
MacKinnon with a phenomenal shot, firing a rocket from the top of the face-off circle with a defenseman in front of him and slotting it over the far shoulder of Petr Mrazek.
9.) Rene Bourque (Calgary) vs. Montreal (2011 Heritage Classic)
What may go unnoticed in this clip is the fact that Bourque has to settle the bouncing puck while streaking in on Carey Price with a pair of defensemen just a few strides away. Combine that with a great finish and it's no wonder Bourque makes the list.
8.) Auston Matthews (Toronto) vs. Detroit (2017 Centennial Classic)
Matthews is in just his second NHL season, but he's already made a name for himself with frequent highlight-reel plays. Here he showcases his backhand abilities, flicking one past Detroit's Jared Coreau in overtime for the game-winner.
7.) Patrick Sharp (Chicago) vs. Pittsburgh (2014 Stadium Series)
This shot came from a low angle, with traffic in front and the goalie hugging the near post. So what does Sharp do? He wrists one over Fleury's far shoulder.
6.) Pavel Datsyuk (Detroit) vs. Toronto (2014 Winter Classic)
In one of the best shootouts in recent memory, Datsyuk added this goal to his resume. While seeing Datsyuk leave opposing goaltenders in the dust became par for the course during his NHL career, his wicked backhand and head fake are still something to marvel at time and time again.
5.) Gustav Nyquist (Detroit) vs. Colorado (2016 Stadium Series)
Speaking of wicked backhands, this strike from Gustav Nyquist is jaw-dropping. The forward one-ups MacKinnon's goal from this same game with a no-look backhand that somehow sneaks over the shoulder of Varlamov. Oh, and he did it with an Avalanche defenseman in his back pocket, too.
4.) Mitch Marner (Toronto) vs. Detroit (2017 Centennial Classic)
What most people focus on in this game – despite the three-goal comeback from Detroit – is Matthews' overtime winner. But Marner's goal to give Toronto the lead in the third was better. The second lethal young-gun for the Leafs makes a nifty move around a defenseman and then – with four Red Wings surrounding him – snipes a beautiful shot into the top corner.
3.) Claude Giroux (Philadelphia) vs. New York Rangers (2012 Winter Classic)
Giroux has quietly been one of the most skilled players in the NHL for several years, and this goal is proof of that. The premier Flyers forward shows great patience against one of the best goalies in the league. And with two Rangers flanking either side of him, he goes to his backhand and elevates phenomenally.
2.) Jonathan Toews (Chicago) vs. Pittsburgh (2014 Stadium Series)
This goal combines two stellar plays by Jonathan Toews: the first is his double move past Brooks Orpik –  one of the most physical defensemen on the Penguins – and the second is his deke on Marc-Andre Fleury. Toews three times showcases his great hands, twice twisting up Orpik before stick handling and sliding one through Fleury's five-hole.
1.) Pavel Datsyuk (Detroit) vs. Chicago (2009 Winter Classic)
This tally came in just the second Winter Classic ever, when the Red Wings played Chicago at Wrigley Field in 2009. What makes this goal the best of any scored in an outdoor game is its combination of skill and speed. Datsyuk collects the puck in the neutral zone and, in just a few strides, slips through two defensemen skating right in front of him. After he shakes off the duo in mere seconds –  all while stick handling – Datsyuk then switches to his backhand before tucking the puck through the legs of the sprawling Cristobal Huet.