A Free Throw Record That 'Deserves' To Stay Unbroken
Play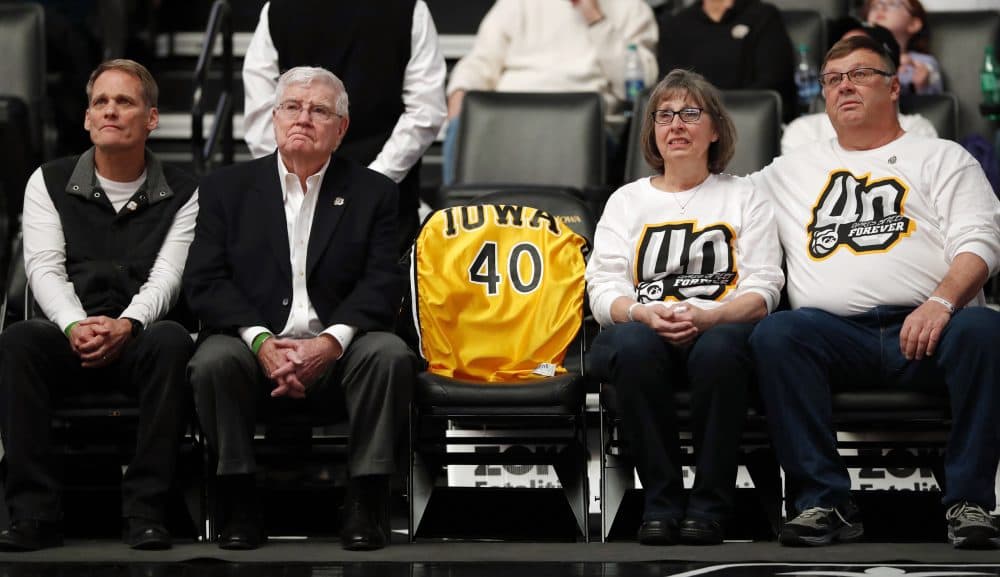 This article is more than 4 years old.
Chris Street grew up in a small southern Iowa town called Humeston. He was an all-around athlete — but Chris's parents Mike and Patty knew their son's No. 1 sport was basketball.
Story continues below
Subscribe to the podcast
"Because when he would get done with football, then he would even come home and shoot hoops on the driveway," Patty says.
"I was actually hoping he'd pursue the baseball, so then we could have our winters to go hunt and fish and stuff," Mike says with a laugh.
Instead, the winters were all about basketball, especially when the Iowa Hawkeyes were on TV.
"Of course when there was gonna be a game, I mean, he was thinking about that the whole day," Patty says.
Chris eventually grew to 6 foot 8 and got really good at basketball. In 1988, during Chris's sophomore year of high school and just before his 16th birthday, an envelope showed up at the Streets' home. It was a recruiting letter from Iowa.
"So we actually hid it from him and framed it," Mike says. "And for his birthday present we gave it to him."
"I wrapped it," Patty says.
"And so that was a big event for everybody," Mike says.
That summer, Iowa offered Chris a scholarship. He committed the next day.
'He Was Not Going To Miss A Big Ten Free Throw'
Chris Street became a starter as a sophomore, averaging more than 10 points and eight rebounds a game. But there was one area he knew he could improve.
"Going into his junior year, he was upset that he'd missed some free throws, I think," Mike says. "And he decided to set his goal that he was not going to miss a Big Ten free throw. That was his goal."
That next season, Chris made free throw after free throw, and he started approaching Iowa's school record of 33 straight, which had stood for 24 years.
When the Hawkeyes visited Duke in mid-January, Chris's streak was at 32.
His parents watched anxiously from home.
Late in the first half, Chris drew a foul and went to the line for two shots.
"First one went in pretty good," Mike says. "And the second one kinda rattled around a little bit. But, once it went in, the house kind of exploded."
"We exploded," Patty says. "We were ecstatic for him. Yeah, just ecstatic for him."
After the game, Patty left a message at her son's apartment.
"Telling him how proud we were of him," she says. "And congratulations. But I never did get to talk to him."
'I Knew Something Was Wrong'
Three nights after Chris set the record, on Jan. 19, 1993, Patty was closing up the family's mom and pop convenience store when her husband showed up.
"I knew something was wrong when he came," Patty says. "And he said, 'It's Christopher.' And I said, 'Oh, did he blow out a knee?' 'Cause I thought, 'Oh, he blew out a knee.' And Mike says that he told me, but I did not listen. I wouldn't listen."
"I guess with that record, it was just another thing to remind people not to forget him."

Patty Street
Chris's car had collided with a snow plow. Chris was pronounced dead at the scene. Patty went home. The news started to sink in.
"I knew he was in heaven," she says. "There was no doubt in my mind. He was up there. And that was such a reassuring thought."
'You Don't Want People To Forget Him'
In the weeks after Chris's death, Mike and Patty attended some of Iowa's home games. They wanted to be there to support Chris's teammates.
But eventually they stopped going. It was too painful.
"It just brought back too many memories, I guess," Patty says. "That he's not here with us."
Years went by. Mike and Patty stayed away from Hawkeyes games. But they were grateful for Chris's consecutive free throw record.
"It was very special, because, you know, as a parent who's lost a child, you don't want people to forget him," Patty says. "And I guess with that record, it was just another thing to remind people not to forget him."
A decade passed, then another decade. Chris's free throw streak remained in the Iowa record book.
"I remember coach [Gary] Close saying that he didn't think it'd ever be broke," Mike says.
Dreaming Of The Hawkeyes 
On June 19, 1997, four years after Chris' death, Jordan Bohannon was born in Iowa City. He was the youngest of four boys.
"Well, I definitely ended up on the ground a lot when I was a child," Jordan says. "I mean, sometimes — I swear, I'd be just be laying in my bed, and my brothers would come in and just tackle me."
Jordan's father had played football at the University of Iowa, but basketball was the sport for the Bohannon boys.
Jordan's three older brothers all played Div. I. (Unhappily for Jordan's dad, none of them ended up at Iowa.)
When Jordan played two-on-two with his siblings, he was not only the youngest — he was also the shortest.
But he found a way to be competitive.
"The only way for me to get some shots up was just keep backing up and backing up until they were just tired and they didn't want to keep stepping out farther," Jordan says. "So I guess that's where I got some of my shooting abilities."
Jordan became a knockdown shooter. As a senior in high school, Jordan hit 43 percent of his 3-pointers and 92 percent of his free throws.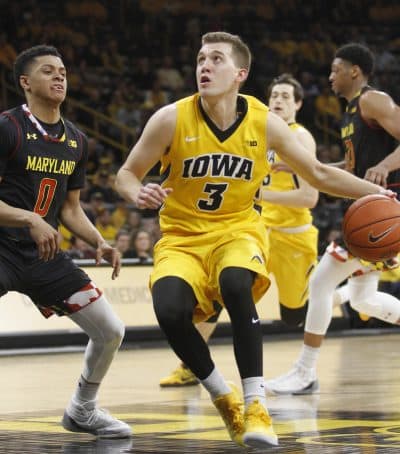 His dream was to play for Iowa. So when the Hawkeyes coach called to offer him a scholarship, Jordan accepted that same night.
'An Instant Bond'
Before Jordan Bohannon's freshman season in 2016, there was a team banquet. That's when he met Mike and Patty Street.
They'd started attending Hawkeyes games again.
"Talked to them a little bit," Jordan says. "Obviously I knew a little bit about Chris, but I wanted to learn more."
"There just seemed to be an instant bond," Mike says.
"Uh-huh. There was," Patty says. "He's this warm kid."
And the more Jordan spoke with the Streets, the more he realized how much he and Chris had in common.
"It's kind of that weird, spiritual connection that I've had with him," Jordan says.
"He just seems caring, just by the way he carries himself," Patty says. "Maybe he doesn't smile all the time, but, boy, when he does, it just makes me wanna squeeze him more when I hug him."
"Yeah, she's a huge hugger," Jordan acknowledges.
Ready To Give Up The Record
And then this past January, Chris Street's free throw record started to face a serious threat — from Jordan Bohannon.
"You know, of course, we were watching it close," Patty says with a laugh. "It was one of these feelings that I had: I wanted him to break it, because he's such a good person, good Hawkeye family person. We always said, 'Who better to break it than Jordan?' "
"And we'd had 25 years, and I guess I just kinda thought, 'Well, maybe we've had our time,' " Mike says.
"But yet, at the same time, as a mom, you'd like for your own child to keep it, too. So, it was just a flip-flop there for me, anyway," Patty says.
In mid-February, Jordan Bohannon hit his 31st and 32nd straight free throws.
A little over a week later, Iowa hosted Northwestern in the final home game of the season. Mike and Patty Street were in the stands.
Late in the first half, Jordan tied the record.
And then with 2:15 left in the game and the Hawkeyes leading by eight points, Jordan Bohannon went back to the free throw line with a chance to break Chris Street's record.
"We were ready — I mean, we really knew that he was — " Patty starts.
"Yeah, we were ready to give it up, I guess," Mike says.
Jordan took four dribbles, then let the ball go.
"I think Patty said, 'Here we go.' "
"I think I did say that, didn't I?" Patty says. "'Here we go!' "
Jordan's shot clanged off the front of the rim.
Mike and Patty say they were shocked.
"Patty looked at me and said, 'Did he do that on purpose?' " Mike recalls. "I said, 'Well, I don't think so.' "
But after the game ended, the Streets learned the truth: For the previous few weeks, Jordan had been planning to miss his 35th free throw. He explained why after the game.
"Obviously, that's not my record to have, and obviously that record deserves to stay in his name," Jordan said.
"I'm like, 'Oh, Jordan. You shouldn't have done that for Christopher. You shouldn't have done that.' That's what I kept telling myself," Patty recalls. "But then as you have time to think, and you're like, 'Wow, what an incredible, incredible act of respect and kindness.' "
The Iowa Hawkeyes didn't make this year's NCAA Tournament — their season's over.
But when Jordan Bohannon and the Hawkeyes take the floor next fall, Mike and Patty Street will be in the stands to cheer them on.
"It just brings back a lot of good memories now, and it's not the hurt," Patty says. "So in that respect, it's wonderful."
This segment aired on March 17, 2018.