From Saving Shots To Saving Lives: Former Goalie Erin Regan Turns To Firefighting
09:03
Play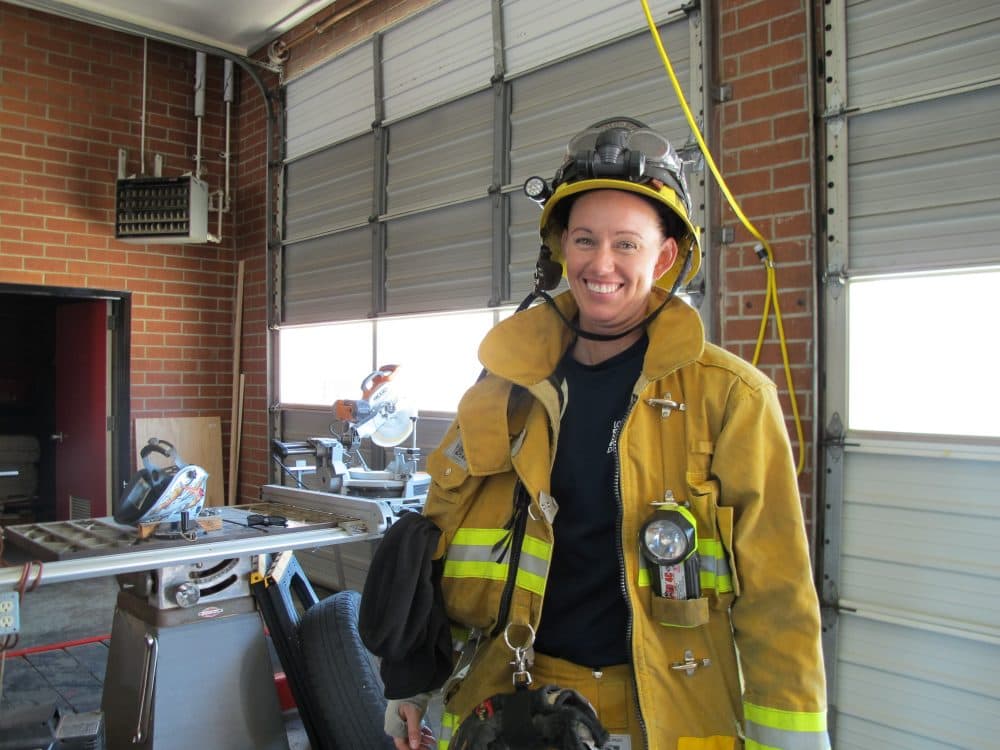 This article is more than 3 years old.
Story continues below
Subscribe to the podcast
On July 10, 1999, 17.9 million people tuned into the Women's World Cup final. It came down to a matchup between China and the U.S. at the Rose Bowl in Pasadena, California.
The game was sold out; more than 90,000 screaming fans filling the stadium. Erin Regan — a sophomore on Wake Forest University's soccer team — was one face in the crowd.
"It was magical," Erin says. "It was so awesome to see women at the highest level, at the highest point of victory. I'm getting chills talking about it.
"They were living the dream that all of us think about, and that you didn't know girls could do. And that's when you kind of go, 'This is real. I can do this.' I mean, I'll remember it forever."
The hope was that this incredible moment in time — and the fervor it generated — could sustain a professional league where hundreds of women could make a living playing the game. In 2000, WUSA — the first women's pro league — was born. Three years later, Erin got a chance to play. She was a goalkeeper, the last guard.
"It takes an immense amount of bravery," Erin says. "You're throwing your head, your teeth, your eyeballs in front of someone's foot, in front of a ball. I always want to save the day, and goalkeeper is — that's the position. I love that. I love being the hero. I love being the underdog."
Erin made the roster of the Washington Freedom, home of Mia Hamm and Abby Wambach. She was a rookie, a backup, but right at the beginning of the season, the starting keeper was out, which meant Erin got the start.
"I'm this nobody who is now in net, the last line of defense, for Mia Hamm and Abby Wambach," Erin recalls. "And I remember just being on edge. I was just electric."
Erin stopped two breakaways and made diving save after diving save. And her team won.
"And, so we were in the little locker room area, or whatever, and they had a vending machine that had Gatorade or something," Erin says. "And Mia Hamm came up to me, and she said, 'Hey, you played really good out there today.' I was just floored. I mean, it was just the poster child for women's soccer who is in a Gatorade commercial. I can see the machine. I can see the spot. I can see her face. It was surreal."
Erin's team ended up winning the league championship.
"Abby Wambach, she won a car for being the MVP. We all got Tiffany rings," Erin says. "They pulled out all the stops. It felt like a real championship win, so it was super cool."
Erin went home for the off-season. A couple of weeks passed.
"And then we got word that the league had folded," she says. "And it was up in the air of whether or not it would come back, and in what form, and when."
'I Have To Join The Real World'
In the United States, some 1.4 million girls play organized soccer, and 32,000 women play in college — but after three seasons, the pro league had gone bust financially. And the kids and teenagers who had watched that World Cup and dreamed of playing professionally themselves discovered that wasn't actually possible.
When you're thrust out of your sport in your prime, what does it feel like?
"You're a little displaced," Erin says. "Because I was 24 years old, or whatever it was. It just came to the point where I was like, 'OK. This soccer thing isn't going to pan out. It was awesome. I had a great experience. But I have to join the real world, and now I have to think about my future.'
"So I decided to go get a day job. Actually, my parents kind of kicked my butt into getting a day job. I was a claims adjuster for the state of California for workers' comp insurance.
"I, honestly, my first day in the office — I mean, you're learning the job, and you're doing all these classes, and they're integrating you in, but my first day in this old-school, drab, green cubicle, I seriously sat there and thought to myself, 'I can't die here. This is me, I don't just phone it in.' I knew that was not the end. I wasn't going to be a claims adjuster. I wasn't going to be in a cubicle the rest of my life."
"Firefighting is...it's a team sport. And then also, you get to be a hero, which I have a weird thing with being a hero."

Erin Regan
As Erin filled out insurance forms, she also started drafting a new dream — something with the high-stakes rush she got playing in goal. That new dream was becoming a firefighter.
For three years, Erin worked at her cubicle, took night classes, passed the gamut of fitness tests and waited for the call up, which came in 2007. For the past decade, Erin has served as an LA County firefighter. Of the 4,000 firefighters in the county, 38 are women.
A day in the life of a firefighter involves simple acts of helping, like fetching cats out of trees and unlocking cars, as well as more extreme duties, like wielding chainsaws on the roofs of burning buildings, cutting through shingles to provide an outlet for billowing smoke.
"Firefighting is...it's a team sport," she says. "And then also, you get to be a hero, which I have a weird thing with being a hero."
In one of Erin's first days on the job, she and her team got called to a burning building.
"We had a fire in a back bedroom, and we found a lady curled up kind of like in a pile of clothes, which was a little hard to see. And we dragged her out," Erin says. "It wasn't like 'Backdraft,' where you're carrying her over your shoulder, one person out of the thing, but that's what you sign up to do. You want to be the one diving out of a building with two babies in your hands and save the world."
'Teaching: That's How You Repay'
Diving on the field, diving out of a building. Saving shots, saving lives — it wasn't that far of a jump. And the words of one of Erin's old coaches were frequently on her mind: that an athlete who makes it to the top of the sport has a duty to give back to the game that has given her so much.
"And he said, 'The way that you give back to the game is by teaching,' " Erin says. "That's how you repay."
Erin has not stayed in soccer, but she has very much absorbed this lesson. With the other female firefighters, she created Girls Fire Camp, a program that gives 50-some teenage girls a chance to shadow real firefighters.

"When we do our runs, we run in formation, so we're all on the right foot at the same time, left foot, and you sing out your songs," Erin says. "And so, I wrote a couple, for the girls."

One of them goes like this:


Hey, hey, Taylor Swift.
Hey, hey, Taylor Swift.




You're in my head when I lift.
You're in my head when I lift.




Talking 'bout how haters hate.
Talking 'bout how haters hate.




Helps me lift up all this weight.
Helps me lift up all this weight.


Erin is doing for this generation of girls what Mia Hamm and the '99 team did for her: expanded the notion of what's possible. Erin helps the girls try on the 50 pounds of gear — they pull on the fireproof jacket and the heavy boots, and they walk around the fire station, considering, imagining, trying this life on for size.

Reporter Gwendolyn Oxenham is the author of "Under the Lights and In the Dark: Untold Stories of Women's Soccer." That's where we first learned about Erin Regan. And the good news for girls today who hope to play professional soccer, the National Women's Soccer League, which began play in 2013, is starting another season in nine cities. 
This segment aired on April 7, 2018.