The Bull And The Matador: Playing Baseball With Donald Trump
08:16
Play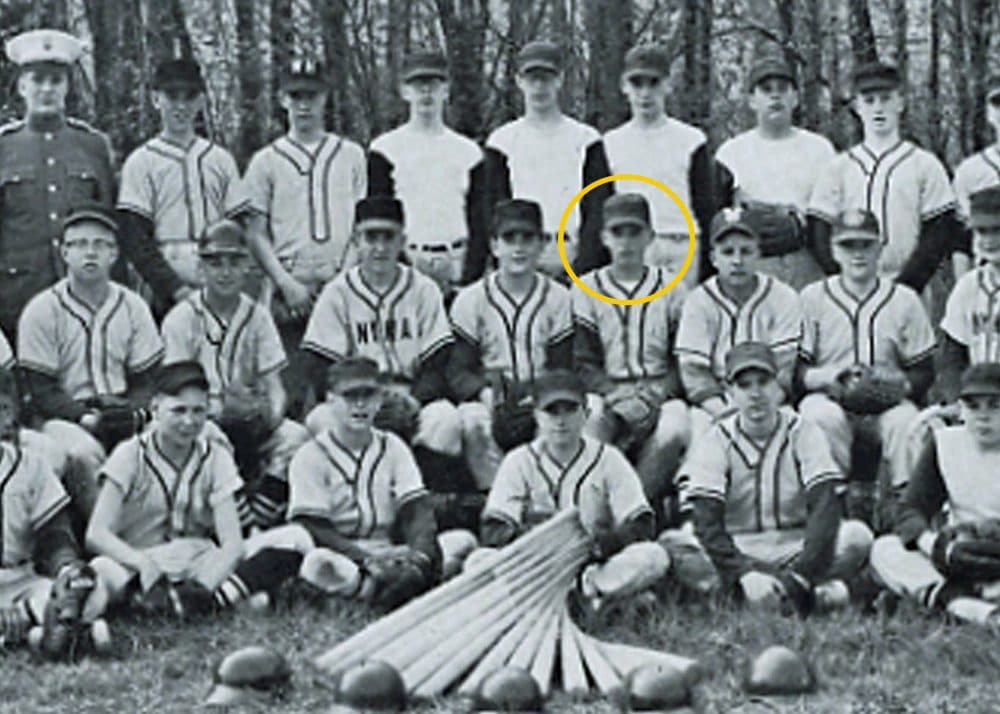 This article is more than 2 years old.
Don and I went to military school together. We started New York Military Academy on the same day in 1959 as eighth graders and New Guy plebes.
We lived in Wright Hall — "F" Company — under the watchful eye of "The Maj," Major Theodore Dobias, our officer and our coach.
From the day we arrived in military school as New Guys, we slammed our bodies against a wall whenever an Old Guy walked past. We were "The scum of the earth" and announced that to the world a dozen times each day.
Equality between New Guys and Old Guys was only found on the Academy sports fields where Don and I played baseball and there, too, Maj was our coach.
In 2001, I visited with The Maj. I hadn't seen him in more than 30 years. We talked about Don.
"Do you remember that day?" Maj asked.
"Yes," I said, no further prompting necessary.
Maj stands behind me on the pitcher's mound. It's batting practice. I'm 14. Don, the batter, moves to the plate, twists his body, sets his stance and digs his back foot into the ground.
I see it. He's dug in.
The relationship between pitcher and batter is a bit like bull and matador. The bull paws the ground and digs in to signal that this arena belongs to him.
"Al," the Maj cautions, "he's dug in." Even though it is only practice, Maj wants me to react. I nod.
Now, it's my turn to reveal the ground's true owner.
"The relationship between pitcher and batter is a bit like bull and matador. The bull paws the ground and digs in to signal that this arena belongs to him."

Ilan Fisher
Before the Academy, there were days when my father came home from work early to drill me in the physics and strategies of pitching baseballs. Leaving work early signaled that pitching was important stuff.
In those days, I weighed next to nothing, but I could kick my leg high in the air and concentrate all my next-to-nothing-weight into a baseball. And I knew exactly what to do when a batter clawed his foot into the ground.
I wind up, kick my leg and throw hard for his knuckles. The ball is in the air. In my mind, I smile. What's Don thinking? "Is it a curve ball? Will I look the fool when I jump back and the ball breaks in for a strike?"
Then he sees it. Then he knows.
Don dives. Too late. His head finds the ball. There's a hollow-plastic "whack" sound when a baseball and a batter's helmet collide. His helmet flies into the air. Don goes down. My heart thuds. I'm not happy. He's Don. He's one of us.
Don jumps up, picks up his helmet, brushes himself off. Maj jogs in to talk to him.
"Is he OK? I wasn't throwing for his head, Maj. He dove into it."
In the batter's box, Don flexes and rotates his body. He brushes more dirt from his shirt. He takes a few slow practice swings, looks at me, sets his face, cocks his bat…
…and then he digs his back foot into the ground.
I put my foot on the rubber and take a deep breath.
Don's dug in. He's looking for leverage. He's looking for balance. He's looking to take my pitch and send it on a long, long ride.
"Al," the Maj barks. I step off the rubber and walk around the mound. "Pitch him!" the Maj orders, "and pitch him right."
I want to pitch some easy strikes. Let him make contact. It's batting practice. It doesn't count.
I go into my windup. I rock backward to begin my kick, I still haven't committed to a pitch.
Don is dug in and ready. I kick my leg high in the air. I still don't know if I'll pitch him inside or outside? Make him chase? Make him jump? Teach him the folly of digging in on me for two pitches in a row?
My leg pulls down — my arm shoots forward. The catapult is in motion. The ball releases.
I see the ball fly.
I see it. I scream, "Don!" I run for him. I run to beat the ball home; to beat the ball to its destination. It catches him just by the ear, right there where head, helmet, ear and cheekbone all meet. His helmet pops and flies. Don goes down.
I run, but the Maj beats me to him. He slides into him. Dirt flies everywhere. Maj rolls him from his stomach on to his back. I'm there, right behind him. I drop down and touch my teammate's arm. I want to say I'm sorry, but suddenly his body shakes and flails. I'm caught off guard and I yank back my hand.
Then he is still. His face is white, flat; the color of dust. The color of his colorless hair. He is dead. And I killed him.
My eyes lock on the dead boy's face. Nothing is clear to me. I'd let go of the ball. The helmet flew. Don was dead. And I killed him.
I move to the backstop and grab hold of the fence. My arms shake. I try to hold them still. Don is dead. I saw his face and I know that I will see his dead face like that every day and forever — forever.
There's a sound — movement from where the team stands around Don and the Maj.
I push at the backstop and brush away vomit with my hand. I hear applause. "All right, Don. Way to go, Trump."
Maj sits next to Don Trump on the bench. The team mills around them. No one wants to stare. Maj claps his hands and barks out orders that set the team to running laps around the field.
Maj looks at me. "You special? Run the field and catch a shower."
In those days, from that school, they didn't send kids to the hospital for being knocked out. After all, we were tough kids, military school kids — cadets.
And in those days, no one beside us had ever heard of Donald Trump.
Maj, Trump and I, and our teammates — Old Guys and New Guys — saw each other every day after that. We marched, we braced, we ate square meals, declared ourselves scum. In all that, nobody mentioned that Trump had died and I never thought about it again; not until that day when Maj said, "Do you remember?" And I remembered.
We asked Ilan Fisher — known in his NYMA days as Al — to contact his former NYMA teammates to see if they could verify his memory of that day. He talked to a few who remembered playing baseball with the future president. But none of them remembered this particular incident. Major Theodore Dobias died in 2016.
Ilan sent a copy of his essay to Mr. Trump, addressed to the White House press office. He sent another copy through a former assistant of Trump's. He received a letter back on White House stationary, signed by the president. 
Mr. Trump's letter did not acknowledge or refute the sequence of events Ilan Fisher wrote about in his essay.
This segment aired on May 5, 2018.