LeBron's Legacy In Akron, Gaddafi's Hockey Sponsorship, Marathon Swimmer
Play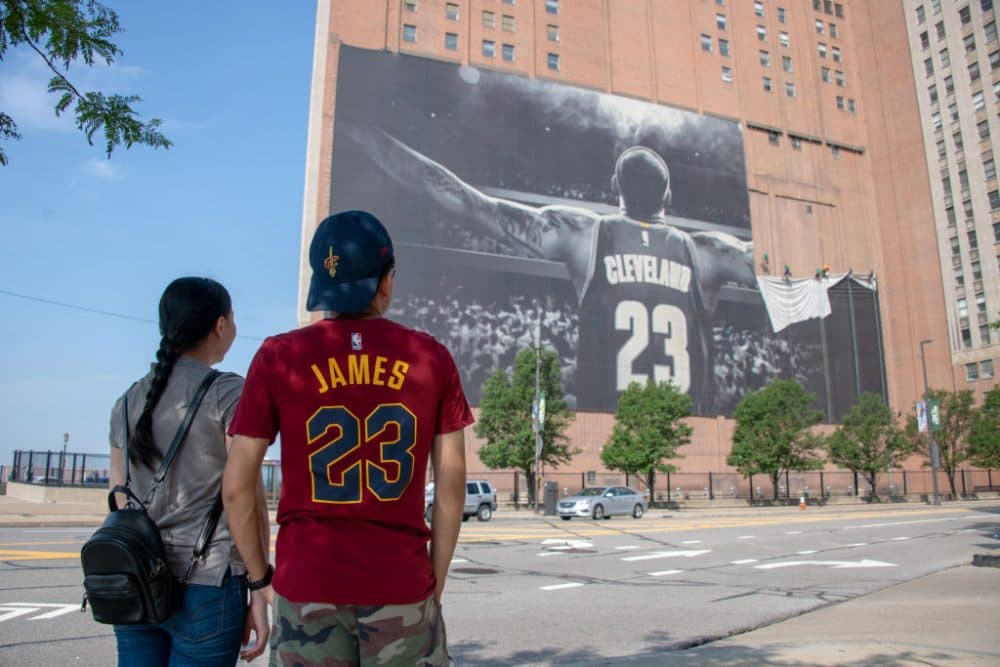 This article is more than 4 years old.
On July 1, LeBron James announced he would leave the Cleveland Cavaliers to join the Los Angeles Lakers. This week on Only A Game, the Akron, Ohio native's lasting impact on his hometown. Also, after racking up debt, a German hockey team  turns to a dictator for help. And, the story of a world-record-holding marathon swimmer who started her career at age 46. Join us!
Subscribe to the Only A Game podcast on Apple Podcasts, NPR One or Stitcher.
---
LeBron Is Joining The Lakers — But His Legacy In Akron Will Carry On
LeBron James was born and raised in Akron, Ohio, and brought Cleveland an NBA title in 2016. But for Akron-resident Emily Ross, LeBron's legacy goes far beyond basketball.
3 Stories: USOC Spending, Hockey Homecoming, Wimbledon's 'Language'
Sports writer and editor Patrick Hruby and NHL.com's Amalie Benjamin join Michael Holley.
The Worst Sponsorship Deal In The History of Pro Sports?
With the help of a notorious dictator with a book to peddle, a German pro hockey team almost saved itself from bankruptcy.
Charlie Pierce: The Week In Sports
LeBron James will be a Laker. Michael Holley and Only A Game analyst Charlie Pierce discuss what that means for the Lakers and for the NBA. Also, the late Hunter S. Thompson's 1998 NFL Draft advice for Colts owner Jim Irsay is revealed. And professional cornhole.
At Age 67, Swimmer Honors Brothers With World Record Career
20 years ago, Pat Gallant-Charette was a 46-year-old "spectator mom" whose idea of exercise was walking around the block. Now, she holds six world records in marathon swimming.
This program aired on July 7, 2018.