Braves Organist Gets Creative With Visitors' Walk-Up Songs
Resume
It's a hot Tuesday night, and the crowd at Atlanta's SunTrust Park is pumped. Rookie Ronald Acuña Jr. has just homered for the fifth time in six games, giving the division-leading Braves an early lead over the last-place Miami Marlins.
But fans aren't too comfortable: the Marlins' go-ahead run strides toward the plate. It's shortstop JT Riddle. The Jumbotron camera trains its lens on home plate. But me? I'm focused on the organ player.
Matthew Kaminski, the man behind the organ, begins to play the Batman theme song. Kaminski is known in baseball for his subtle ribbing of opposing players. His almost-13,000 Twitter fans track his every move.
It all started when the Braves hired Kaminski — a professional jazz organist and organ teacher — almost 10 years ago.
"They were searching for an organist, and one of my adult organ students knew the guy who was searching," Matthew says. "And they got me an interview really quick. What I did was I recorded myself at home playing 'Take Me Out to the Ballgame'. I played all the songs I thought that a sporting event would need.
"They called me in for an interview and they said that, 'We want you to come up with songs that pertain to the opposing player as they walk up.' The example he used was David Ortiz — Big Papi — so they said 'Popeye the Sailor Man' for Big Papi."
Kaminski thought 'OK, easy — I can do that'. The Braves tested him out at spring training, where lineups are much less predictable. If a normal game requires coming up with songs for nine batters, a spring training game might have 20 or 30.
"I think they wanted to test to see if I would really fall on my face," Matthew says. "If I'd collapse under the pressure."
He was nervous, but unfazed.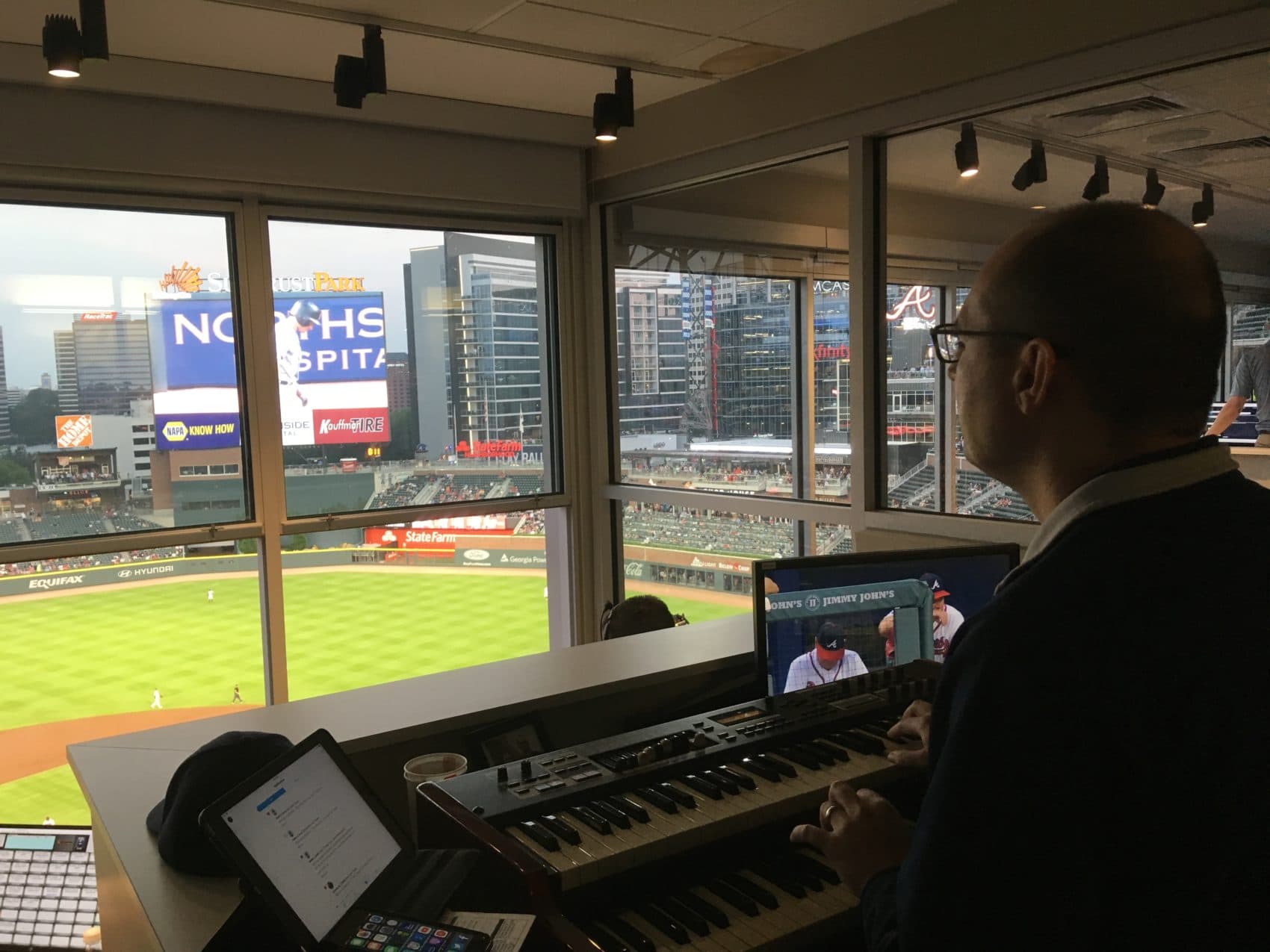 "When I kind of got the 'ah-ha' moment was playing a Twisted Sister song," Matthew says. "Twisted Sister on the organ is not usually what you think about, but I played 'We're Not Gonna Take It' for a guy named Dee. Dee Snider's the singer for Twisted Sister.
"So when I played that — back then, I was on a headset so I could hear my director and my boss talking to me while I played, and they kind of busted out laughing, because they couldn't believe I was playing Twisted Sister. So when I made Twisted Sister work on the organ, I said, 'I think I can do this.' "
At first it was just Kaminksi and his wife coming up with the ideas for songs to play before each home stand. But now, he could almost get by just using suggestions from fans on Twitter. As I sit next to him in the booth this Tuesday night, I watch him scroll through his mentions on the iPad that sits next to the organ.
"Someone has requested 'Who Are You.' They requested it for Yadiel Rivera, but I'm not too sure why," Matthew says. "Maybe because he's a rookie — yeah, no one knows who he is.
"Some people get really dark with their humor. I don't go there. There are certain things that I think are harmless. It's usually pretty tame what I go after."
What is fair game? Besides riffing on names, Kaminski's musical selections wink at anything from a player's dating history to his haircut.  He played 'Your Cheatin' Heart' after Ryan Braun admitted using performance-enhancing drugs. Kaminski watches the players' reactions on a monitor.
"If they're smiling or laughing, I almost always thinking they're laughing at me," Matthew says. "You never know what they're thinking, but there were a couple times where you could really tell that what I was playing was really making them laugh. Like Matt Kemp. He lost a whole bunch of weight after he left Atlanta and went to the Dodgers. So I played 'Half The Man I Used To Be' — it's a Stone Temple Pilots song — so I played that as well as a Rihanna song, because he used to date Rihanna.
"I saw him smiling quite a bit every time I would try something."
Through these walk-up songs, Kaminski has felt connected to players that he's never actually met.
"I see them from afar," Matthew says. "So I kinda never know what they're like in person. I don't mean to cause them any harm. I think that's what home field advantage is all about."
In the third inning, Marlins second baseman Starlin Castro comes up to bat. So naturally, Kaminski plays … 'Twinkle, Twinkle, Little Star.'
Twitter loves it. Someone tweets to ask if an opposing player has ever requested a song.
"The answer is no," Matthew says. "Some people ask me why don't I play different songs for every time they come up to bat. I think it's more irritating for them to hear the same song every time.
"I'm usually sick of the songs too, after 12 or 13 times of playing the same songs. But I think sometimes it's a lot more effective for me to keep on burning that song into that player."
Just don't call him the trolling organist.
"I don't know if I like that word," Matthew says. "That's what everyone uses. I'd rather use the word 'entertaining' organist. People say it's almost a game within a game. I think that's a really cool thing that I could be interactive. To me, it's just to make everything more fun."
This segment aired on September 15, 2018.