The Battle Of The Sexes And A Scary Confrontation On The Alaskan Tundra
Resume
45 years ago, the stage was being set for an historic tennis match. Billie Jean King would face Bobby Riggs in the Battle of the Sexes.
Two years earlier, 19-year-old Janis Stoner had decided to leave her home in Michigan.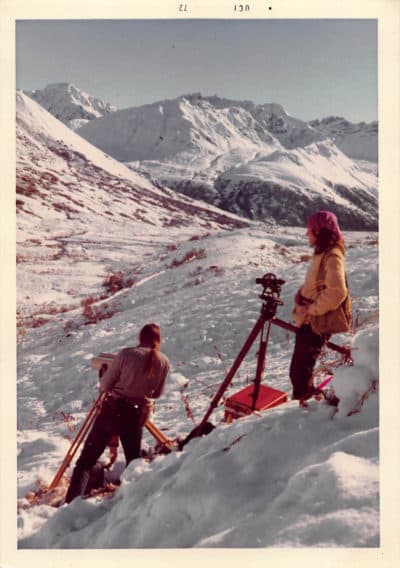 "When I told my parents I was going to go to Alaska," Janis says, "they said, 'Well, what are you going to do there?' I said, 'Well, I'm gonna get a job.' And my dad said, 'What can you do besides be a prostitute?' And I was just shocked. And Alaska was as far away from them as I could get and still be in the United States."
Janis became a land surveyor. She worked alongside men.
"I got to be a women's libber first in that regard," Janis says. "And I didn't take that lightly. I considered that a very big responsibility — that I had to help other women get into the field.  If I blew it, nobody else ever got to get in. You just gotta show 'em you can work as hard as everybody else."
Janis didn't know it at the time, but The Battle of the Sexes would be a frequent topic of conversation in her new workplace. And it would lead to a scary confrontation.
"Yeah, I was almost murdered by these guys," she says. "Oh, yeah."
To hear Janis Stoner's story about working as a surveyor in Alaska, click the play button next to the headline at the top of the page. 
More 'In Their Owns Words':
This segment aired on September 15, 2018.