Brandi Or Briana: A Question Of What Might Have Been
Play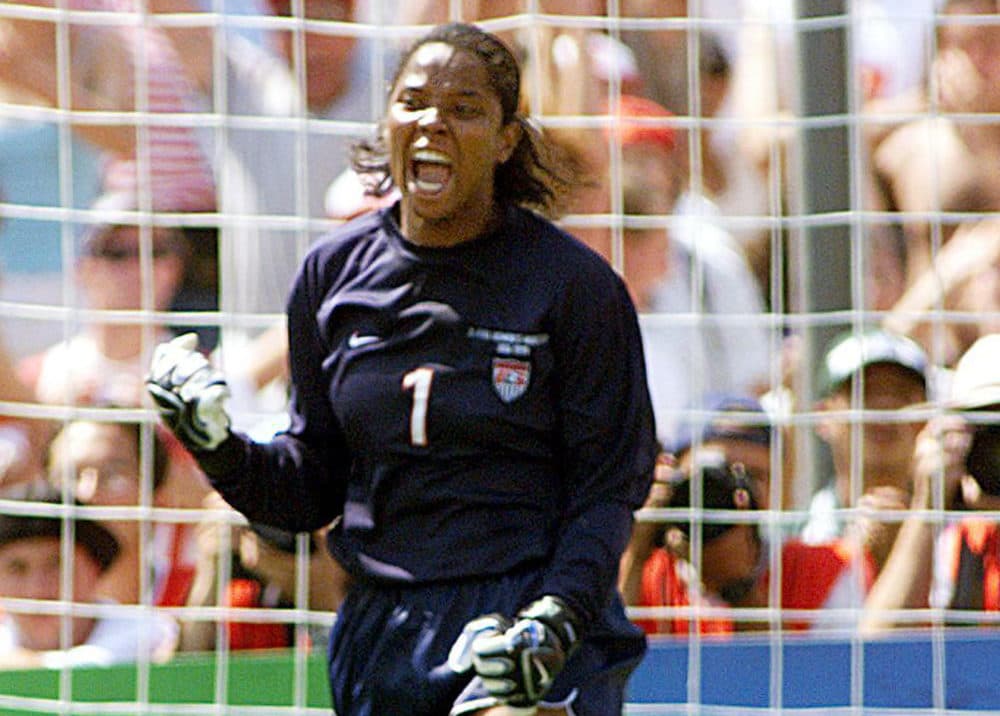 This article is more than 4 years old.
I didn't grow up a huge soccer fan. I played basketball and tennis — sports that had their stars' faces on Wheaties boxes and on the cover of Sports Illustrated.
But in 1999, like millions of others around the world, I became a fan. That was the year the U.S. Women's National Soccer Team won their first World Cup.

The breakout star was Brandi Chastain, alumnus of Santa Clara University, the school that I was attending at the time. The school that celebrated its star by blanketing the campus with tee-shirts and signs with her name and likeness.
Brandi scored the last penalty kick, and after doing so took off her jersey, dropped to her knees and pumped her fists in jubilation.
While the country was celebrating her as our new national treasure, I wanted Briana Scurry, the goalkeeper, the one who made the save that gave us the 5–4 victory over China, to be as exalted.
For years, I've wondered: if Briana were a blonde, white woman that had showed us her sports bra when she made that save, would her career — her life — have been different?
A few weeks ago, I finally had the chance to ask Briana Scurry what she thought of that moment.
"That was vintage Brandi," Briana says. "Her taking off her shirt truly was the deserving image of what we had achieved and accomplished. And it was just as it should be."
This was not the answer I was expecting.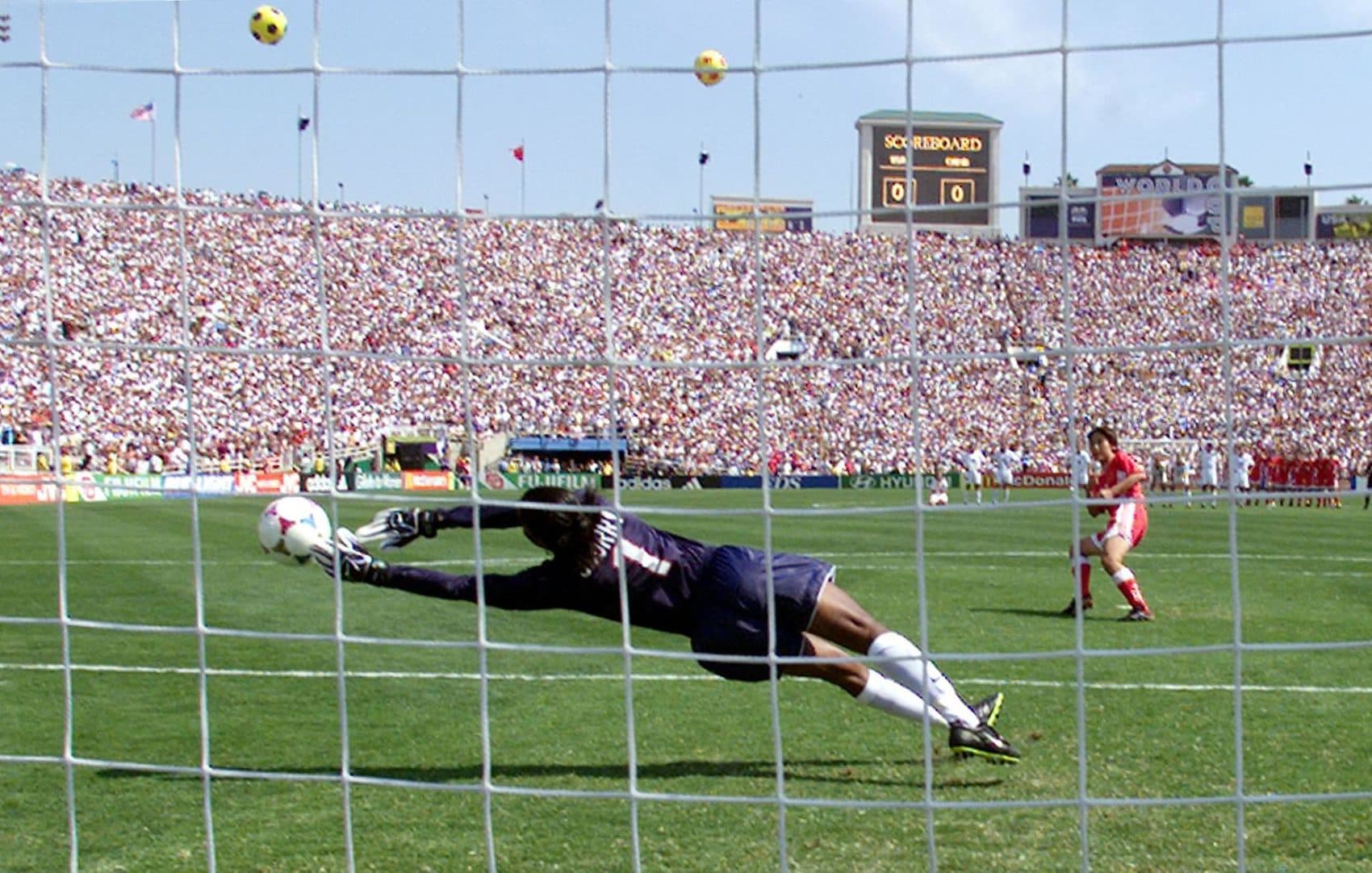 To really understand Briana's perspective on this, we need to go back to one of her earliest sports memories — the one that made her think, "Oh, this is awesome. I wanna do that."
"When I was 8 years old, I remember sitting on the couch with my mom and dad watching the 'Miracle on Ice' unfold before our eyes," Briana says. "And when the USA beat the Soviet Union in that semifinal — and Jim Craig the goalkeeper at that time was just absolutely amazing — that team won that game greatly because of him. And that's what I wanted. I wanted to be a gold medalist."
Briana says thinking about it now, it didn't occur to her that it was odd that she was looking up to an older white man in hockey. Briana grew up playing a lot of different sports, including tackle football. At 12 years old, she found the game of soccer. From the beginning, she was a goalkeeper.
"I'm from a very small rural town in Minnesota, and so they didn't have a girls' team at the time," Briana says. "And the coach thought it was a good idea that the girl would play goal. They thought it was the safe place for the only girl on the team to play. As we all know, it's the most dangerous position there is. But I loved it."
After a successful collegiate career at the University of Massachusetts, Briana received an invite to join the U.S. National Team. This was the team, the one that broke women's soccer wide open in this country.
"I remember my first training camp as absolutely brutal," Brandi says. "I mean, Michelle Akers was there, Carin Gabarra, Julie Foudy, Mia Hamm — all these players that were absolutely elite. The best of the best. And not just in this country, but in the world. And so it was a very humbling experience for me, digging the ball out of the back of the net no less than 1,000 times I'm sure.
"It wasn't just soccer that exploded, in my opinion. I think it was powerful women, in general."

Briana Scurry
I asked Briana her how her teammates would have described her.
"They would say I am intense," she says, laughing. "I think intense, fearless, occasionally very demanding. I think over time they grew to love me. And I hope that's true."
That team played for the gold medal at the 1996 Olympics games in Atlanta — in front of tens of thousands of people in the stadium rooting for the home team and millions watching around the world.
Briana had been dreaming of this moment since she was 8.
"It was magical," Briana says. "You know, millions of things had to occur for me to get to that exact spot at that exact time. And I was there. So I just knew we were going to win — it was just a matter of time. I just needed to focus in and do my job. And I had complete faith in everybody else that they would do theirs. And they did."
In that moment, Briana and the other women who now owned gold medals became heroes for the next generation of soccer players. Over the next year, the nation watched — thanks to television commercials — as Briana, Brandi, Mia, Tiffeny and Tisha went to great lengths to stick together. Whether it was third-, fourth-, fifth- and sixth-wheeling on a date or taking a team trip to the dentist, the team did everything together —least on TV.
No longer did 8-year-old girls have to look to men as their role models.
"And I think that was one of the things that was so appealing about our team: you could find someone that looks a little bit like you, who runs a little bit like you, who seems that they could be your big sister," Briana says. "It was truly amazing just watching soccer explode in this country. But it wasn't just soccer that exploded, in my opinion. I think it was powerful women, in general."
"And that brings us back to that 1999 World Cup. The tie. The penalty kicks. And Briana's save."
I'm not much older than Briana. Most of my sports role models growing up were dudes. So when she made that amazing save and stomped her feet, threw her head back and roared in the 1999 World Cup, I thought, "Finally, an African-American woman, on the world's stage, literally saving us." For me, that was the image that should have been celebrated by a grateful nation. But not for Briana.
"For me, if Brandi doesn't take that last kick, I think women's soccer is still super popular — but not anywhere near the way it ended up rolling out," Briana says. "Because what her image showed is a literal transformation of an opinion of women from one way to another way. That it was cool to have muscles and to be fit and to be strong. So in that regard, for the greater good of the game, her image would go a lot further for a lot longer than mine would have gone."
Briana did receive a few endorsement deals. She made it on that Wheaties box and she sat on the couches of Jay Leno, Rosie O'Donnell and Regis and Kathie Lee.  After several more years as part of the U.S. National Team, Briana went on to play professionally. In 2010, as a member of the Washington Freedom, things changed.
"I got hit in the side of my head making a low-ball save," Briana says. "For the few weeks and months after that, it just wasn't getting better — it was getting worse. And it was a very tumultuous time for me.
"I was 38 years old. And I was considering retiring anyway soon, but not as abruptly as that, obviously. And part of the reason why I think that I didn't pursue a lot of opportunities back then is because, in my mind, I wasn't capable."
For years, I assumed the lack of Briana on my television calling games and giving commentary was because she was black. I thought it wasn't enough that she made that incredible save — her look wasn't the look that America was ready to celebrate. In reality, it was the sport that gave her so much that was now responsible for taking so much away.
"I just couldn't keep my thoughts together," Briana says. "I suffered intense headaches every day, I had vision issues. I had — I honestly felt like I couldn't learn anything new for a while. Because I couldn't make it stick, and then I couldn't recall it.
"Then, the emotional stuff started to happen, like anxiety and depression and panic attacks and things like that. And so, basically, everything that I had planned on doing just went into a hole. That year after, 2011, I was actually doing ESPN broadcasting for that 2011 World Cup — and struggled every single day.
"We were in Germany for 30 days, and every evening I would go to my hotel room and cry and cry and cry — every day,  because I couldn't make anything stick. My performance on screen and on air wasn't very good, in my opinion. I mean, I couldn't remember the things I had said. And you know, all these kinds of things that you deal with when you have concussion symptoms long term. And after that time, I just basically disappeared."
Briana disappeared into a studio apartment in New Jersey and into the chaos of  trying to receive treatment for the side effects of her career-ending concussion. But I was surprised when she told me that she wouldn't change a thing.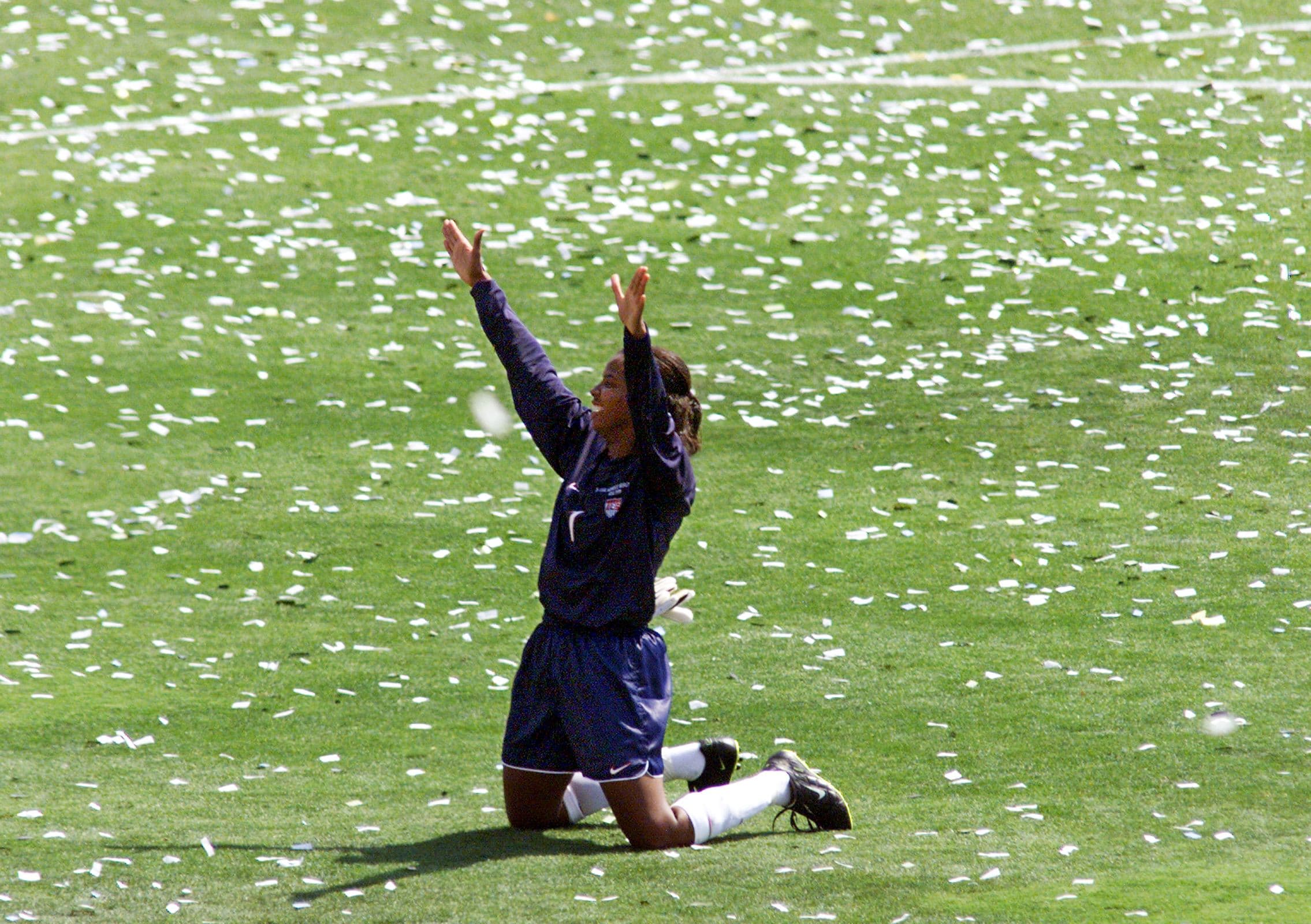 "I met my current wife," Briana says. "I would never have met Chrissa without it. And you know, now that I think back on it, it was actually something that changed the path of my life in a good way. I mean, I am as happy as I've ever been in my life, and this is going to last until I'm 90 or whatever, I hope. And it's something that, at the time I couldn't have seen, you know. But it was just the path I was meant to walk.
These days, Briana walks the sideline as an assistant coach for the Washington Spirit and the hallways of colleges and conferences talking with audiences of all ages about diversity, perseverance and the dangers and symptoms related to concussions.
"I'm 46 years old, and it's been 20 years since I first started playing on the national team and everything," Briana says. "And now — seeing the team that plays for the USA now — all of those girls saw us do what we did. So many people go through their lives and they affect in a positive way, you know, a handful of people. And I know that my life and what I've done in it has positively affected millions. And I know that.
"I mean, the ripple effect of that — how we were able to impact an entire world by showing strength, showing power — by showing that it's OK to be strong, It's OK to sweat.
"I mean, I love my medals. I love my accolades, don't get me wrong. But I tell you — when I have little kids come up to me who are, 'Oh, my mom thinks you're great.' You know what, I think that's pretty cool. How many people can say that?"
"I know that my life and what I've done in it has positively affected millions."

Briana Scurry
I'm a little embarrassed about the story I'd made up in my mind about what happened to Briana Scurry after the 1999 World Cup. My own experience as a young black athlete — playing on teams and in clubs that were majority white for coaches that seemed to hate my being there — led me to fill in the gaps of her story. Coupled with that embarrassment, though, is a sense of relief. I'm relieved to know that I was wrong.  Briana is an even bigger hero than I thought she should've been.
In February of this year, Briana Scurry was inducted into the National Soccer Hall of Fame. In June, she received the Black Soccer Membership Association's Lifetime Achievement Award.
This segment aired on October 6, 2018.