The Women's Basketball Team That Sent Its Players To Charm School
Play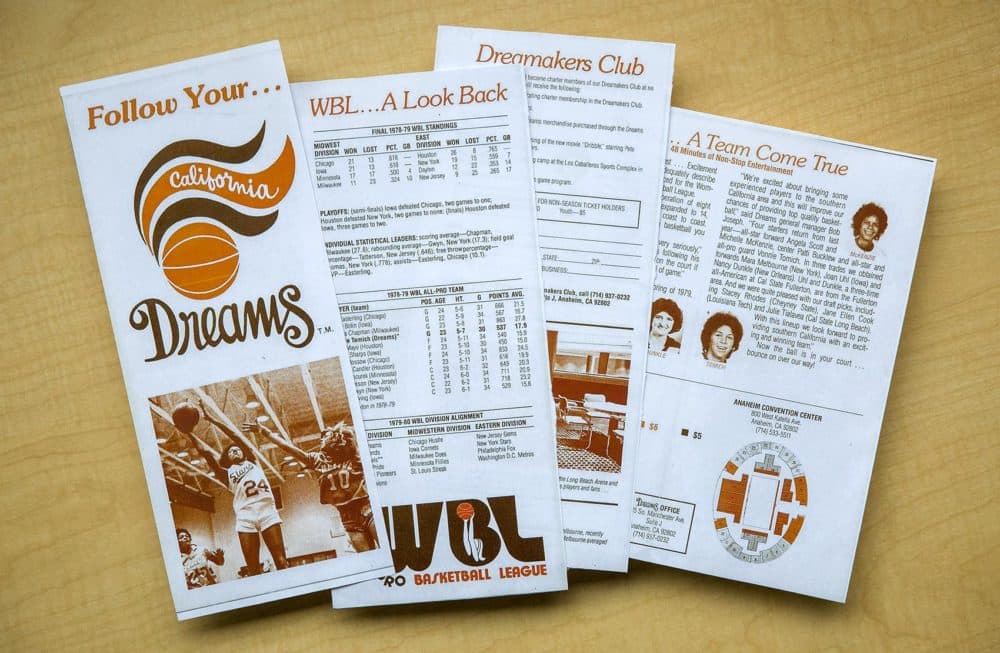 This article is more than 4 years old.
On Dec. 9, 1978, the Chicago Hustle and Milwaukee Does faced off in the premier of the new Women's Basketball League ... or WBL. The League featured future Hall of Famers Nancy Lieberman and Ann "Muffet" McGraw. It struggled to bring in money.
But in 1979, the WBL appeared to be shifting into high gear. Even though the Dayton Rockettes folded amid financial hardship, the league added a third division with six new teams from Philadelphia to San Francisco. Among the league's boldest moves was establishing the Dreams, a Southern California-based club that would split games between Long Beach and Orange County.
"We had a great training facility," says Michelle McKenzie, one of four former Dayton players who came to Southern California after the Rockettes folded. "We had two arenas we were playing out of. We played a couple of games premiere to the Lakers games. And a lot of us had experience in the game, and we kind of knew of each other. That's what kind of made me feel like, 'Wow, we're going to have a championship team here.' "
But when Vonnie Raketich, known then as Vonnie Tomich, arrived in California, she had concerns about the accommodations given to the team president.
"You know, in this big office with the leather chairs and the whole thing," Vonnie says.
Vonnie starred at Illinois State University and was a WBL All-Star in Dayton before joining the Dreams.
"At that point, we were just beginning. And I don't feel like the way they appropriated money was to the best interest of the team," Vonnie says. "Because you're not looking to look like a big shot. You're trying to get something off the ground. Leagues don't start, you know, on Michigan Avenue."
During the league's first season, the WBL's westernmost team was the Houston Angels. Now, there would be two teams in California embarking on lengthy road trips that crisscrossed the nation.
"We just assumed that this was something that had to be done if you wanted to play ball for California."

Michelle McKenzie
"I thought it was kind of crazy to go to California," Vonnie says. "It should have stayed in the Midwest and East. I thought it expanded way too fast. The second year is ridiculous to expand, in my opinion."
The California Dreams faced geographic and financial hurdles even before playing their first game. So as the 1979–80 season got underway, the Dreams' president approached head coach Mel Sims with a plan to make the team's players stand out in Southern California's cluttered sports market.
"They were going to send them to charm school because they wanted to change the image of the game," Mel says.
Charm School
Yes, charm school. More specifically, John Robert Powers Charm School in Los Angeles.  The academy had locations nationwide and was founded by a former actor who began teaching etiquette in the 1920s. Alumni of the school included Jacqueline Kennedy Onassis, Betty Ford and Princess Grace of Monaco.
"We just assumed that this was, you know, something that had to be done if you wanted to play ball for California," Michelle McKenzie says. "That this was a part of being a professional athlete. It didn't cross our minds to say, 'Well, I wonder if men do this?' We just wanted to be compliant and go along with the program."
"They were taught how to dress, how to walk more feminine, how to speak with the opposite sex," Mel says.
"There's a way a young lady gets in and out of a car," Michelle says. "You back into a car and you swing your legs in. And as you get out of the car, you swing both legs out at the same time outside the car. And then you proceed to walk. It stuck. I still do that."
But the expectation that athletes must also be "charming" caused some ripples.
"They gave us a little bit of makeup," Michelle says. "But the ladies' arguments were, 'Wait a minute, we're not going to be wearing makeup when we're on the court. OK? I'm not going to spend a bunch of money on makeup, and then I'm gonna go on the court and sweat it off.' And so, of course, it became a joke after a couple of the sessions."
"We'd eat at, for instance, a Denny's," Mel says. "And Denny's gives you a knife and a fork. And they would place their glass. 'Oh, remember your glass goes here. OK?' 'The fork goes there. Where's my salad fork? Where's this fork?' They were being comical."
"That is absolutely a ridiculous way to spend money," Vonnie Raketich says of charm school.
"I remember going to the hairdresser and them telling us how to wear our hair — you know, what would look best for us," Vonnie says. "This was all on that outer show. I think we're female athletes, and I think they're trying to portray us as something else.
"I really didn't take it too seriously. Because I thought it was ridiculous. I was there for a reason. I stayed focused on the sport. And I just thought it was silly."
The California Nightmares
And the California Dreams had more glaring issues than how their players got in and out of cars. Issues that were apparent to Coach Sims the moment he joined the club.
"I'd run out, jump in the car and we'd head out to the bank. Because sometimes, all the checks didn't cash. So first one to the bank wins."

Ann McGraw
"They did things backwards," Mel says. "They selected the team first and selected the coach second. When I got there and I saw the players for the first time, I asked, 'Where are all the guards?' They didn't select guards.
"I nicknamed them the California Nightmares, because we couldn't get the ball across half court most of the time — simply because we didn't have the guard know-how."
The Dreams started the season 1–7. While teams in Chicago and Iowa drew thousands of spectators to every home game, the Dreams played to mostly empty seats.
"It was terrible," Mel says. "Sometimes they had more ticket takers than we had spectators. And we gave away more tickets than we could sell. And that was very discouraging.
"To go into an arena and play, before 80–90 people. And that was a good crowd. And probably half those tickets were given. And so people weren't buying into the idea of women's basketball."
"My biggest memory is probably my husband wearing a t-shirt that said, 'My wife is a Dream,' " says Ann "Muffet" McGraw, the current head women's basketball coach at Notre Dame.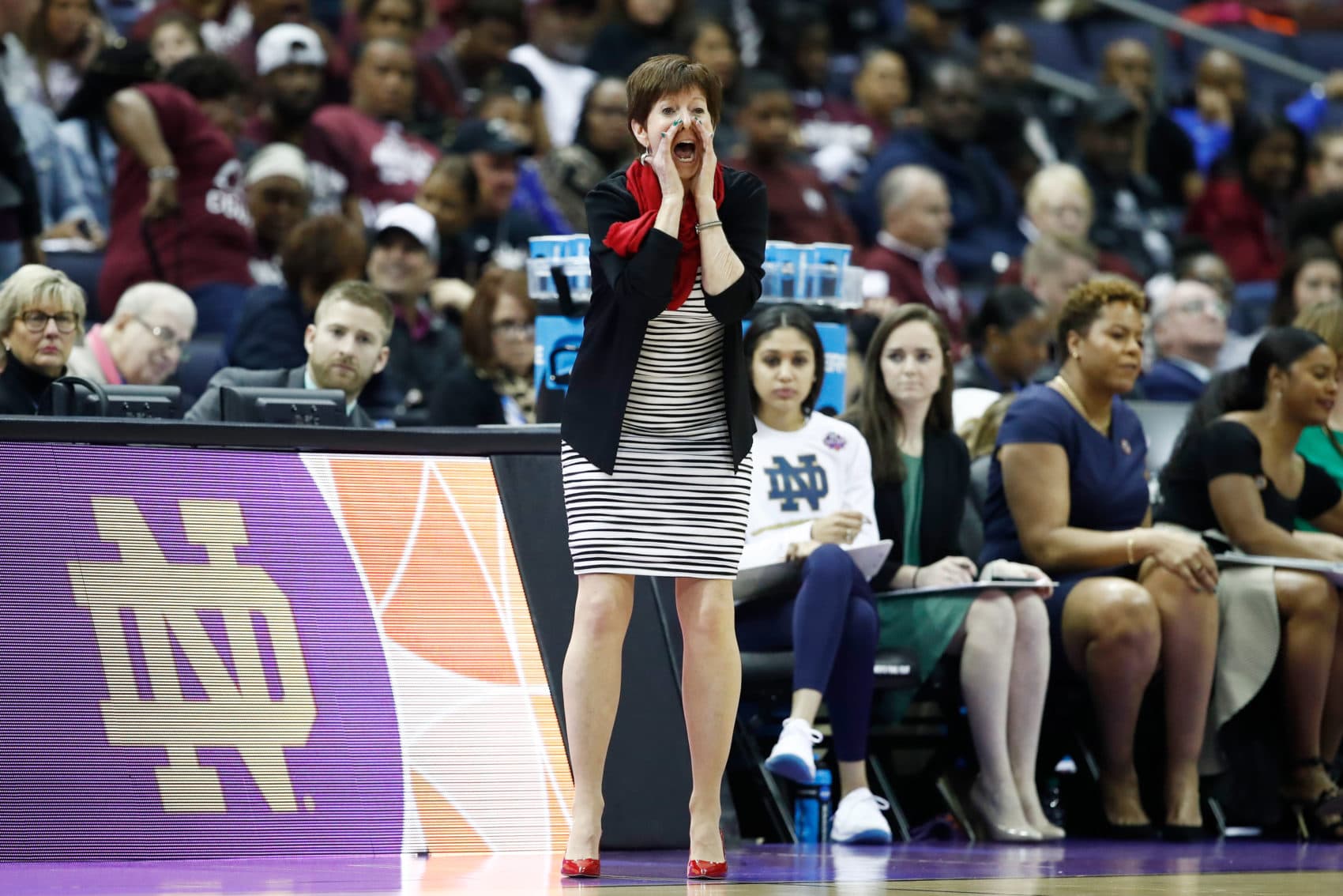 Partway through the 1979–80 season — after the Dreams had completed their charm school courses — McGraw joined the team with the hope of filling the glaring void at the guard position.
"We weren't making a lot of money," she says. "I remember my salary was $11,000. And we used to — I'd have my husband waiting outside in the car with the engine running. I'd run out, jump in the car and we'd head off to the bank. Because sometimes, all the checks didn't cash. So first one to the bank wins."
"Money became a big issue," Mel says. "We were traveling, and we didn't know how we were going to get home. We ran out of money. We had to change hotels once because we didn't have money."
The Dreams' Abrupt End
With games still left on the 1979–80 WBL schedule, Mel Sims was fired. Before their inaugural season was complete, the Dreams were over. The WBL followed a year later.
And although the experiment was short lived, the Dreams' attendance at Charm School highlighted some of the issues women in sports continue to face today.
"It hasn't stopped, if you want to know," Vonnie Raketich says. "That's why girls have issues at college. That's why they have to worry about sexual assault. Because of that mentality has never left."
Still, despite its shortcomings, the League did offer its players and coaches a historic opportunity in the years immediately following Title IX.
"We played in an era where we waited for the guys to finish practice," Muffet McGraw says. "They flew to games, we took the bus. It was completely different. We feel like we maybe, at least, laid some groundwork for women today, for what they have now. We look at the WNBA and think, 'Maybe because we were there, and even though we failed as a league after a couple of years, at least we got it started.' "
This past summer, the WBL was enshrined into the Women's Basketball Hall of Fame and awarded the Hall's Trailblazer Award.
This segment aired on October 13, 2018.