The Nike Air Swoopes And The Disappearance Of Women's Signature Shoes
Resume
Dawn Staley is the head women's basketball coach at the University of South Carolina. She won three Olympic gold medals and is one of the greatest WNBA players of all time. And when she was a kid, basketball shoes were everything.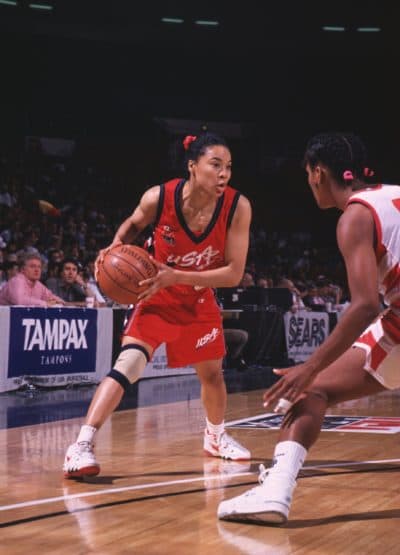 "You know, I grew up in the projects of North Philly," Staley says. "I grew up wearing a lot of different sneakers. I didn't care what I looked like from my ankles up — I had to have the newest, the best pair of sneakers out there."
Staley remembers wearing Charles Barkley's signature line. She wasn't much of a Jordan fan. In any case, she wore men's shoes.
"Everyone I played with were males," Staley says. "That's what I wore. That's what I was comfortable wearing. And I just really didn't know the difference."
Basketball shoes for women didn't exist when Staley was growing up. But before long, that changed. In the summer of 1996, Staley and Team USA won their first gold medal at the Olympic Games in Atlanta.
"Women's basketball was pretty much at an all-time high," Staley says.
The American Basketball League, or ABL, had been founded a year earlier. The WNBA followed shortly after. And as the country saw women's basketball gaining popularity, Nike saw a groundbreaking business opportunity.
"To me now, later in life, I feel that it was more special and amazing than it felt at the time," say Marni Gerber, a Senior Design Director at Nike.
In the lead-up to the '96 Olympics, Gerber and Nike partnered with Team USA star Sheryl Swoopes to design a signature basketball shoe. By then, Nike had released 10 Michael Jordan signature shoes in the Air Jordan line. Several other NBA players had their own models, too. But in the women's game, Sheryl Swoopes' shoe would be the first. And for Gerber, that meant rethinking what basketball shoes could be.
"At the time, basketball shoes were really overbuilt," Gerber says. "Sheryl's not giant like some of these guys are. So, how could I design a shoe that was less shoe and more her?"
Sheryl's Shoe
Gerber watched Sheryl play at the Team USA training camp, taking notes on how she moved on the court. She even joined Swoopes on a trip to her hometown of Lubbock, Texas, to get to know her outside of basketball.
"I went to her hairdresser with her," Gerber says. "I met her mom. We went to the Outback Steakhouse — and that was kind of the cool spot to go to in Lubbock back then."
Gerber says she had never worked so closely with an athlete.
"We actually got to know each other pretty well before I even started designing," Gerber says. "And I think that was helpful — then she felt comfortable talking to me. She's larger than life. She's an amazing athlete. Everybody knows her. But she's also just this down-home, real, sweet person. 
In 1995, Nike released the first-ever women's signature basketball shoe: The Air Swoopes. It featured a lower ankle cut so Swoopes could move quicker on the court and a Velcro strap across the top of the shoe for extra stability.
"There's an S shape on the bottom of that shoe," Gerber says. "And basically, when she's up in the air, that was to put Sheryl Swoopes — SS — in your face. The kind of swirliness of that logo with Sheryl's name was to show the feminine side of her. And then, also, the shoe was pretty bold and dynamic. And that was the athlete side of her. When I drew that SS on the bottom of the shoe, it felt like, 'OK, this is the right way to go.' "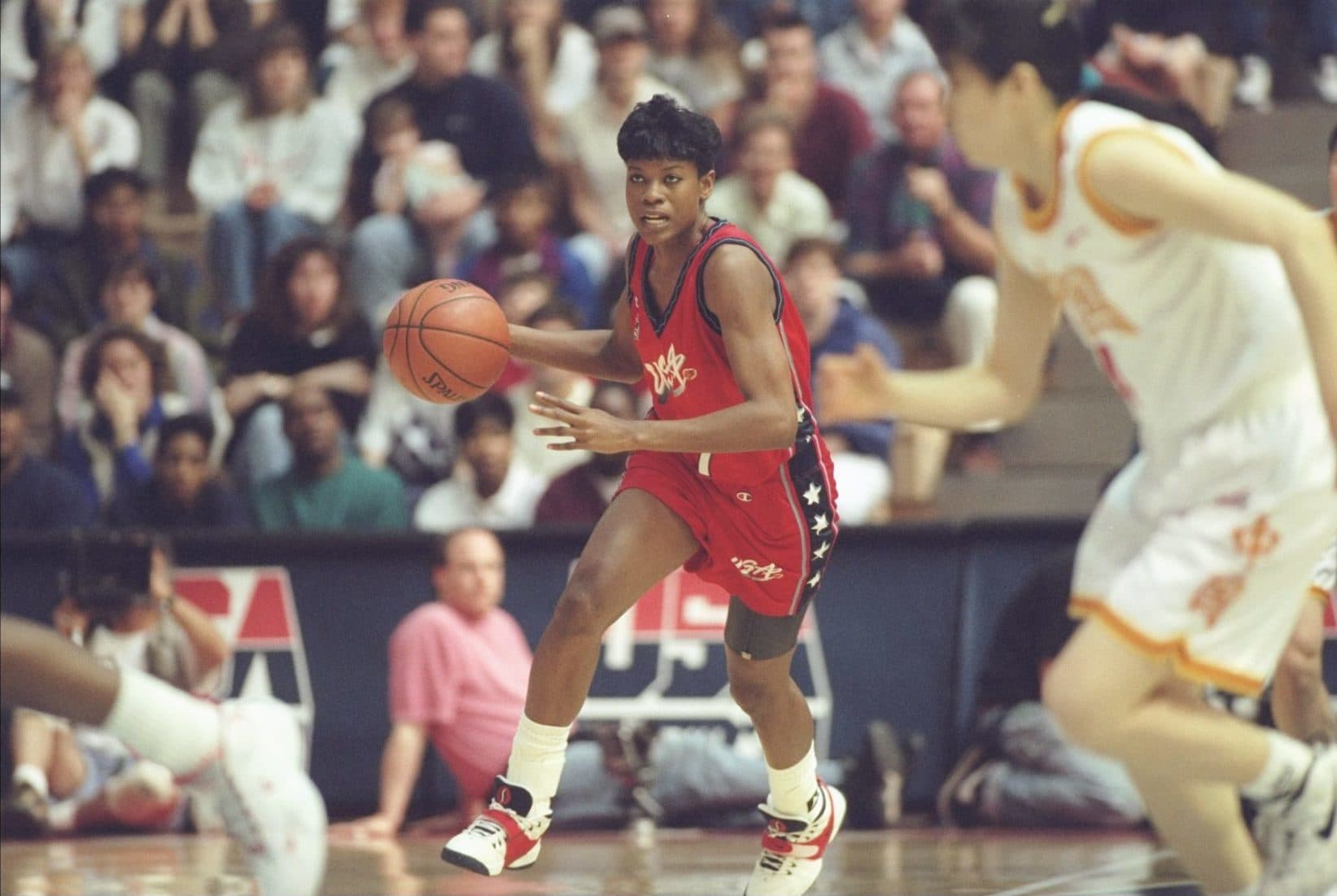 'I Hope My Game Can Pull These Off'
In the early '90s, Jane McManus was a young professional playing pickup basketball in New York City.
"I was literally taking the ball in my own hands, and you know, walking into courts where there were just guys playing and saying I wanted next," McManus says.
She remembers going into shoe stores and being told that there weren't shoes made specifically for women.
"I thought it was kind of garbage," McManus says. "But I heard about the Air Swoopes coming out. And I really wasn't enough of a high roller to know if I could go for one of those brand-name sneakers.
"But these shoes ... I just really felt it was important, if I'm a woman playing basketball, to buy a pair of shoes that's been specifically designed for a woman and marketed to her.
"They were, like, a navy, shiny — they looked like molten metal. They were not even an actual color. And I opened up the box. And they just looked so cool. I just thought, 'Wow, I hope my game can pull these shoes off.' You're gonna wear those shoes onto a court, you better be able to back it up."
More Signature Shoes
Nike released a second Air Swoopes model just before the 1996 Olympics, and the Air Swoopes Zoom a year after that. In '98, the brand teamed up with star WNBA center Lisa Leslie on the Air Total 9s. 
And in 1999, Dawn Staley debuted the Nike Air Zoom S5: her own signature shoe.
"I was really happy to see the prototype," Staley says. "When they sent me the prototype, I wanted to go really ball out. I wanted to show everybody in the neighborhood. I wanted them to look at it, to approve of it, to want a pair.
"And then when I got the real deal ... I mean, it was like a hundred Christmases tied up in one. Unbelievable.
"It was white based, and then there were some accents on the toe, some accents on the heel — the strap was a different color with my S5 logo. And it was just a really clean looking shoe. If you wore a white uniform, they pop. If you wore a red uniform they pop. People were immediately drawn to my feet."
Staley says she liked it that way.
"I did. You know, I was a 1996 sneaker head."
A personal designer from Nike didn't visit Staley in her hometown. But she still feels that her shoe represented her and the expectations she had for herself.
"My shoe was built on Philly," Staley says. "It was built on toughness. It was built on being able to handle whatever was thrown at me. It was built on being an odds beater. When I had my signature shoe on, I was in my mode of, 'This is it. This is, like, basketball utopia for me.' "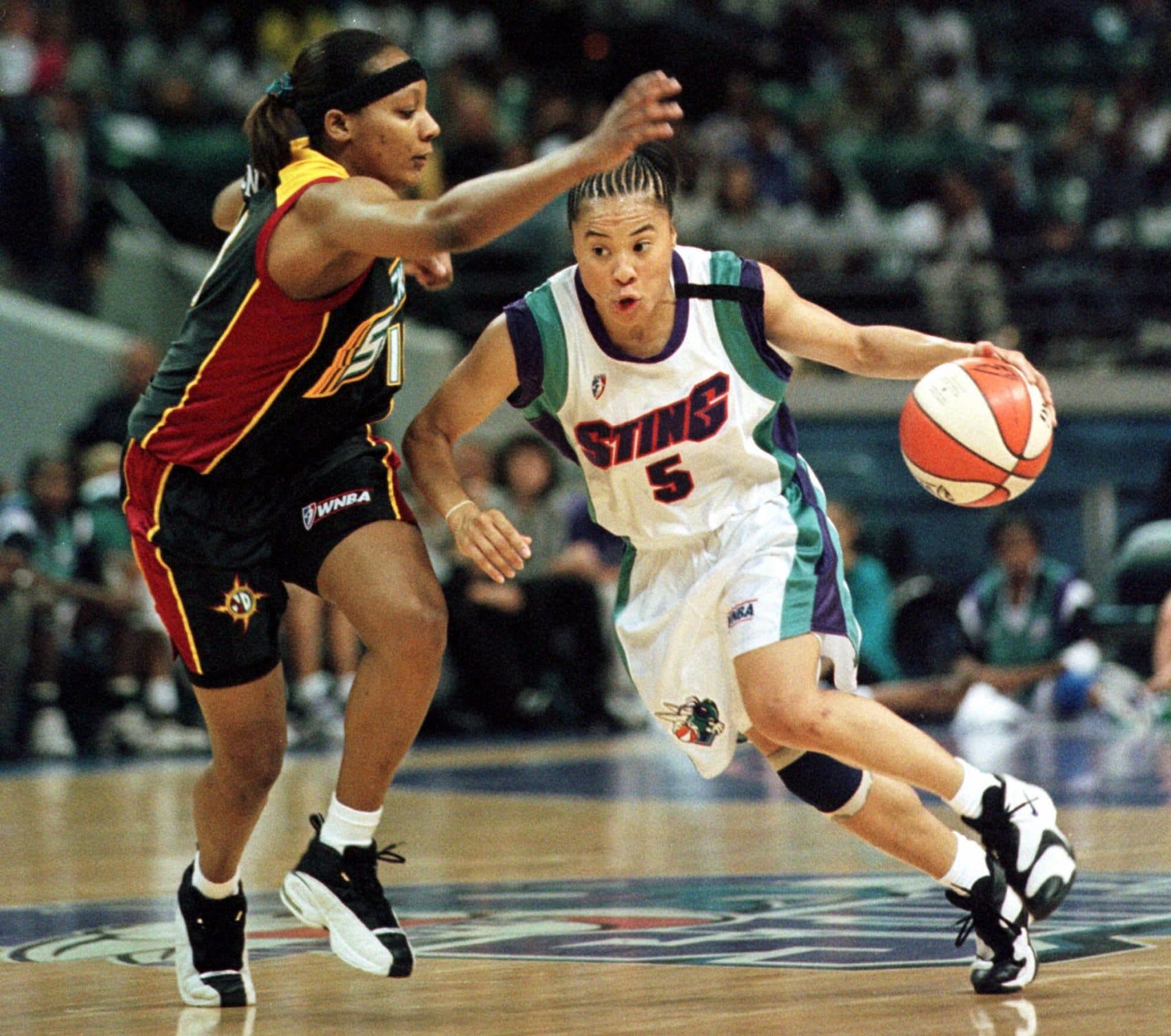 The Next Generation
As Dawn Staley and Sheryl Swoopes rocked their signature shoes on the WNBA stage, a new generation of players was watching. Including future four-time WNBA champion Seimone Augustus.
"I remember my first game that I went to," Augustus says. "My parents saved up money to drive us down to Houston from Baton Rouge. And we were, you know, at the Toyota Center. And we were literally at the top of the rafters. We had our heads against the poles at the top of the arena. And I had to watch the game from the Jumbotron.
"But I did not care because I was in the building. I was hoping and dreaming to one day be in their shoes. It just made me want to go home right then and just get to work."
Just like their idols, Augustus and her friends were sneaker heads.
"Back in those days, like, they would come in and they'd have their sneaker towel," Augustus recalls. "They'd clean off the scuff marks if there were some — or a toothbrush that really, like, make sure the rubber sole was clean."
Augustus was in middle school when Sheryl Swoopes and Team USA took home gold at the 1996 Olympics.
"But by the time her shoe came out, I was, like, too big to shop in the lady's Foot Locker — and I couldn't get them," Augustus says. "I assumed they would make shoes for the basketball player — like, we're obviously taller, bigger than the average woman. I was super bummed out because it was the first women's shoe to come out, and I wasn't able to get it. And I'm a hooper! And I love Sheryl Swoopes!"
To make matters worse, two of Augustus' middle school teammates had the new shoes.
"I was just kinda envious of everyone else that had them," Augustus says. "Every day, coming to practice, it was annoying to see them. I'm like, 'Ah, I hope the rubber falls off or the shoe strings break.' " 
Augustus went on to lead the LSU women's basketball team to three straight Final Four appearances. In 2006, she was the No. 1 overall pick in the WNBA draft.
"After Swoopes got her shoe, I just assumed that so many other great women who came through the league would get their shoes — and that I would be able to, obviously, get a pair," Augustus says.
"But it didn't happen."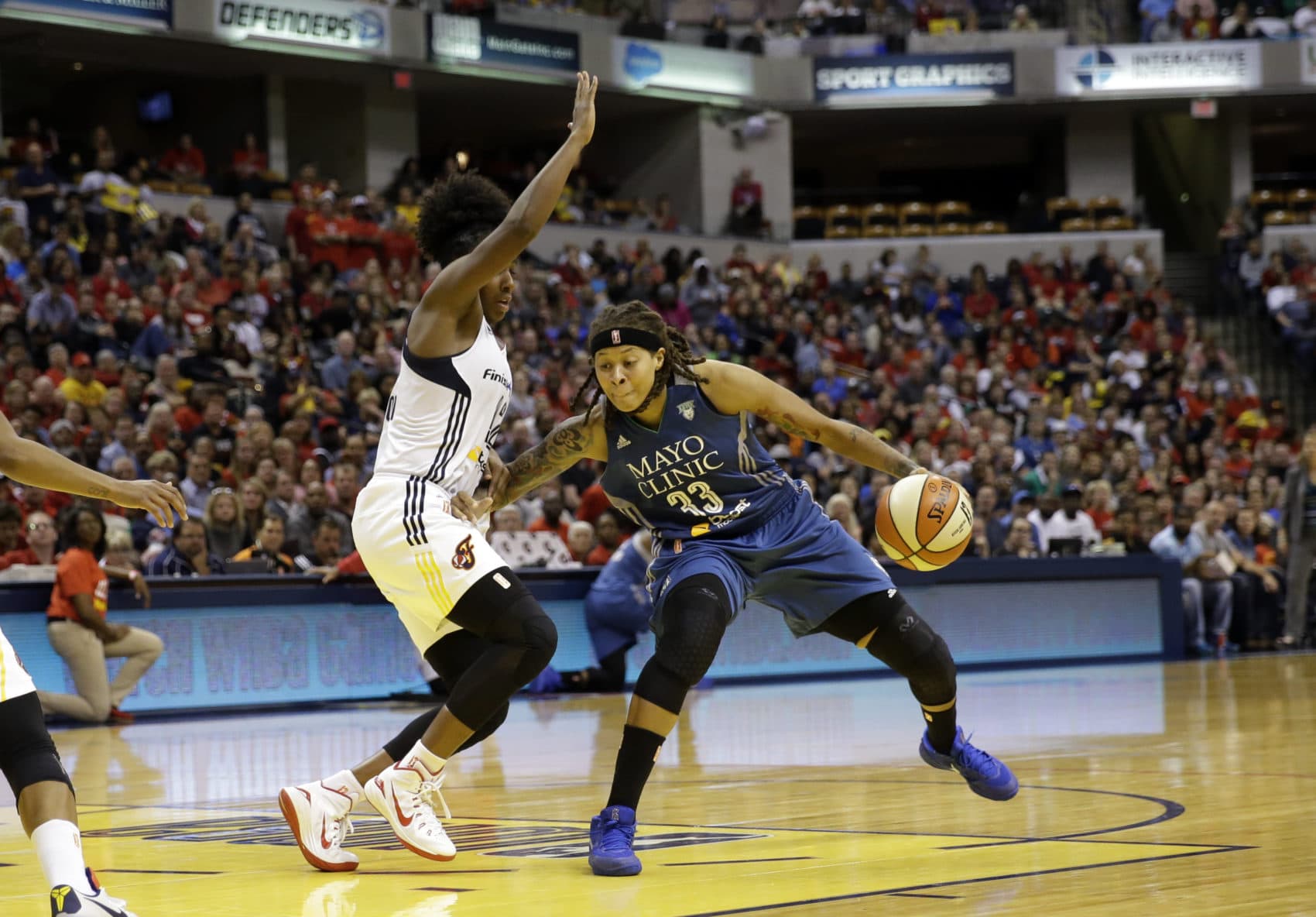 Augustus began her professional career at a tumultuous time for the WNBA. In the years before her debut, three teams folded and another two relocated. She says the league felt the effects of the recession in the late 2000s. And by then, it had been years since Nike had released its last signature shoe for women. No other brands had filled the void.
"We talked about it often," Augustus says. "Like, 'Man, what would a shoe look like? What would it feel like? Who would get a shoe?' That's why we worked so hard. We was, like, 'Maybe we aren't working hard enough. We got to put good, quality work on the floor to convince them that we do deserve this.' "
Today, players like Augustus or league MVP Breanna Stewart sometimes get custom models of men's signature shoes. But even with the widespread sneaker culture in the league, no WNBA player has a signature shoe to call her own.
Last year, Augustus found an opportunity for something different.
"I want to make my shoes cool," Augustus says. "I don't want them to be the basic Kyrie — I want it to have some kind of Seimone in it." 
In November, Augustus posted a video on Instagram of her shoe collection from high school. And it got the attention of an independent shoe artist based nearby in Minneapolis. He messaged her with an offer: For a couple hundred dollars, he would take a pair of her shoes and hand paint them using her design ideas.
"I love watching cartoons," Augustus says. "I'm a big kid at heart. And so I started to play around with the cartoons and things like that."
And since the WNBA has no color or design restrictions for its players' shoes, Augustus took Scrooge McDuck, Penny Proud and even the Care Bears onto the court with her.
In a lot of ways, she says, this project has been her way of making her own signature shoes.
"I'm hoping that it will open up people's minds to be, like, 'You know what? We should give her a shoe and let her design something,' " Augustus says.
In August, just before the start of the WNBA playoffs, Nike rereleased the Air Swoopes II. And even though Nike still doesn't make them in her size, Augustus was first in line.
"I said, 'Forget it, I'm buying a pair,' " Augustus laughs. "I got a size 12, and I'm hoping that I can squeeze my foot in there. I think it left an amazing mark to see an amazing woman like Swoop, who's accomplished all that she's accomplished in the WNBA — and in basketball, period — to be celebrated in that way."
Seimone Augustus hopes that by supporting the Air Swoopes and rocking custom kicks, she and other WNBA players can inspire the next generation of women's hoopers — and maybe even a shoe company or two.
"It's so disappointing to me to walk into the store, and I have no other choice but to buy a male sneaker," Augustus says. "It's time to change the narrative. We've put in the work. We've earned our moment to be able to prove to people that we can do this. It's time."
This segment aired on October 20, 2018.