With His Brief MLB Career In The Rearview, Adam Greenberg Runs For Office
10:29
Play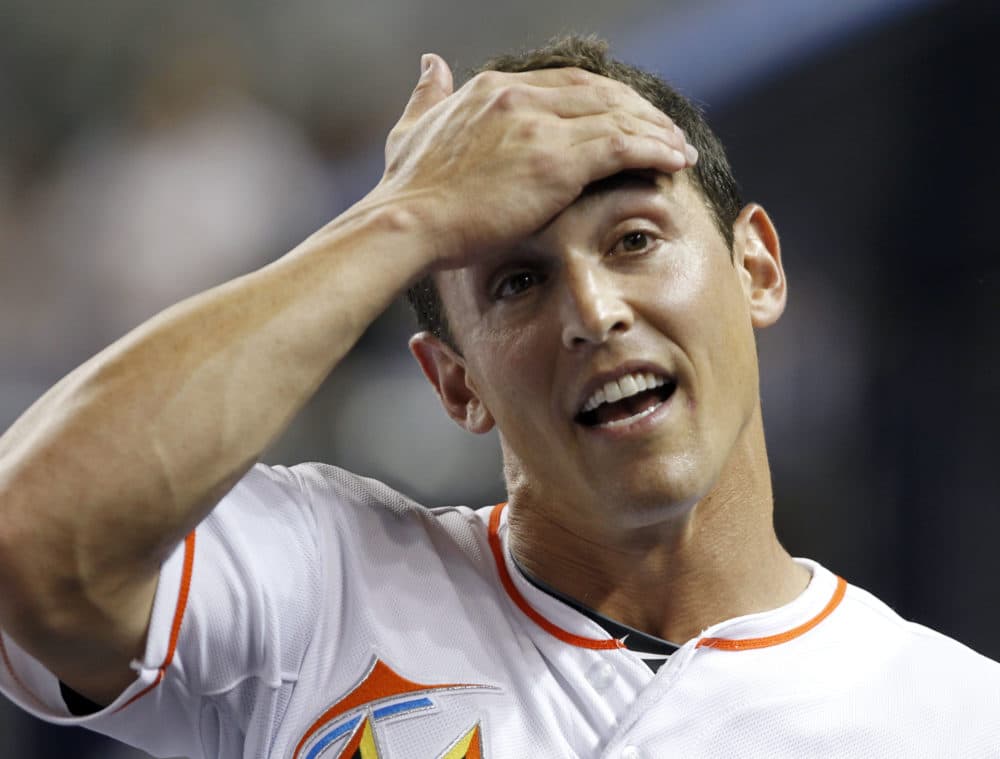 This article is more than 2 years old.
Trying to keep up with Connecticut State Senate candidate Adam Greenberg on the campaign trail isn't easy.
Greenberg  — a Republican running in the state's 12th district — sprints up and down driveways, trying to knock on as many doors as possible.
"Every 30 seconds helps," he says.
Greenberg definitely isn't the first — or only — candidate to do this. But he's probably faster than most.
The 37-year-old Greenberg was known for his speed during his 12-year professional baseball career. One season he stole 53 bases.
"Good luck," he tells me as I try to follow him from door to door.
But even more than his quickness, Adam Greenberg's baseball career is defined by a single moment. If it hadn't happened, he might not be running for office now — and he says it comes up every day he's out campaigning.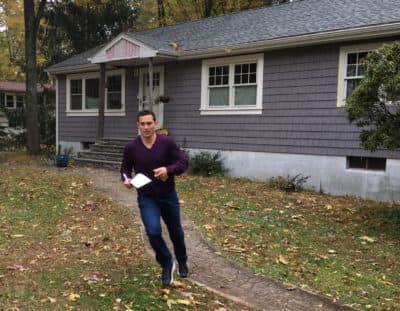 "I always say, 'I'm Adam Greenberg. I'm running for state senate. I grew up here in Guilford. I live in Branford. I played Major League Baseball,' " Greenberg says. "And then they usually get that little look. They go, 'Who'd you play for?' Once I start getting that, I'm, like, 'I'm the guy.' And they look at me, like, 'You're the guy?' 'Yup, I'm the guy that got hit.' "
Minor League Beginnings
Back on July 7, 2005, Adam Greenberg's baseball career wasn't yet tied to a single play. He was a 24-year-old outfielder in the Chicago Cubs organization — a promising prospect on the team's Double-A affiliate, the West Tennessee Diamond Jaxx.
On this particular evening, Greenberg and his club wrapped up a series in Kodak, Tennessee.
"And the team that I was on, they were going down to Jacksonville, Florida, on a — my god — 12-hour bus ride," Greenberg recalls. "And myself and Matt Murton — who were two outfielders on the team — were told, 'You're gonna stay behind. And you might get a call to go to Triple-A or you're gonna get on a plane and fly to Jacksonville to meet the team.' "
Adam and Matt were left to wait at the Days Inn. The Chicago Cubs were playing the second leg of a double-header, so Adam and Matt turned on the game.
"And we received a phone call from our agent who was representing both of us," Greenberg says. "And he said, 'Root against the Cubs more than you've ever rooted against them in your entire life.' So we didn't know why, but Matt and I started to root against the Cubs."
The Cubs lost — and less than 15 minutes later, Greenberg's phone rang. It was Diamond Jaxx manager Bobby Dickerson.
"And he said, 'Hey, can you do me a favor and put the phone on speaker?' " Greenberg recalls. "So I did. And Matt and I were kinda huddled up around the phone. And Bobby said, 'Hey, guys. I just want you to know you're gonna be flying to meet the team in Florida.' And Matt and I looked at each other, like, 'Alright. OK. I mean, whatever.' And then what he said next is, 'You're not coming to meet us. You're going to Miami and you guys are going to be on the Chicago Cubs.' "
The Cubs were scheduled to play the Florida Marlins.
The next morning, Greenberg flew first class for the first time.
"They could've sat me in a little prop plane in a tiny little seat with three people sitting on my lap and I would've been happy," Greenberg says.
When Greenberg got to his hotel room, there was a bottle of Dom Pérignon waiting for him.
"I'll never forget — I had my suitcase, and I always used to leave it fully packed and just take out what I needed," Greenberg says. "Because in the minors you're always anticipating that you're gonna get a call — you're gonna go somewhere. And this time I took out all of my clothes, 'cause I said the first time I ever get to the Big Leagues is when I'm gonna unpack and plan to be here."
Greenberg's Major League Debut
Greenberg sat out his first game with the Cubs. He started the second game on the bench as well. But he had a feeling he was going to get a chance at the plate.
"I had my bat with me basically the whole game, my batting gloves on," he says.
Sure enough, in the ninth inning, with the Cubs up two runs, bench coach Dick Pole called over to him.
"And he just says, 'Greenie, get a bat. You're hitting for the pitcher,' " Greenberg recalls. "And I'm, like, 'The bat's attached to my hands. I don't need to get that. I just need my helmet.' "
As he stepped to the plate, Greenberg remembers thinking "be aggressive."
"I remember everything vividly," he says.
Greenberg, a lefty, was facing left-handed pitcher Valerio de los Santos.
"I remember the ball being released," Greenberg says.
Right away, Greenberg says it looked like the ball was headed straight at him.
"The thought was, 'Oh, my god. Stay in here. Don't bail.' Because this was my first Major League at bat and first pitch. I don't want to see a curveball coming over and me bailing out for strike one," he says.
But then he realized: the ball wasn't curving.
"Obviously, it was already too late, so I just turned myself into the catcher, just to try anything to just get out of the way of it," he says. "And that was when it happened."
"It caught the base of the helmet. That's why the helmet went flying," Greenberg says. "And the noise was the loudest, scariest noise — almost like a shotgun, right in your ear.
"And the scariest part was my eyes rolled in the back of my head. And I grabbed my head — because based on the sound and where it hit and how much it hurt, I thought my head split open. And I said two words three times. I said, 'Stay alive. Stay alive. Stay alive.' "
The trainers rushed onto the field.
"And then they sat me up. And they started asking me a couple questions. 'How many fingers?' Then the last question, they said, 'Where were you two days ago?' And I said — without batting an eye — I said, 'I was in the minor leagues. And I'm not going back.' And they all started kinda laughing, like, 'I guess he's all right.' "
Greenberg thought he was, too. He walked off the field. He didn't even go to the hospital.
But when he woke up the next morning, light bothered him. He says he couldn't eat. He tried to watch the Cubs' next game from the dugout — but he ended up having to retreat to the clubhouse to sleep.
Still, doctors thought it was just a mild concussion, and Greenberg figured he'd be back on the field in a couple days. He went to his parents' house in Connecticut and tried to recover. And then something strange happened.
"I tried to sleep and I rolled over in bed, and my eyes went uncontrollably side to side," he says. "And then what followed was a migraine-type headache for the next few hours. So it was at that moment that I'm, like, 'I don't know what heck's going on with me. This isn't good.' And now I start looking at the timeline going, 'Am I going to be all right? Not just in three days — but am I gonna be OK?' "
Back In The Minors 
Greenberg started experiencing vertigo,  something he says he would struggle with for the next two and a half years. He says his visual alignment was thrown off.
He was sent to the Cubs' training facility in Arizona. He eventually returned to the field, but not for the Chicago Cubs. He was back in the minors. And that next season he batted just 0.209.
"I wasn't the same guy," he says.
Greenberg played in Double-A for the next two seasons. There were stretches when he felt like the hitter he used to be. But by the end of the 2008 season, he was out of the minors. He joined the Bridgeport Bluefish, an independent league team.
It was looking like the only Major League pitch Adam Greenberg would face would be the one that knocked him out of the Big Leagues. And because he'd been hit, Greenberg hadn't even recorded an official at bat.
Finally in 2012, following a fan-led campaign, the Miami Marlins signed Greenberg to a one-day contract so he could get one at bat as a Major Leaguer.
Entering Politics 
Greenberg retired from baseball after the 2013 season. Since then he's been working as a motivational speaker. He wrote a book — and runs a nutrition company. And he's been living in Connecticut with his wife, Lindsay, and two children.
"I got knocked down and the state of Connecticut is the same," he says. "The state of Connecticut is in a bad place. And I looked at it from that perspective of: OK, what can I do to help?"
Up until seven months ago, Greenberg says he wasn't affiliated with a party — he says he doesn't agree with either side's "extreme views" — but he chose to run as a Republican for a state senate seat that's been held by Democrats since 2005.
So these days, Adam Greenberg — former outfielder — is out on the campaign trail talking with prospective voters about taxes and tolls.
"You can't have the sixth highest gas tax, plus tolls," he says to one woman. "You can't have 9,000 business regulations and 300 taxes, plus tolls."
"Our spending is out of control," he tells a man a few minutes later.
When we spoke, Greenberg didn't seem very interested in talking about President Trump.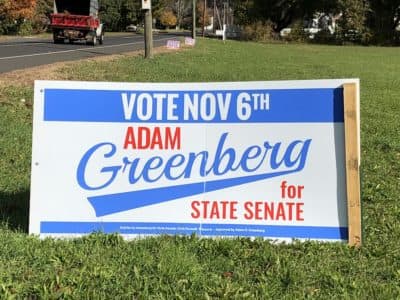 "I'm trying to run for a state office representing the 12th district," he says. "I don't really talk about anything on a federal level from a standpoint of what I'm going to be trying to implement and trying to bring to politics."
Greenberg — whose signage is Cubs blue and red with a font that looks like it belongs on an old-time baseball uniform — says he often gets invited to join voters' rec league baseball and softball teams. But he declines. There hasn't been much free time ahead of Tuesday's election.
This isn't exactly the place he expected to end up back in 2005 as he unpacked his suitcase in that Florida hotel room — but Adam Greenberg says he doesn't feel sorry for himself.
"No, no. And that's not me just saying it. I really don't," he says. "Would I have loved — and I'm gonna be honest — to have been a part of the Cubs' World Series team? You better believe it. But that wasn't my path. So that's what I'm saying. I'm grateful for the gifts that I've been given."
---
For more on Adam Greenberg, check out John Altavilla's New York Times story, "Now Running for Office, Adam Greenberg. You May Remember His First At-Bat."
This segment aired on November 3, 2018.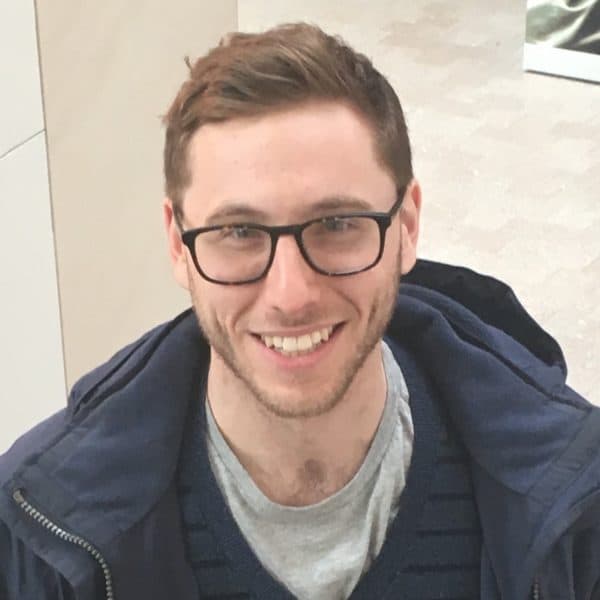 Martin Kessler Producer, Only A Game
Martin Kessler is a producer at Only A Game.