DJ Set Free On The Origin And Legacy Of The And1 Mixtapes
Play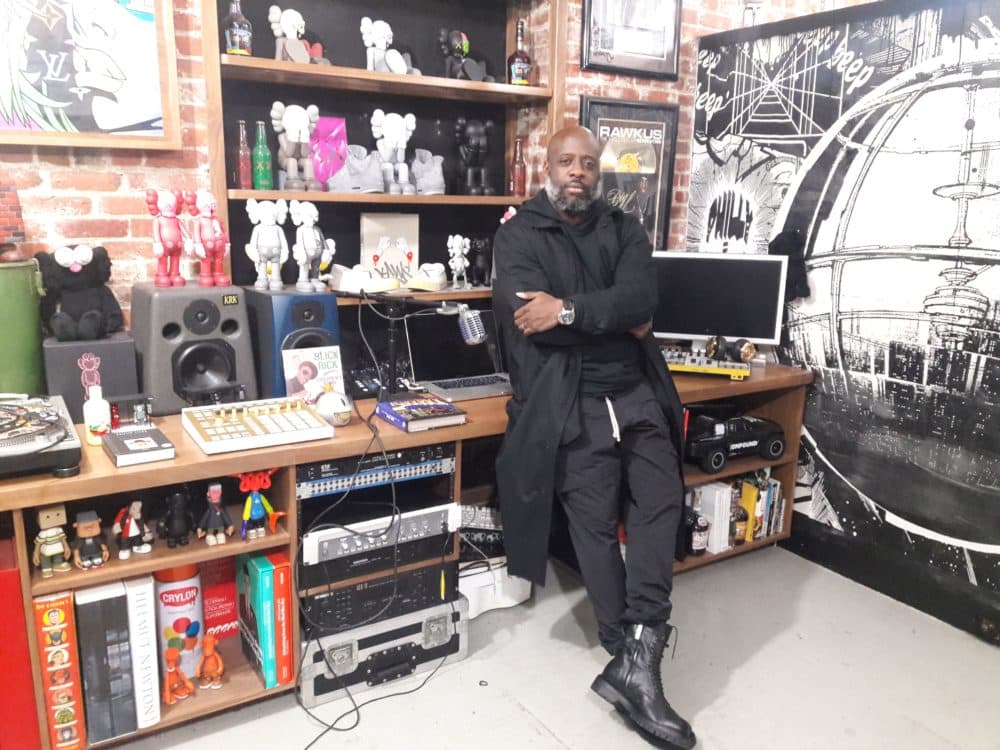 This article is more than 3 years old.
From the late '90s through the mid 2000s, And1 Mixtapes were huge. Famous streetballers, like The Pharmacist and Hot Sauce, were filmed playing on blacktops and in gyms around the world. Highlights of their alley-oop dunks, slick dribble moves and no-look passes were mixed to music, broadcast on ESPN and sold as VHS tapes and, eventually, DVDs.
This is the story of how it all began — and how its legacy carries on today.
DJ Set Free
DJ Set Free, or Set, as he's now commonly known, first found hip-hop when he was about 10. He remembers sitting on a sidewalk in Queens, listening to Eric B. & Rakim.
"And I was like, 'Yo, this is, this is cool,' " Set says. "And the way he was rapping over a beat and kind of telling a story, telling where he was from — it was like learning in a different way about a person and a place over a beat."
As a child, Set split his time between New York and Philly.
"I remember in Philadelphia, there's a spot called The Nile," Set says. "It was like a swim club. And you had the generator hooked up to the turntables and the big speakers. You just see people in they cars, pulling over, jumping out of cars — running to celebrate music. Just to, you know, dance and have fun.
"You got girls jumping rope — and now they're jumping rope to the beat. You got the family cooking out on the grill — and then you see the family dancing to it. Then you seen same DJs pulling up to the basketball court — now they on the court. The guys dancing on the court to the music."
Back in New York, Set was DJing house parties and perfecting his craft when he was hired to work in the marketing department at And1, a shoe and apparel company for players and fans of basketball.
The Mixtape
And that brings us to late 1998.
"I was at work — I was working at And1," Set remembers. "And a guy who was head of marketing named Jeffrey Smith told me, 'Come in my office. I wanna show you something.' Pulled me in the office and showed me these VHS tapes of basketball footage."
What Set saw was grainy footage of streetballers — basketball players that ruled their neighborhood blacktops. These players had swag. Their dunks, their stutter steps, their ankle-breaking crossovers had crowds roaring.
"I came back to work the next day," Set says. "I said, 'Jeff, can I take these tapes home?' And he said, 'Yeah, yeah, you can take 'em — for what?' I said, 'I dunno, I just wanna take them home. Watch them, chill out, watch tape.' "
Set had a TV hanging above his turntables. He often watched movies with the sound down while he DJ'd. But this time, he put on one of those VHS tapes.
"And I'll never forget, like, the kick drum matched up to a dunk," Set says. "And the snare matched up to a jump shot. And I said, 'Wow.' And now, I was just practicing matching the beat to the basketball. And that moment I said, 'I got something special.'
"I didn't even go to bed until like 4 o'clock. And I was so excited to go back and work. And I went back into work — and I just remember telling Jeffrey Smith, I said, 'You gotta put me in the studio.' And that's how the creation happened."
And1 sent Set down to Florida to a studio. He synchronized beats, layered tracks and tried to develop this into a legit mixtape. Then he jumped into the recording booth and started calling out song titles and artist names.
"We had one song combined to video footage," Set says. "And we mailed out copies — FedExed them to rappers' houses. And I said, 'Hey, I'm gonna send you this FedEx tomorrow. And then I'm gonna call you. And I want you to describe what you see.'
"And I remember calling Common, and he was like, 'Man, these And1 Mixtapes are incredible. This is crazy.' We were calling Sway. So people were really giving it honest feedback and honest thoughts of what they thought about it. And that's when I knew, I was, like, 'Now it feels like a mixtape.' "
The Tour Begins
The Mixtapes were sent off to representatives at the hip-hop record labels Tommy Boy and Rawkus Records.
"And the street teams — which was big back in the late '90s — they took the VHS tapes to all the clubs," Set says. "They took them to all the basketball courts. They took them to studios.
"You know, everyone was doing mixtapes on cassette or CD. And I just made a strong left turn and made a VHS mixtape. So it was overwhelming — from athletes, streetballers, DJs, record labels, record companies. And then, just the fans of music, the fans of sports, to say, 'Yo, this was some of the illest something, the illest I ever seen.' It was just a grateful feeling."
Over the next several months, copies started showing up everywhere. Those tapes are sometimes called the "Skip Tapes" — they featured Rafer "Skip 2 My Lou" Alston, who went on to play 11 seasons in the NBA.
They also featured Waliyy "Main Event" Dixon, Shane "The Dribbling Machine" Woney, Anthony "Half Man Half Amazing" Heyward, Malloy "Future" Nesmith and Crafton "Aircraft" Ferguson.
Notoriety
These streetballers were known around their neighborhood as having game — commanding crowds that were drawn in by their style of play and their on-court personalities. Now, they were getting calls from across the country.
But they hadn't been compensated for their first appearance. So Set wanted to make things right.
"We wasn't selling tapes," Set says. "But now we're showing these people['s] likeness, and we was benefiting as a brand off the momentum. So it was, like, we had to go back and find these players and figure out what we could do and how we could work with them."
These guys, playing for the love of the sport, were now jumping in to a whole new game — unplanned and unprepared for where it would take them.
Eventually, they agreed to start throwing events, first in New Jersey. From there, the tour expanded to Philly, New York, Atlanta, L.A. and Chicago.
"It was just an 'Aha' moment in sports and culture," Set remembers. "Where it was, like, 'Hey, you can be here just playing ball, or you can go all around the world — play basketball, get paid, get clothes.' And I don't think it was anything to turn down."
The And1 Mixtapes took off — and so did the up-and-coming hip-hop artists who supplied the soundtrack. The tour was a showcase for the brand's biggest stars — and an opportunity for streetballers to have their artistry documented and shown to audiences around the world.
"They were just All-Stars in their own realm, you know," Set says. "Being from the hood, of the hood, with the hood, still playing in the hood. And, you know, then it started turning around — where the NBA players seen the Mixtapes and was, like, 'We seen some of the greatness you did out there on the court.' So they started gaining fans from the hardwood."
The Legacy
Up until the late '90s, the NBA was a little buttoned up. Most shorts were still fitted and layed above the knee. Arms and necks weren't completely covered in tattoos. But that was changing. And big media brands started taking notice.
"I remember watching an ESPN game," Set says. "And the announcers were, like, 'Hey, they out there doing that And1 stuff. They're doing that Mixtape stuff.' "
Players like Rasheed Wallace, Allen Iverson and Jason Williams were making a mark on the NBA. Their attitude — their swagger — was just different than the players that preceded them.
The no-look passes and finger rolls from a generation ago sounded like jazz. But this new crop of players, they sounded different.
With players coming up in the league that were born and raised in this culture, hip-hop became the new soundtrack of basketball. And with the culture becoming more and more mainstream, basketball became the soundtrack of hip-hop.
"We went somewhere where the people wasn't going.  And that's where I felt like it could never be exploited."

DJ Set Free
"I think the And1 Mixtape had an influence on the world," Set says. "It was a magnifying glass for a lot of different cultures to be shown."
I ask Set if he was ever concerned that the culture would get exploited.
"Everybody's not gonna go in the mine to find a diamond," Set says. "And what I mean by that is that, brands and companies, they don't want to go to the part where nobody goes. You know, in the '90s, playground shootings was at an all-time high. You know, nobody wanted to go to the playground from corporate world — at nighttime, daytime — and we went somewhere where the people wasn't going.  And that's where I felt like it could never be exploited."
And1 stopped producing mixtapes in 2008. In the summer of 2018, 20 years after the release of the first mixtape, DJ Set Free opened The Compound Gallery in the South Bronx. It's a place where some of the biggest names in art, culture, hip hop and basketball gather.
The influence of the Mixtapes on the NBA, college hoops, streetballers — all of them — as well as art, music and fashion — this collision of culture — it's evident. When you watch NBA All-Star weekend and see who's lining those first three rows, you know it. And when Kevin Durant, Chris Rock and Mos Def are all dropping by The Compound to holler at Set, you know they know it, too.
This segment aired on December 22, 2018.