'We Got It Back': Howard University's 1974 Season Of Revenge And Justice
Resume
In 1959, St. Louis University won the first-ever NCAA men's soccer national championship. They also won six of the next 11 titles. Their team was known for being strong and physical. And their roster was all white.
"They just really dominated the sport," says Mark Wright, who works for ESPN's The Undefeated.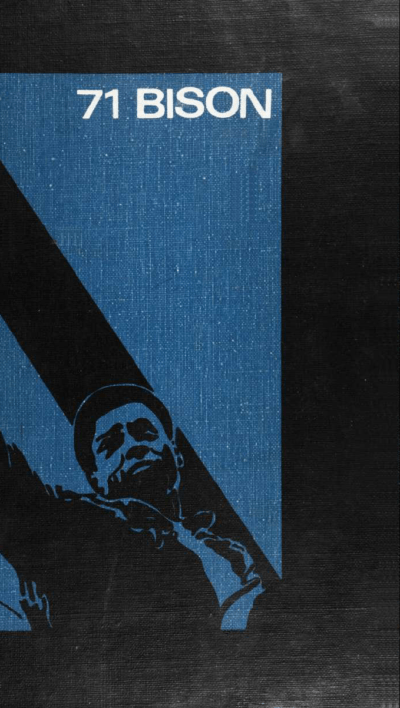 Wright loves soccer. And he's most interested in St. Louis' premier rival in the early 1970s: the historically black Howard University.
"They had, you know, players from Africa and from the Caribbean," Wright says. "And they were coached by Lincoln Phillips, a Trinidadian, who was young."
In 1971, St. Louis and Howard met in the national championship game. And what happened from there changed Mark's life — and the lives of countless others.
1971
The cover art of the 1971 Howard University yearbook is a simple image of a black man raising his fist. Dr. Martin Luther King Jr. had been assassinated less than three years earlier. And at Howard, the Black Power movement had taken center stage.
"It really is stepping into a cauldron of civil rights," says Ian Bain, who grew up in Trinidad.
Bain's community there was mostly black. Newspapers and TV were his only real exposure to racism and the fight for civil rights. But in 1971, he moved to the United States and joined the Howard soccer team as a freshman midfielder.
"Everything that we saw on our one channel in Trinidad and Tobago television was now unfolding right at our doorstep," Bain says.
Opposing coaches would tell their players to shout racial slurs at Howard players to knock them off their game. Several players remember being called the n-word on the pitch. But even still, Howard was really, really good.
"When we took the field, it gave voice to people in a country that sometimes needed a voice," Bain says. 
On Dec. 30, nearly 6,000 spectators showed up at the Orange Bowl in Miami with the potential to witness history: if Howard beat St. Louis, it would become the first historically black college or university to win a NCAA Div. I national championship — in any sport.
Around this time, ESPN's Mark Wright was a young kid growing up in Jamaica and falling in love with soccer.
"I remember getting a soccer ball for Christmas as one of my early gifts, and it was just, oh, my gosh. It was the best thing ever," Wright says. "Instead of kicking juice boxes and putting newspaper in them and trying to make it a ball, I actually had a real ball. And that made me the coolest kid in the neighborhood."
Meeting 'Señor Bain'
Wright and his family moved to the U.S. on his 12th birthday. He didn't meet Ian Bain until long after that 1971 championship game.
"The first time I met him was in the lunch room," Wright says. "He was one of the teachers on lunchroom security detail, I guess. Just kind of making sure that kids didn't walk on tables or throw food at each other."
Wright was a student at Springbrook High School in Maryland. Bain was a 35-year-old Spanish teacher and soccer coach.
"He had pretty much the entire student body thinking that Coach Bain — Señor Bain, is what everybody called him — was just a guy," Wright says. "This is pre-Google, right? I didn't know him from a can of paint that he was the football, the soccer, legend that he was."
Wright's father was a welder. His mom was a nurse at the Howard University Hospital. And since money was tight, he got a job, too.
"I worked at a dental office," Wright says. "Everything from cleaning the equipment and making sure things are put away. Taking out the garbage."
Wright worked from 5 to 7:30 every night. And this meant no soccer after school. But senior year, Wright quit his job and earned a spot on his high school team.
And it didn't take long for him to realize that Coach Ian Bain was special.
"He's big on showing you what he wants to do, right?" Wright says. "So he'll put the ball down, and he'll say, 'Look, I want you to kick it this way.' And then he would demonstrate. We're teenage boys. We're not super smart. But we're easily impressed. And when a guy like that would demonstrate the way he did, it was like, 'Wow, this guy is dope.' And so whenever he said anything, we just kind of did it.
"If you did something nice — you did something impressive, you know — you would hear Coach Bain say, 'Oh, God, boy. You're nice, boy.' "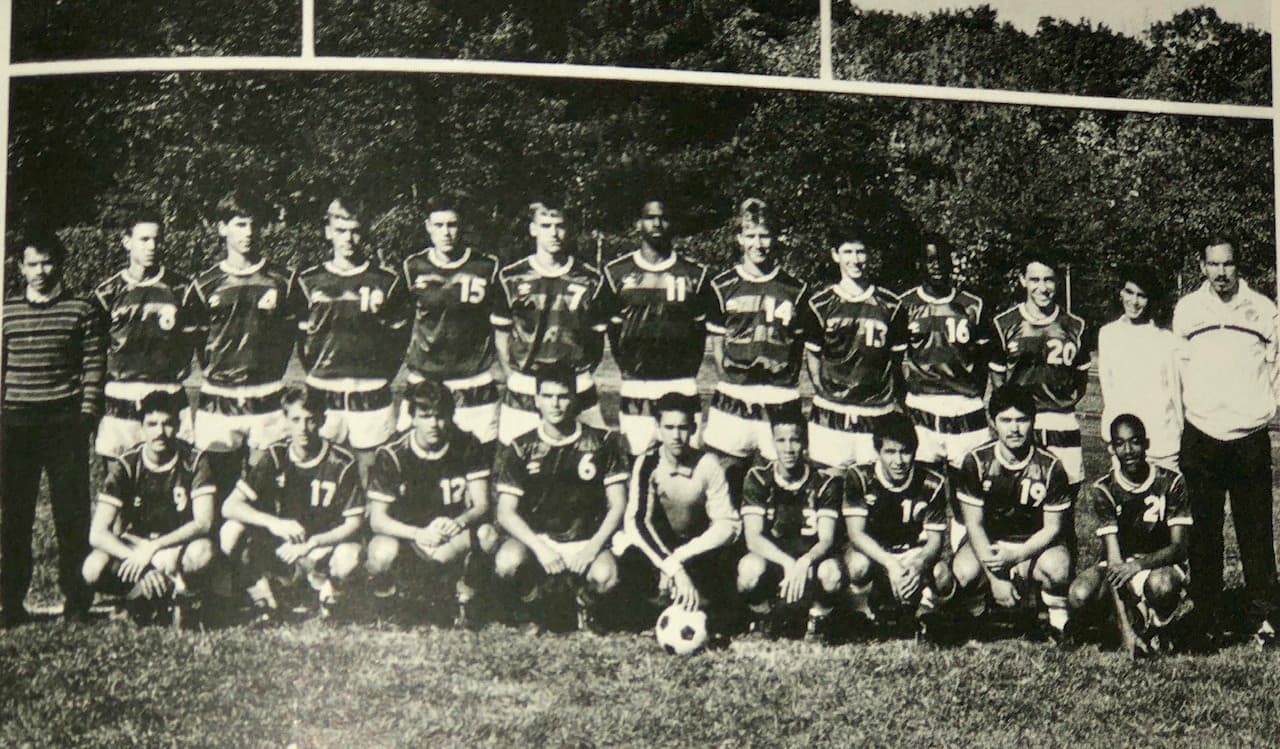 Coach Bain's opinion meant a lot to Mark. So when Mark decided to go to Howard, he was encouraged to find out that his coach had gone there, too.
"It gave me a sense of, 'If Coach Bain had this experience that I'm about to embark on, and if he turned out the way he turned out, then there's a good chance that things are probably gonna end well for me,' " Wright says.
ESPN Films
Things did turn out well. A few years out of school, Wright got a job with ESPN the Magazine. He bounced around in the industry and ended up back at ESPN a few years later. And then one day, in 2015 …
"I kid you not — a voice just said to me, 'Google Coach Bain,' " Wright remembers. "It had been probably eight years to that point since we'd spoken."
An article came up about Coach Bain and some of his college teammates. They had just been inducted into the Howard Hall of Fame. Wright got Coach Bain's phone number.
"When I talked to him, he said, 'Yeah, it was really good. It was good to see the old guys again,' " Wright remembers. " 'By the way, Coach Lincoln just released his autobiography. We had some pretty good times, but you probably want to read the book if you want the full story.'
"So I got Coach Lincoln's book. And after reading the book, I call Coach back. And I said, 'Coach, this is an ESPN 30 for 30.' "
Wright got in touch with a friend from ESPN Films named Kenan Holley. And together, they got approval to make a documentary short. But they were missing something.
"We have no footage," Wright says. "No archive. No video. Just grainy newspaper clippings. We had nothing."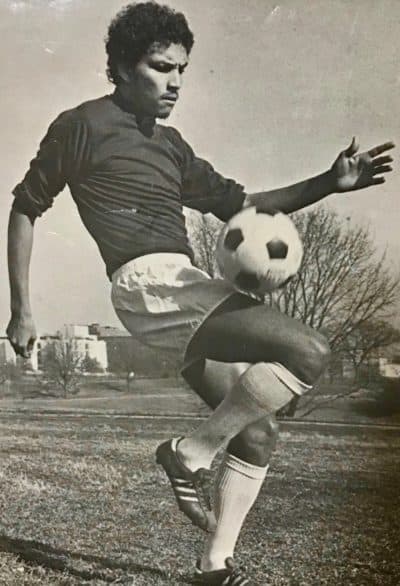 Wright, Holley and their team interviewed Coach Phillips about a dozen former Howard players. They generously let me use excerpts from those interviews in the piece you're reading and listening to right now.
So let's go back to Dec. 30, 1971. Howard's soccer team was set to take on St. Louis for the national championship game and a chance at history.
Sending A Message
"I think that game offered a platform," Bain says. "It was about sending messages and now embracing the role that we had."
Howard netted the go-ahead goal midway through the second half and held on to win, 3–2.
"I felt I would win four NCAA national championships," Bain says. "After '71, I knew I was winning three more. There was no doubt in my mind."
"It was an unbelievable moment," Phillips says. "I was so proud and so happy, it brought tears. First it was tears of joys, and honest tears of sorrow."
Tears of sorrow because, just three weeks later, the Howard team got some news.
"We heard that the NCAA gonna sanction us and they're gonna take away the '71 championship from us," Phillips says.
The NCAA alleged that two of Howard's players hadn't taken the correct college entrance exams. It alleged that two others had already used up eligibility by playing in their home countries over the summer.
"Really, if the NCAA had put a microscope on every single program, they would find that other programs were doing the same thing," Wright says.
Phillips, the Howard players and the HBCU community all felt that these rules were being selectively enforced.
"And the NCAA, they feel, wanted to send a message to Howard University in particular," Wright says.
Howard made it back to the national semifinal in 1972. But when the NCAA continued its investigation into the team, Howard voluntarily suspended the players in question right before their match. They played shorthanded against St. Louis and lost, 2–1, in overtime.
Phillips was 31 years old. He had just finished his third season as Howard's head coach. But at an NCAA-sponsored banquet after the game, he stood up to the organization.
"We played against this entire wretched system of this society," Phillips said at the banquet. "Any time they decide to get together to deprive any people of what is due to them, I would say that the NCAA is guilty of practicing racism. St. Louis did not beat Howard University last night. They beat the remnants of what was left of Howard University."
"The place went quiet," Phillips recalls. "And I said to myself, 'Oh, my god. What are you saying? What are you going to say after this?' "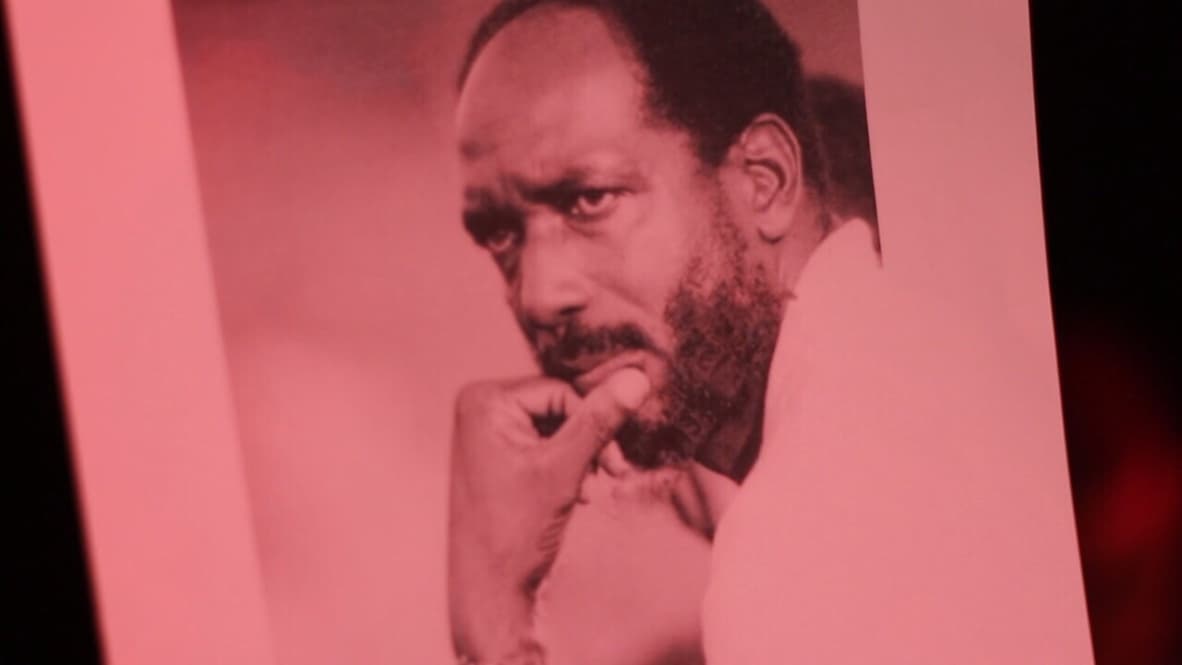 For those 1971 infractions, the NCAA also suspended Howard from postseason play in 1973. And without a championship to chase, the team struggled to preserve a common identity.
"They even had a lot of fights that I didn't know about — fist fights," Phillips says.
"There was a lot of nitpicking and bickering," Bain says. "You have players from all over — each of them different."
Howard was postseason eligible again in 1974. And with the season on the horizon, Phillips brought someone in to help reunite his players.
"Dom Basil Matthews, he was a religious man and educator," Bain says. "And he spoke about this triangle of Blackness."
"A triangle of Blackness," Howard alum Rock Newman says. "And that triangle, he said, started in Africa, went to the Caribbean and then goes, at its furthest point away, in America. And they were that link that would link back to Africa with the kind of excellence. The whole African diaspora could look on this one team, an example of the best that we can be." 
"If there was a pivotal moment that led us into 1974, it was that moment," Bain says. "We all started to come together."
"They said, and rallying around Coach Lincoln, 'All right — they took it from us, we got to get it back,' " Wright says. "Revenge and justice became their calling card after that."
The 1974 Season
Bain was one of only three players still on the Howard team who had been there in 1971. And under his captainship, the 1974 team put together one of the single greatest seasons in college soccer history.
Despite continuing to face racism from many opposing teams, Howard outscored their competition 63–6 and carried a 19-game win streak into the NCAA championship game — against none other than St. Louis University.
Phillips and members of his team say that the St. Louis players treated them with respect. They knew they could beat Howard by playing the right way.
"There was just so much reward that could come from it," Bain says. "But there was also so much onus that was placed on winning this thing again."
So Wright had this incredible story. He had the funding for an ESPN documentary. But he still didn't have any footage.
"Not a good place to start," Wright says. "And so in making connections and calling people — 'Hey we're working on this project' — two former film students at Howard during that time reached out to me, or I connected with them. And they told me that, 'Hey, as part of our films class at Howard back in the day, we used to follow the team around. And we used to capture footage of them playing and training. And so I have some footage somewhere on reel-to-reel tape somewhere in my basement. I haven't seen that stuff in years. It's probably no good.'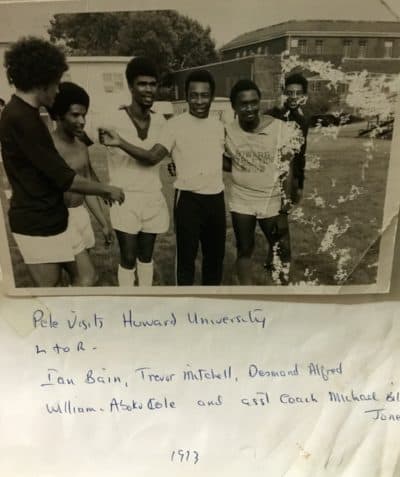 "I'm like, 'Get it and give it to me and don't touch it. And I will get it digitized, and we'll see what we've got.' "
Wright got his hands on the tape and sent it to a digitizing house.
"And I remember getting that call from the man who owned the shop," Wright says. "And he said, 'Hey, Mark, we've got something here. I said, 'Turn it up for me.' He said, 'It's not the best quality. It's black and white. It's grainy. I don't even know if you can use it.' I'm like, 'Just please, just turn it up so I can hear.'
"And what I heard was cheerleaders cheering. I heard somebody giving play-by-play. He ended up finding footage of the 1974 national championship game in St. Louis at cold, snowy Busch Stadium.
"That was life changing for me in the moment. I believed everything Coach told me to that point. I read Coach Lincoln's book. Believed it all. But hearing the cheerleaders? And seeing the amateur play-by-play? Man, get outta here. I mean, that was just transformative for me.
"You can see from the grainy footage that there's snow that was shoveled up against the embankment," Wright says. "Remember, now, these are African players, Caribbean players. These are guys who don't like snow and the cold."
"We were on the back foot from early," Bain says. "We couldn't get control of the midfield at all, at all, at all. I was having the worst game of my career. I mean, worst. I was expecting Lincoln to take me off at any minute."
"We were lucky to have come into the dressing room one goal down," Phillips says.
Phillips kept Bain in the game to start the second half. He also brought in a speedy Jamaican player named Mario McLennan.
With new energy, Howard scored to draw even at 1–1. The two teams played … and played … and played.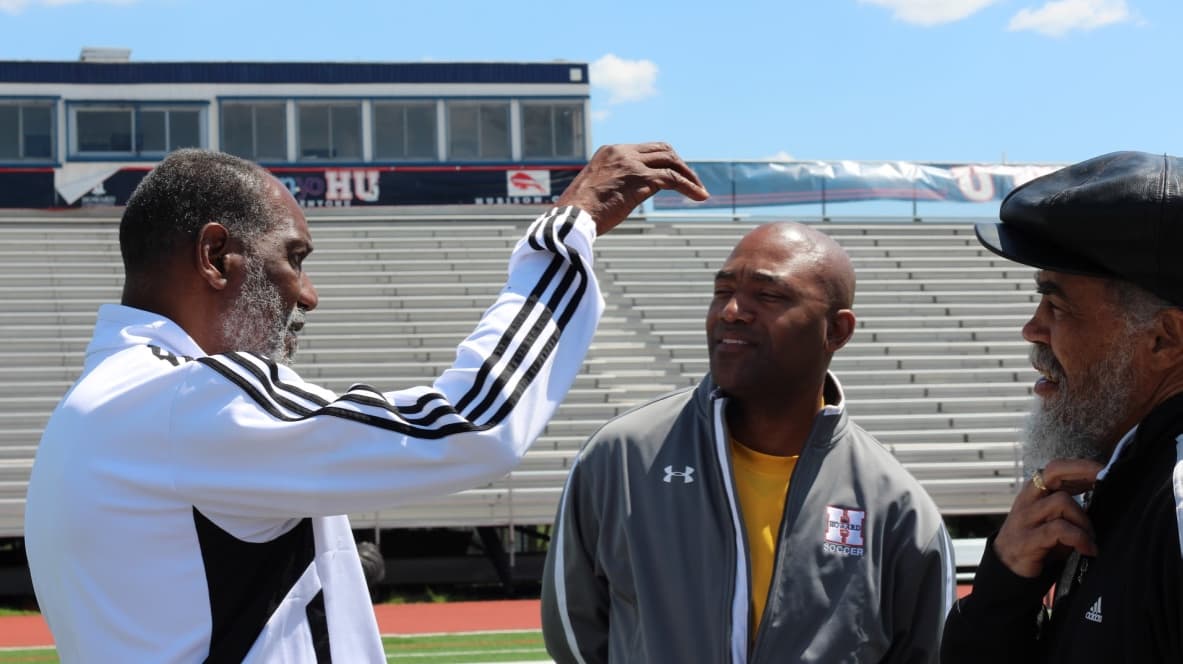 "We went into four overtimes," Phillips says. "The overtime period was all ours. The ball hit the upright, the crossbar. It was just a matter of time."
Finally, Bain passed the ball to Richard Davy. He beat his man down the wing and scored the winning goal. Howard was the NCAA champion.
"We got it. We got it back," Phillips says. "We just didn't win, you know. We took it."
Wright named his documentary "Redemption Song." It premiered at Howard University in April 2016. Players and coaches from the 1970 through 1974 teams came to watch with their family and friends.
"For 40-some years, these players have been walking around with a chip on their shoulder knowing that they went through hell to do something that had never been done," Wright says. "And their story had never been told. Their grandkids don't know. Their kids don't know. They had no link to share. And so this story was redemption. It still means everything to me."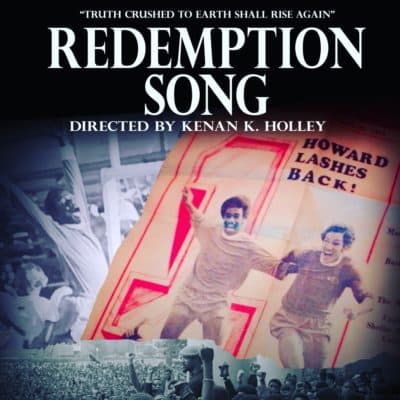 After the screening, Wright had a chance to talk with Bain.
"He just said, 'You know, Mark, I was looking around the room, and I could see guys from that time looking around with pride and saying, "I never thought I'd live to see the day where I'd see this story told. And my family's here with me." ' " Wright says. "I remember him, you know, giving me the nod and saying, 'Well done.' And I — in that moment, I felt like I was 17 again. Because, you know, once you're a player and you have a good relationship with a coach, no matter how old you get, he's still coach and you're still the player."
And Wright says since the documentary, he, Bain and Phillips have gotten even closer.
"I now have them in my life on a regular, regular basis," Wright says. "And I think I'm so much better for it. I'm a better person for it. I'm a better dad for it. I'm sure a better coach for it. So, yeah. I'm lucky."
The quotes in this piece from Ian Bain, Lincoln Phillips and Rock Newman come from the documentary short "Redemption Song." Thanks to ESPN Films for sharing their audio with us.
This segment aired on April 27, 2019.