Kalin Bennett Has Autism — And He's A Div. I Basketball Player
Play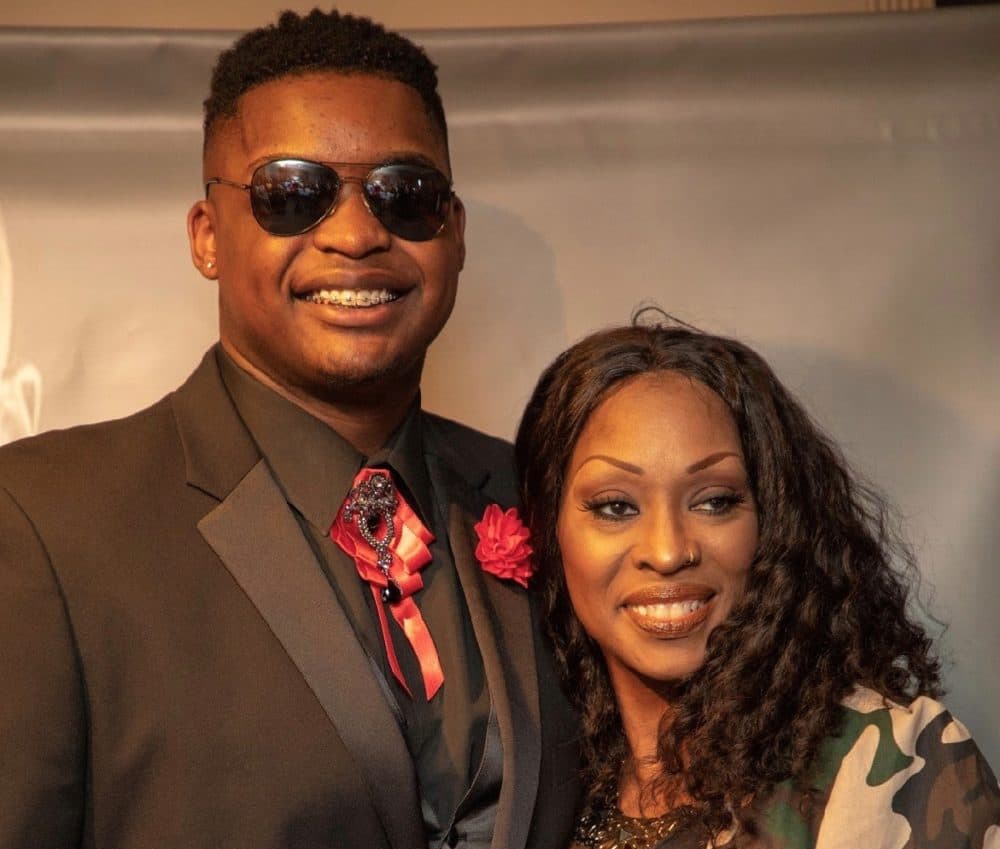 This article is more than 3 years old.
Sonja Bennett knew something was different about her son, Kalin, at an early age.
"I'm talking like three months, three to six months," Sonja says. "He wasn't focusing on me. He wasn't trying to make any noises or anything like that."
Sonja had already had a daughter. She says doctors told her that "Boys do things a little bit slower than girls."
"But my heart kept telling me that something was wrong," Sonja says.
When Kalin was about nine months to a year old, he was diagnosed with autism.
"And as time progressed, they were saying that he wasn't going to talk, wasn't going to walk, and that I should look at these different facilities for him," Sonja says. "And I said, 'No.' I had a child with an ability to do great things, but they just wanted to put a period on it, and just tell me to just throw my hands up. Well, I did throw my hands up. But I just said, 'God, help me to help Kalin.' "
First Voice
Sonja and her former husband lived in Arkansas. Eventually, Sonja found a doctor outside of Little Rock named Mitzi Washington.
"It was a lot of tears," Sonja says of their first conversation. "I said, 'Is something wrong with me?' I mean, you're hysterical because you're fighting — seems like you're fighting, against a brick wall of people. And she told me that, 'No, there's nothing wrong with you.' And she gave me a big hug and told me that it was going to be OK."
Sonja says Dr. Washington set Kalin up with a therapist who came to the house three times a week. When the therapist wasn't there, Sonja says she'd try to work with Kalin on her own.
"And nothing happened right away — nothing happened right away," Sonja says. "It's not no 'pop your finger and here it is' type of deal."
But Kalin started making progress.
"When he began to sit up, he would beat on the pots and stuff," Sonja says. "Like, if I opened up the refrigerator, I noticed that he was beating on the pots. And then, if I closed the refrigerator, he would beat on them a lot stronger. So I'm like, 'Are you trying to talk to me, little boy?' "
Kalin would beat on the pots when he wanted something out of the refrigerator. If Sonja grabbed the wrong thing, Kalin would beat harder.
"He was just alone, you know, playing with his toys and watching 'Blue's Clues.' "

Sonja Bennett
"And so I say that was first voice without voice," Sonja says.
Sonja says that at age 3, Kalin started to walk. At age 7, he started to talk.
"I don't remember a thing before I was talking, honestly," Kalin says.
But once he started speaking, Kalin says he remembers being private.
"Always to myself," Kalin says. "I didn't want to be around nobody."
"He was just alone, you know, playing with his toys or whatever and watching 'Blue's Clues,' " Sonja says. "That was it."
Pep Rally
Then something happened at school. Kalin thinks it was about third grade. There was a pep rally for the basketball team.
"And for some reason, I wanted to go up there with them," Kalin says. "And they're like, 'Kalin, Kalin, sit down. You're not on the basketball team.' So I went home that same exact day, and I said, 'Dad, I want to play basketball.' "
Sonja remembers her reaction when she found out about her son's request.
"Scared to death," Sonja says. "His sensory process was very, very, very, very bad. He didn't know danger. I mean, it was a lot of things for me to be afraid of as a mother, you know? But I also knew that the social skills — I wanted him to develop social skills."
Kalin's father told Sonja that basketball would be good for him. And she talked to Dr. Washington.
"She was like, 'Let's just see how he reacts to it,' " Sonja says.
Kalin joined an AAU team — the Arkansas Hawks. Kalin was very tall, but it wasn't an easy transition. Some of Kalin's teammates had grown up playing basketball. He was new to the sport. Learning plays and coaching schemes was difficult.
But Kalin and his coach came up with a way of communicating that worked.
"OK, so, I love math," Kalin says. "I can do math problems like that in my head."
"He's a mathematician," Sonja says. "So Coach Howard figured that out. And so he would use numbers to show him the different plays in the beginning."
Hoops fans are probably familiar with this system, but Coach Howard used basketball's traditional numbers as a stand in for all the different positions — a 1 represented the point guard, 2 for the shooting guard, 3 for the small forward, and so on.
"So basically, he'll write those numbers down and tell me what number goes where in a play," Kalin says. "Or if something happens to this number, this number's supposed to do this. It kinda cleared a lot of confusion."
Still, Kalin wasn't having a lot of success on the court. But when he was in the fifth grade, his team played a game in Detroit.
"They were babies, they were losing," Sonja says. "They put Kalin in the game, and when they put him in a game, he started making shots. And that was his first time ever making a shot."
"I just remember, I shot a free throw — everybody go crazy," Kalin says. "I made the next one — even the opposing team's parents go crazy."
"And he kept going making the shots, and we were cheering," Sonja says. "The people were looking at us like we were crazy, but we were cheering just like they were winning by 50 — and they were losing by 30. But you would think that the heavens opened up. And that's when I said, 'Aw, he gonna be good. He gonna be all right.'
"You know, it took a while for him to catch on to like, 'This what I'm supposed to do.' And when he did it, he never stopped."
"I never doubted it. That's not even cockiness. That's just being brutally honest. I know I can play."

Kalin Bennett
And after he started playing basketball, Kalin says life got better for him off the court.
"I started to break some of the walls that I was struggling with," Kalin says. "You know, just being able to talk to people, hang out with the other kids, be tougher. And then going into middle school, I learned a lot about just letting myself be myself. Like, not being anybody else, just be Kalin. And that transferred to high school."
In 2018, Sonja Bennett — who had been told her son might never walk or never talk  — watched Kalin graduate high school from Little Rock Christian Academy.
"The fun part about it was I got my diploma — just about almost everybody in the whole place stood up," Kalin remembers.
But that wasn't the end of Kalin's journey.
Kalin knew he could play college basketball.
"To be honest with you, I never doubted it," Kalin says. "I never doubted it. That's not even cockiness. That's just being brutally honest. I know I can play."
Kent State
During high school, Kalin — who'd grown to be 6-foot-10 —  committed to play at the Div. I University of Arkansas at Little Rock. But Kalin ultimately decided to do a post-grad year at Link Year, a Christian gap-year program with academics and sports in Branson, Missouri. Before he started there, Kalin had one more summer playing AAU basketball.
"And I started getting offers off the rip," Kalin says. "And then at the end of the season, after we came from Vegas, I got a call saying, 'Kalin, we would like to offer you a full scholarship to play at Kent State.' I was overjoyed. I don't know what it was, but I was just overjoyed."
Div. I Kent State plays in the mid-major Mid-American Conference. Kalin and Sonja visited the campus, about 40 miles from Cleveland.
"And we decided we're going to Kent State," Kalin says.
Kalin Bennett is believed to be the first person with autism to sign a national letter of intent to play a Div. I team sport.
The news got a big reaction.
"I knew I was going to inspire a couple of people," Kalin says. "I didn't think I was going inspire thousands of people across the country — not even the country, like around the world. I was just speaking my testimony."
Kalin — who, for the record, says he's now 6-foot-11 — is already in Ohio getting ready for his freshman year at Kent State. And he's not alone. Sonja has moved there, too.
"If I need something, she's going to be right there," Kalin says. "I can go over there any time. I can invite my teammates if I want. Yes, ma'am — I'm bringing 'em."
Kalin laughs.
"She's giving me the goofy eye," he says.
Sonja know her son has come a long way since those days playing with toys and watching 'Blue's Clues' by himself.
"If they're telling you what you can't do, believe in your child and fight for your child," Sonja says. "They can do what any other child can do if you give them the opportunity to do it."
This segment aired on June 22, 2019.