Andre Iguodala's Journey From Starter To Sixth Man — To Finals MVP
Resume
Back in the summer of 2013, Andre Iguodala was at a crossroads. After nine years in the NBA, he was a free agent for the first time.
Iguodala had made the NBA All-Star team two years earlier and built a reputation as a durable player and a hard-nosed defender. A couple teams pursued him. But he knew where he wanted to play next.
"Seeing the Golden State Warriors play and seeing their coach, Mark Jackson at the time, I said, 'Next place I go to, I'm going to do it somewhere where I enjoy it and get the most out of myself,' " Iguodala says.
Iguodala says he was also investing in some tech companies at the time. The Bay Area seemed like a perfect fit.
At first, he and the Warriors couldn't come to terms on a deal. He got close to signing with the Mavericks and even started looking for apartments in Dallas. But one day, when he was working out with his friend and former teammate Evan Turner, Iguodala got a call from his agent: Golden State had come up with the money to sign him.
" 'But they won't do it unless you commit to them now,' " Iguodala remembers his agent saying. "And I was able to make the commitment, and it got done."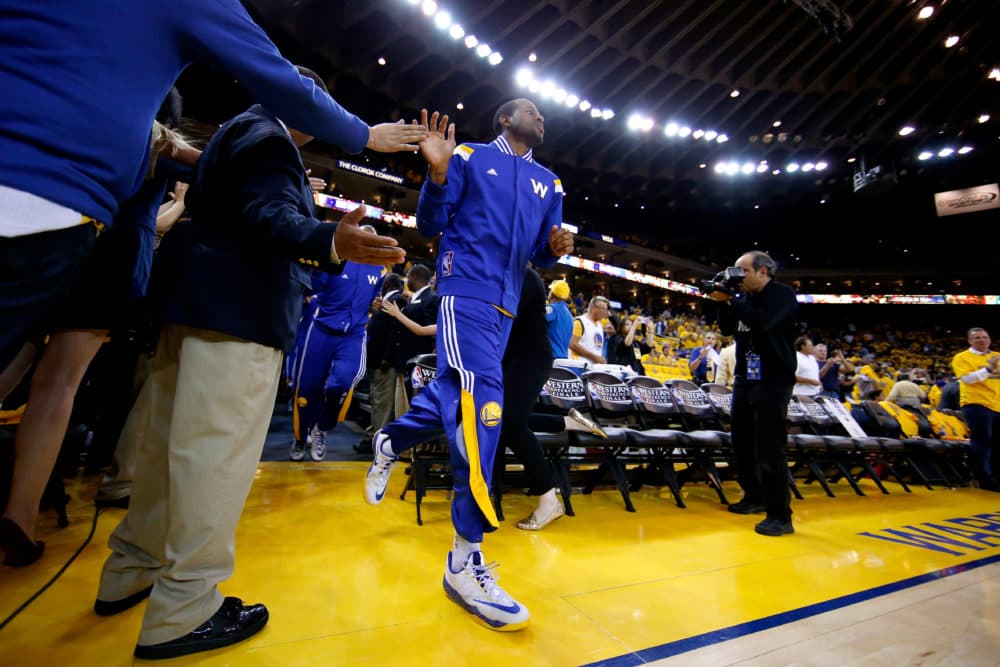 Iguodala had played 695 career games with the Philadelphia 76ers and the Denver Nuggets. And he had started every single one of them. So he wasn't surprised when Warriors head coach Mark Jackson told him he had earned a starting spot on his new team.
"I never asked the question of, 'Am I going to start or not?' " Iguodala says. "It's just, 'Go out there and compete.' For me, that was never something that crossed my mind."
Iguodala started all 63 games he played for Golden State in 2013–14. The Warriors made the playoffs as the No. 6 seed in the West before losing to the LA Clippers in the first round.
Next Season
Iguodala and Mark Jackson had a meeting after the playoffs ended. Iguodala says he left the conversation feeling good about his coach's offseason suggestions.
A few hours later, Iguodala found out that Jackson had been fired.
"It was like kind of like a shock," Iguodala says. "Like, 'I just talked to him.' "
The following week, Iguodala was introduced to his new head coach: Steve Kerr. Like Iguodala, Kerr had also played under Hall of Fame coach Lute Olson at the University of Arizona.
"You know, I always joked and said we had the same karate master — he got both of us to the black belt. We both were able to play in the NBA," Iguodala says. "So similar principles. Seemed pretty laid back. I had been through a lot of coaches, so it was always the fear of the unknown. Not knowing what to expect. And it's like, you have to kind of prove yourself all over again.
"But I felt like Steve was a genuine person. Felt good going into training camp, and I actually had a really good training camp. So I felt really good. I felt the best I had felt in a while."
But just before the start of the 2014–15 season, Kerr approached Iguodala during a team practice.
"I've learned a lot about Steve — when he approaches you a certain way, you kind of know if it's good or bad news, or you know he has something tough he wants to tell you that might be difficult for him to say," Iguodala says. "But he just flat out told me."
Kerr told Iguodala that he was playing well enough for a spot in the starting lineup. But instead of starting, he was going to come off the bench. With Steph Curry and Klay Thompson emerging as elite scorers, Kerr said, he wanted to save some productivity for the Warriors' second unit.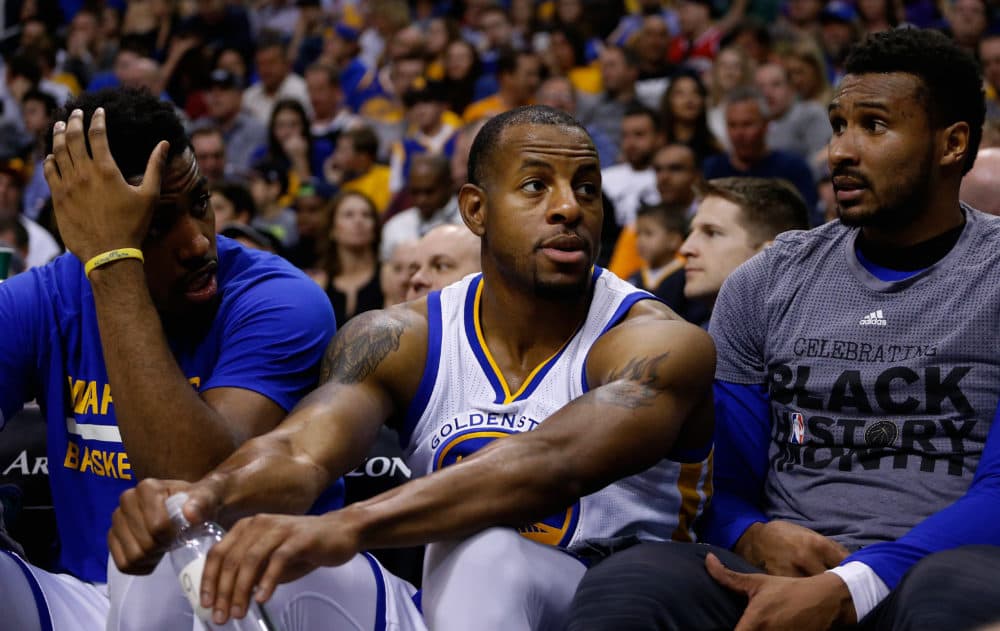 Iguodala knew that this was a good basketball move. It made sense for the team. But still ...
"I was in a good place, and I was playing really well," Iguodala says. "And for someone to say, you know, 'You earned a spot, but you didn't get it.' That had a little sting to it. It was an adjustment, because it was a place I'd never been." 
'Find The Flow'
Iguodala says as a starter, it had been his job to set the tone for the game. Coming off the bench, Coach Kerr had a different challenge for him.
"It was always 'find the flow,' " Iguodala says. "You know, make the extra pass. Get our pace right. When we were moving too fast slow us down. When we were moving too slow, speed us up a little bit."
Iguodala's known as a cerebral player. He understood what he had to do to help his team. But making the most of his intermittent playing time was hard.
"There'd be times where Steve'd say, 'Come in and find the flow,' " Iguodala remembers. "And I find the flow. And then I'm like, 'OK. Now is my time where I can get up a shot or I can get into my individual game and make that part work.' And then it'd be like, 'All right, [substitute]. You did your job.' And it'd be like, 'All right, my flow was thrown out finding the team's flow.'
"Some nights I was too hard on myself," Iguodala says. "And I remember Steph saying, 'Oh, you know, this thing is rolling because you're a big part of it. Just keep believing in it.' And it's like, 'I know. I believe in it. But I can't find my maximum self.' "
As Steph Curry said, things were rolling. Golden State started the season 23–3. Curry was on pace to set a new NBA record for three-pointers in a season and looked like a bona fide MVP candidate.
But even with everything going right in the Bay, Iguodala still had a really tough time adjusting to his new role.
He says his trainer would get texts from friends saying he'd "fallen off." He wondered whether moving to the bench signified the start of a new chapter in his basketball career — one of mediocrity and irrelevance.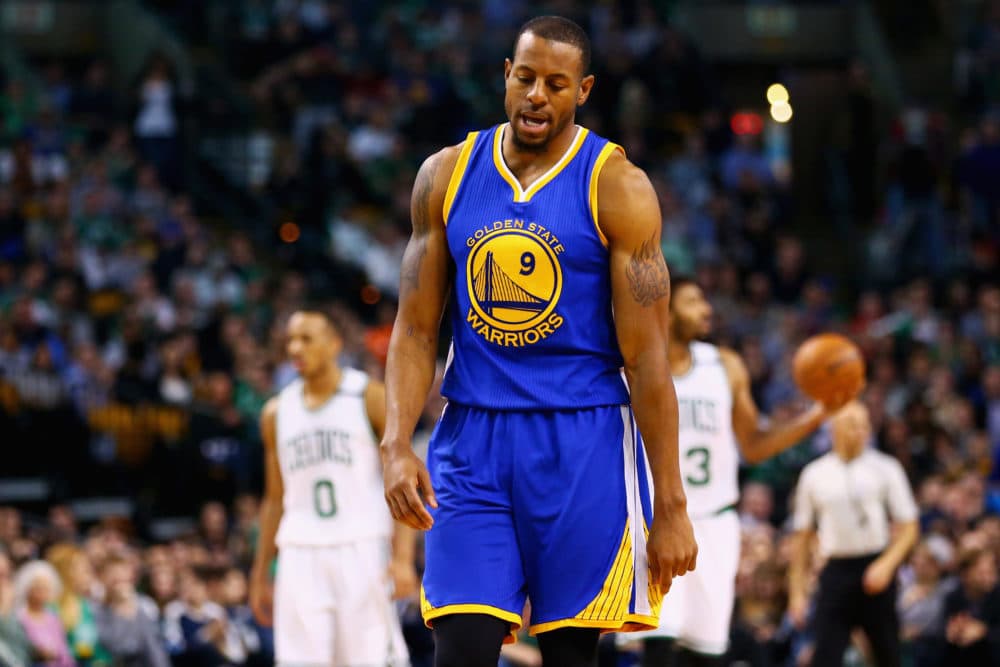 "You go through a half, and it was like, you had two shots, and you'd have two assists and you have three rebounds — and it was like, your stats say, 'You played bad,' " Iguodala says. "But Steve would be like, 'You played awesome tonight. You're the reason why we're winning.' Like, 'Nah, I don't see it like that.' It took me a while to understand, sometimes numbers do lie. And sometimes numbers don't tell the entire story."
Good Timing
Iguodala finished the 2014–15 regular season averaging career lows in minutes, points and rebounds. But Golden State won a league-best 67 games, and their sixth man had gotten more comfortable in his role.
By the time the Warriors reached the 2015 NBA Finals against LeBron James and the Cleveland Cavaliers, Iguodala says he was more confident than ever.
With Iguodala coming off the bench, the Warriors won Game 1. But they lost Game 2. And then Game 3. Another loss would put them on the brink of elimination.
So just before Game 4, Steve Kerr approached Iguodala again. But this time, he told him that he was back in the starting lineup. It had been over a year since the 31-year-old veteran had started an NBA game.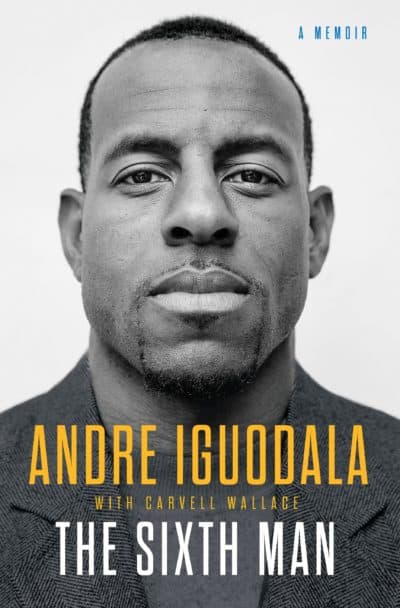 "It wasn't a feeling of overly excited or, you know, not like, 'I told you so.' But it was, 'OK. I know exactly what needs to be done, and we're going to get it done,' " Iguodala says.
"I think it was good timing. Yeah. That whole season of the ups and downs — sometimes not knowing what was going to come the next day and being unsure of yourself — working through those things kind of helped everything come to fruition, ultimately, at the end."
With Iguodala starting, the Warriors won the final three games of the series, winning their first title in 40 years on June 16, 2015.
"I was just so happy," Iguodala says. "I don't think I've ever been that excited about basketball."
And for Iguodala, there was one more reason to celebrate: he had been named NBA Finals MVP.
The Sixth Man
This year, Andre Iguodala started 15 of Golden State's 22 playoff games. It's unclear what his role will be for the Warriors next season. But he does say the bench has grown on him.
"I've learned to embrace it, actually," Iguodala laughs. "You know, now, when Steve's like, 'You're starting,' I'm like, 'No, I don't want to start anymore.' So it's funny how that has worked out."
This segment aired on June 29, 2019.