Team Challenge ALS: Friendship And A $2 Million Basketball Tournament
13:06
Play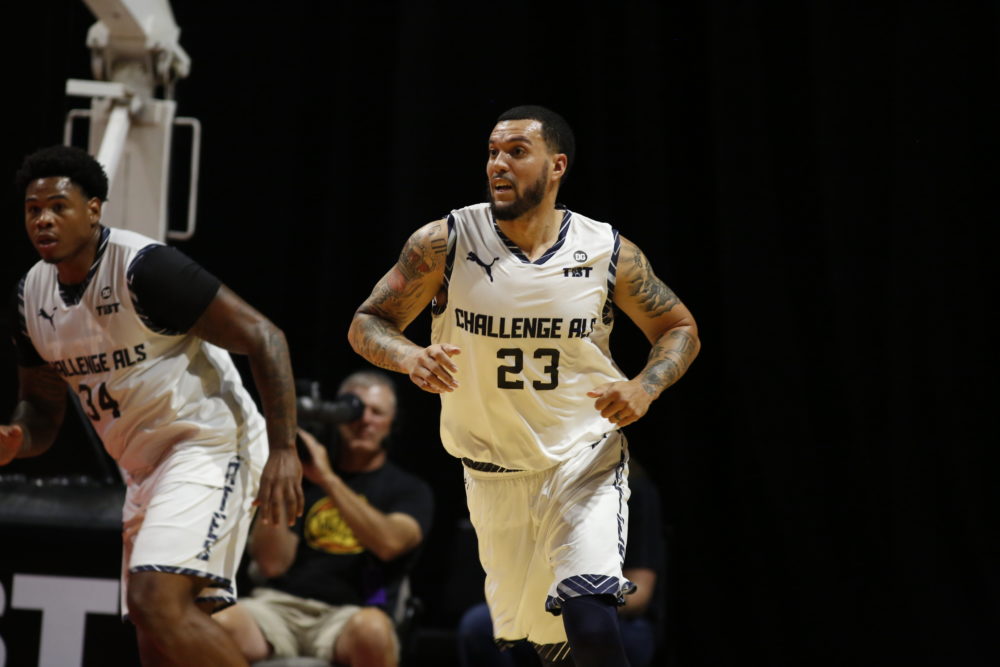 This article is more than 2 years old.
During their junior years at Boston College, Pete Frates asked his friend Sean Marshall to be his roommate. It happened when Sean was walking through a part of campus called The Mods.
"And I ran into Pete, and I guess he was scared to ask me — I don't know why," Sean said. "But I guess he had been drinking that night, and he worked up the courage to ask me. And I said 'yes' on the spot. And he was surprised. I just remember the look on his face, him being surprised. And I was like, 'What's the big deal, man? We're just rooming together.' "
By that point, Sean had become a bit of a celebrity on the BC campus.
On a Boston College basketball team that ranked as high as No. 6 in the country during the 2005-2006 season, Sean Marshall was one of the best players. He was a star.
"I never looked at myself like that," Sean said. "I looked at myself the same as Pete — like, Pete was a baseball star. So for him to act like he was nervous to ask me to room, it was kind of humorous to me."
So senior year, Sean Marshall — basketball star — lived in a suite with Pete Frates — baseball star and captain — and four other guys. Sean shared a bedroom with another baseball player. Pete slept in the same room as a golfer.
Sean says that he and Pete came from different backgrounds.
"Like, he took me to a country club — I had never been to a country club," Sean said with a laugh. "I'm from a city in California where most people don't go to college. I just remember going to the country club with his family, and everybody was in blazers. And I was sitting there in a T-shirt, like I didn't know what to do there."
"How was it, though?" I asked.
"It was cool. I think I fit in — I don't know what they thought, but I thought I fit in," Sean said with a laugh.
Brightening Up Any Situation
I asked Sean about his strongest memories of Pete from that year.
"Pete was ridiculous," Sean said. "I have two that come to mind. He always tried to get me to go out. And some nights I would. Most nights I wouldn't. But when he would come home, almost every time that I didn't go out, he would come to my door and just start banging on the door. Me and my roommate would lock the door  — 'cause if we left it unlocked, he would come in there and jump on the bed with us.
"So one night he was banging on the door, and I was like, 'Pete, go to bed.' And he was just yelling, 'Buddy. Buddy. Open the door!' And I was just yelling, 'Go to bed! Go to bed!' "
The other moment that stands out to Sean came after he and the BC basketball team lost at home to a weaker opponent.
"And it was Christmas break, actually," Sean said. "So there were no students there. Nobody was on campus. But Pete came to the game. I gave him tickets. And we went back to the room after. I was just pissed, and he was just like, 'Come out with me, man. I'll cheer you up.' And I literally forgot about it. He just would brighten up the situation for you. And he did for me that night for sure."
Getting Bad News
After graduation, Sean moved to Turkey to play professional basketball. Pete went to Germany to play baseball. They kept in touch through email and Facebook. But because Sean was mostly overseas, they didn't see each other.
Then in 2012, Sean got a message.
"He sent me an email, and I had no idea what ALS was," Sean said.
Pete Frates told his former roommate that he had been diagnosed with ALS — a neurodegenerative disease. There is no cure.
"And, honestly, now that I think back at it, I really didn't pay it any mind — because I was like, 'Pete didn't make it sound too bad, so I don't think it's that bad.' But then I want to say that I googled it and I was like, 'Oh, what is this?'
"You could be all there in your mind, but your body just shuts down, and then you die. You know, I try to stay positive, but when you're reading something over and over again about how people only live an average of this many years or this much time, and — it was just tough to take in."
Turns out Pete Frates tries to stay positive, too. If his name sounds familiar, that's because he inspired the Ice Bucket Challenge.
The Ice Bucket Challenge went viral in August of 2014. According to the ALS Association, 17 million people participated. It raised $115 million.
By that time, Pete had lost the ability to speak. He used a wheelchair.
Meanwhile, Sean Marshall continued his professional basketball career.
And he heard about something called The Basketball Tournament.
The Basketball Tournament 
It was a single-elimination, 5-on-5 tournament that attracted professional players from leagues overseas. In 2014, the tournament's first year, the prize was $500,000.
Two years later, Sean played on a team with BC alums. They honored Pete by calling the team "Skinner's Frate Train." But for the 2017 tournament — with the prize money now at $2 million — Sean wanted to put together his own team.
The players wouldn't wear their own names on the back of their jerseys. They would all wear "Frates." And Pete's parents came up with a new team name: Team Challenge ALS.
If they won the whole thing, they'd give $250,000 to Pete Frates to donate to the ALS organization of his choice.
But no one was expecting the team to make it that far.
Out of the 16 teams in their region, Challenge ALS was the No. 6 seed.
"I think we had a few guys that they weren't familiar with," Sean explained. "But my whole idea with recruiting the players ... was to go get, maybe not the best players that I can get — the most talented — but the guys that were going to be gritty and work the hardest."
Team Challenge ALS won its first game by 16 points. Then came the No. 3 seed — a team called "The Stickmen."
"And they were stacked, and nobody thought we would win that game," Sean said. "And I think we beat 'em by 18 points — and that's when we had a strong feeling, like, we were going to make a run at this."
It was only 14 points, but Team Challenge ALS did make a run. They beat the No. 2 seed in their next matchup by 17 points.
Back at his home in Massachusetts, Pete Frates watched the games.
"His family would send me pictures of him sitting there with my Boston College jersey on his chest and watching the games," Sean said.
And eventually other people affected by ALS reached out.
"Everybody really just started to understand that it wasn't about us anymore playing basketball," Sean said. "Like, we were giving people hope and we were giving people a break from their everyday battles — even if it was just an hour to watch us play a basketball game in honor of them, you know?"
Reaching The Championship
In the semifinals, Challenge ALS played a team of Ohio State alums that included former first round NBA draft pick Jared Sullinger. Sean Marshall scored 21 points, and Challenge ALS advanced to the championship game on national TV.
Their opponent was the tournament's back-to-back champions: Overseas Elite.
"I don't think we felt so much pressure, because everybody counted us out anyway," Sean said. "So I think I was relaxed. And I think the team was relaxed."
Team Challenge ALS took an early lead. Midway through the first half, Sean hit a baseline jumper to put his team up, 22-9.
"They came back, like a good team would," Sean said. "And it was back and forth."
With 11.7 seconds left, Team Challenge ALS trailed by two points. Overseas Elite had the ball.
"We got a steal. I think Ivan Aska got the steal," Sean said. "He shot it. He missed. Marvel Harris got the offensive rebound. He shot it. He got blocked. The ball came to me."
With just a few seconds remaining, Sean put up a shot. He was fouled.
With 3.2 seconds left, he went to the free throw line for two shots. If he made both, the game would be tied.
"I was just focusing on making the first, like I always do with any free throw," Sean said. "But I knew once it left my hand, it was absolutely short."
"That's probably one of the toughest things that I've ever gone through on the basketball court," Sean said.
After the game, Sean heard from Pete and his brother Andrew.
"They FaceTimed me on the bus ride back to the hotel," Sean said. "And I just started crying once I saw Pete and Andrew. And Andrew was just telling me, like, they love me, and Pete loves me, and they're proud of me. And I told them I was sorry. And I just felt like I let 'em down.
"But I know that if he can talk, he would tell me he was proud of me."
A Reunion
Last summer, Sean Marshall and Team Challenge ALS re-entered The Basketball Tournament. This time, each player wore the name of a different person with ALS on the back of his jersey.
Sean, of course, stuck with "Frates." Challenge ALS lost in the quarterfinals.
This past winter, for the first time, Sean Marshall — now 34 — sat out the pro season. Sean got to see his former roommate for the first time since senior year.
"He can't speak and he can't move, but his eyes — when he saw me, it just confirmed for me that he's all there mentally," Sean said. "His eyes lit up, and I could tell he was so happy to see me. And, you know, I talked to him, and he couldn't talk back. But I just let him know how I felt and that I loved him and was proud of him, and so it was a cool moment."
Sean and I spoke on July 24. The next day, he and the second-seeded Team Challenge ALS took the court for the 2019 edition of The Basketball Tournament. Sean Marshall still had on his Pete Frates jersey, but instead of starting, he came off the bench.
Unlike in 2017, Sean was no longer expected to be one of the team's top scorers.
Team Challenge ALS won its first two games. But the team's run ended in the regional final, where it lost to the top seed by one point.
A week later, I spoke to Sean on the phone.
"A little disappointed about how things went with the team," he said. "But every year I feel like we grow in terms of bringing awareness. And the following that we gain every single year from new people in the ALS community is tremendous.
"You know, these people are fighting for their lives. We come together for two weeks and we honor those people, and we're going to continue to do that — win, lose, draw — doesn't matter to me. The team's always going to be alive."
Sean Marshall will play in Japan this season. He isn't sure whether he'll suit up for Team Challenge ALS next summer. He says if he can find someone who's younger and more athletic, he'll give up his spot.
But even if he's not playing, Sean says he'll be right there on the sidelines, cheering on the team.
This segment aired on August 10, 2019.