Rat City Roller Derby Looks For A New Home
Resume
Roller derby is an aggressive, physical sport. It's also one of the few contact sports dominated by women.
And it's thriving. The Women's Flat Track Derby Association has 457 member leagues on six continents.
But, now, those leagues have a new nemesis: Gentrification.
'It's The Perfect Venue'
The Rat's Nest is the home of the Rat City Rollergirls, a four-team league in the International Women's Flat Track Derby Association.
"It's been a really great place," says Carmin Thomas, who's been skating for Rat City since the league's founding 16 years ago. "It's kind of perfect."
The Rat's Nest is an old warehouse north of Seattle. It's located on a highway with a reputation for sketchy motels and frequent crime.
Exposed electrical wires are strung along one of the walls, and a couple of the metal rolling doors are partly open for airflow.
Most of the space is taken up by an orange track painted on the floor. There's a table for officials and a loft for filming the game, so the girls can watch themselves afterwards.
"We have space on the side for bleachers," Carmin says. "We have enough bathrooms. It's the perfect venue."
And now, Rat City has to leave.
"Well, we're packing up this week. I think tomorrow doing the big move out for a lot of stuff," Carmin says. "We're putting everything in a storage unit for a while, which is really sad, taking down the posters off our wall and disassembling the bleachers, and it's just going to be an empty warehouse. It's hard for me to go up there. I'm supposed to help with that, but it's so sad."
Carmin's voice cracks.
"It sucks that it's gone," she says.
Not everyone would break into tears over a roller derby rink, but Carmin says she's always been a crier.
"I'm a softy," she says. "I cry at the drop of a hat.
"One of my teammates actually made me this cry shield, which is a piece of paper with a silly picture of my face on one side and, like, a silly picture of a dog on another side. So I could hold this in front of my face because, once I started crying, other people would start to cry."
"Did it work to — that it wouldn't set off this chain reaction?" I ask.
"I think it made it more of a funny thing and kind of OK for me and for other people to cry," she says.
Fifteen years ago, when Carmin was 27, she heard three Seattleites were trying to start a roller derby league.
"And I said, 'Where do I sign up?' " Carmin recalls. "Because I've always, always wanted to do that. I always watched roller derby when I was very young with my great uncle Jack, because he loved watching roller derby. And I would go to the rollerskating rinks on Saturdays, and I'd always get in trouble for knocking people around a little bit, because that was something I always wanted to do."
So, Carmin went to the first practice ever held for this new league. At the time, she was working as an auto tech at a truck dealership.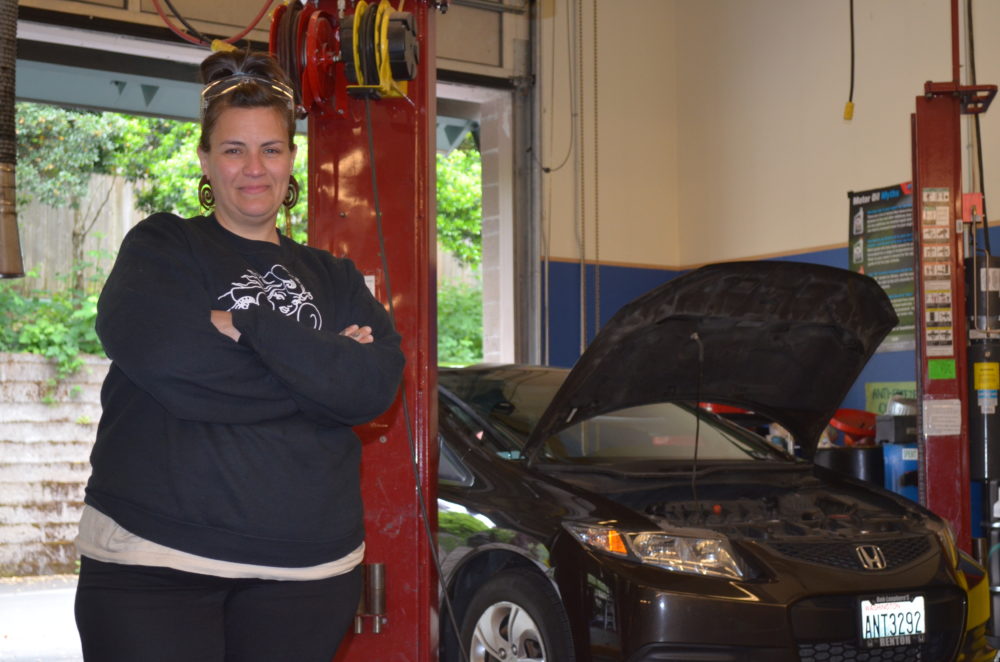 "And I showed up covered in brake dust. And I had some, you know, the Elvis-style sunglasses on," Carmin says. "I walked in with some pigtails."
Carmin says all of the skaters were recruited to help get the derby league off the ground.
"We would have five hour long meetings at The Rendezvous over french fries and beers. And, you know, because of french fries and beers, it tends to last longer than it probably should and maybe not be as focused as it should," Carmin says. "But you get to know these people really intimately. And you work with them, and you try to make something of this little baby thing that you want to grow."
A year or two after Rat City's founding, an old back injury Carmin had gotten working as an auto mechanic flared up. She couldn't lift anything. And that was a problem,  because she and her partner were moving.
Carmin has parents and a sister in Seattle, but they aren't the people she called to help her move.
"I called my derby family — like, my teammates — I'm like, 'Hey, can you help me?' " Carmin says. "Maybe six people showed up. And, before I knew it, everything was packed up in the van."
Carmin says that's the moment she knew this was her family.
"A group of women — strong women — they were my support group," she says. "They're my, like, chosen family."
Carmin wanted to bring derby to the next generation, so she helped found Rat City's youth league, the Derby Brats, which has since grown into one of the largest youth roller derby leagues in the country.
'Come On, Let's Go! Wall Up!'
Mike Van Flandern is the current board president. He got involved because of his younger daughter, Erin.
"She has struggled since a very young age with with anxiety," Mike says. "When she experiences the anxiety, she tends to shut down, to disengage, and she begins to cry."
Erin gave her father permission to talk with me but didn't feel comfortable doing an interview herself.
Mike thought sports might help Erin develop the skills she needed to cope, but ...
"She did not enjoy most athletics," Mike says. "She didn't enjoy team sports. She struggled when she felt like she was being watched or judged. And most of the sports just weren't fun for her. So she tried a large variety of things and gave up on most of them."
But one thing Erin did love was rollerskating. One weekend, when she was at a skating rink with her family, she saw a poster for a youth roller derby league.
The league was hosting a summer camp to teach newbies the basics. When Erin said she was game, Mike signed her up.
"At this derby camp, she would do these difficult things — be skating and have people pushing on her and touching her, and she would be falling down and failing to live up to her expectations. And she would burst into tears," Mike says. "And we would have difficult car rides home where she talked about the things that she was saying to herself: that she wasn't good enough and that she couldn't do this. But she loved the activity enough that she would face those fears and keep coming back."
Mike says when Erin started derby six years ago, she would never have opened her mouth in front of a stranger.
But the sport has changed her.
"When she's out there and her team needs to pull back together, and she'll scream at the top of her lungs, 'Come on, let's go! Wall up!' " Mike says. "And I look at that and I think, 'Who is that kid?' I love seeing that side of her, and I love that derby brings that out of her."
"She'll scream at the top of her lungs ... and I love that derby brings that out of her."

Mike Van Flandern
Mike says it's not just his daughter. Many girls could use a space like this.
"Fewer young girls join sports than boys. And, as they hit their teen years, the attrition rates, depending on whose statistics you look at, are two to six times that of boys," Mike says. "And a lot of that is our unconscious social messages that athletics is not feminine. Roller derby, for me, is an opportunity for my two daughters to have those types of experiences that boys who can go out and play football just take for granted."
Evicted
Then, this spring, all those opportunities were thrown into doubt.
Carmin was at a league meeting when she first heard the building would be demolished to make room for a mixed-use development with retail on the ground floor and apartments up above.
"I think my immediate thought was, 'Well, s---, that sucks because this place is perfect," Carmin says.
The league had known for a while that the building owner wanted to tear the place down, but they were having trouble finding a new home. Some warehouses were too expensive. Some were too rundown. Some of them had pillars too close to the track, where skaters would run into them.
"Those ClearSpan buildings are harder and harder to find because they're getting torn down, and they're being made into multipurpose buildings that have a Starbucks in the bottom and people living upstairs and, like, a 600-square-foot room that's $3,000 for rent and the bathroom's down the hall," Carmin says. "There's just — it's what the city's turning into unfortunately."
The league nearly signed a deal with a warehouse south of downtown, in Seattle's industrial district.
But renovating that warehouse into a space fit for athletes and spectators would have required pouring a new floor, installing sprinklers, adding bathrooms and making the building better able to withstand earthquakes — to the tune of about a million dollars.
The landlord didn't want to wait for Rat City to do all that construction and permitting, so they rented to someone else.
That means the league is still actively looking for a new home.
And Rat City isn't the only derby league having trouble keeping their space as the cities around them gentrify, and old industrial spaces go from cheap and abundant to expensive and scarce.
"I know that Portland is experiencing the same thing," Carmin says. "They had to move out of their longtime home they've had forever. And I think they're still trying to find a place. So I know that it's not just us. I know that this is happening nationwide."
Carmin understands that building owners can make more money on apartments and retail space than roller derby, but...
"Sometimes the dollar isn't better than investing in things that are useful for people and their sanity," she says.
While Rat City searches for a new space, they're holding practices in rented spaces. Seattle Parks is even letting them paint tracks in community centers, so they can hold their 2019 season.
But Carmin says she's confident Rat City — and roller derby — can survive.
"It's not how many times you get knocked down," Carmin says. "It's how fast you get back up. It's applicable for not just playing the game, but definitely for us being able to find a new place. We know we're going to get knocked down, and that's fine. That's part of the game. But we always get back up."
This segment aired on November 16, 2019.