Author Lois Lowry On Her Work And Life
Resume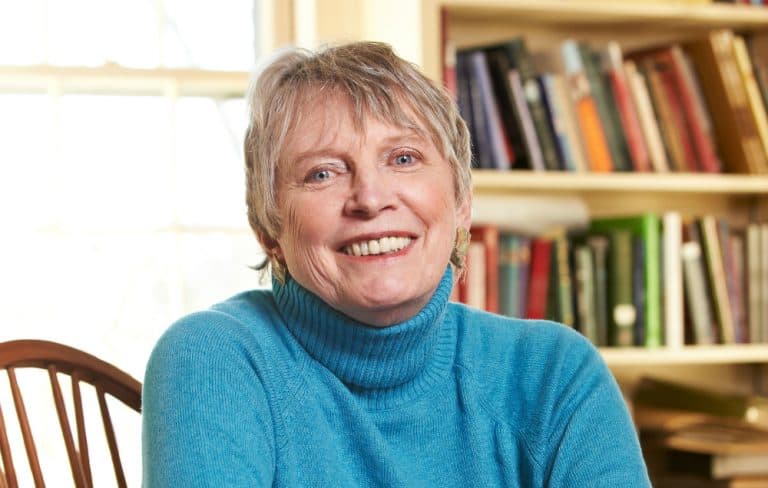 Newbery Medal-winning author Lois Lowry is one of the pioneers of dystopian young adult fiction.
Twenty years ago she published "The Giver," what she calls "her quiet little book." In it, 12-year-old girls are selected to be vessels that give birth to the next generation, and society as a whole has eradicated emotion, pain and strife by converting all people to a state blissfully — and brutally — referred to as "sameness."
Late last year, Lowry published "Son," the fourth and final book in "The Giver" series. She turned away from darkness and wrote a story that strikes out for more hopeful territory.
A Story Of Loss
She tells the story of Claire, a young girl who's chosen to be a vessel. Claire gives birth, the child is immediately taken away, and Claire is given a new job.
"I'm a mother who lost a son, and so perhaps that permeated that book and the writing of it," Lowry reflected. Lowry's son was a fighter pilot in the U.S. Air Force and passed away at the age of 36, leaving behind a wife and baby daughter.
Despite the grief and loss that Lowry experienced, she distinguishes it from what she writes about in "Son."
"In a way, the loss that the girl Claire suffers in the book is worse than my loss because my son was killed in a military accident... and he was buried at a military funeral with all the pomp and circumstance that goes with that. ... All of that is a way of saying goodbye and knowing that you've lost someone.
"In the book, the girl knows she has a child and he has disappeared and she assumes he is alive but she has no idea where he is," Lowry continued. "I think that would be harder.
"We as parents have to let go of our children, and that's always hard, but it's part of that process of the bond that exists."
A Lifelong Passion For Writing
Lowry has written 43 novels over the course of her career, but it all started when she was a child.
"I was lucky to grow up in a house filled with books, with a mom who took me to the library," Lowry said. At around 8 or 9 years old, Lowry knew she wanted to be a writer.
"Those of us who do this, we love doing it. We like being alone. We like language. And to be alone in a room and have that solitude and the time to just play with language is, to me, the best of all possible worlds. To create stories, to sit there with words and sentences — that would be my utopia, no dystopia there at all," Lowry said.
An Outsider Looking In
Lowry's father was a career military officer, which mean her family lived on several army bases across the world during her childhood — and these experience manifested in her writing.
"It's oddly like the community of 'The Giver,' which relies on the rules and the strict regimen that everybody follows in an unquestioning fashion," Lowry explained.
The fact she and her family moved around so much significantly influenced the way Lowry viewed the world and the people around her.
"I think that's one of the things that contributed to making me such an observer. I was always the the new kid, plunged into new circumstances...I do think of myself as always having been an introspective observer as opposed to a participant," she said.
"When I say 'solitary' and 'introspective,' those are accurate descriptions of me. But the one that really stays most in my mind is the description of an observer — somebody who perceives what's happening among people and within people and then tries to portray that in writing. I think that is really the most important theme there is in any book, not just mine."
On Dystopian Fiction
Lowry's favorite novel of the dystopian genre is "The Handmaid's Tale" by Margaret Atwood. "The Giver" is often credited as being the first young adult dystopian novel.
"It certainly has spawned a generation of [the genre]. There's a whole lot of dystopian fiction out there, and I think probably the reason it's become so popular...today's kids are living in a very uncertain time and that permeates their awareness of the world. That must cause them to wonder about the future, and that is probably the appeal of this fiction which postulates a possible future.
Lowry explained that "Son" is a quiet book, just as "The Giver" was, but she admitted to inherent struggle in the novel — both physical and emotional.
"It does have a very hopeful and optimistic ending," she disclosed.
On The Importance Of Writing For Youth
Lowry actually started out her literary career by writing for adults, but after a publisher asked her to write a novel for young people, she was hooked .
"Almost immediately I began to get the reaction from young readers. In those days, it was real mail. This morning I answered 27 emails. Again and again, every single day, I hear from young readers about the impact that a book has on them," she said.
"These kids are still becoming who they're going to be. And they write and tell me that a book by me has affected whom they're going to be — and I think that's an important thing to do. It's not a responsibility I take lightly...I'm going to hang in there and keep doing it."
Guest
Lois Lowry, author of "The Giver" quartet. Her latest novel, "Son," is the fourth in the series.
Book trailer for "Son":
Excerpt from "Son" courtesy of Houghton Mifflin Harcourt:
This article was originally published on January 07, 2013.
This segment aired on January 7, 2013.