The Jungle Book Lights Up the Huntington
11:46
Play
This article is more than 8 years old.
Many of us are familiar with the 1967 Disney movie The Jungle Book, which tells the story of Mowgli, a young boy raised by animals in the jungles of India. The film was based on an 1894 collection of stories by the British writer Rudyard Kipling, and the story has been adapted yet again -- this time, as a musical for the stage. It begins in previews this weekend at the Huntington Theatre Company in Boston, and opens officially on September 18th.
The creative vision behind the production is Tony award-winning director Mary Zimmerman, who first staged her musical adaptation of The Jungle Book in Chicago this summer. Zimmerman has made a career of adapting classic works for the stage, from Ovid's Metamorphoses to The Arabian Nights.  She says The Jungle Book gets its staying power from the story's resourceful, brave and lovable main character.
WBUR's Sacha Pfeiffer spoke with Zimmerman in the balcony of the Huntington's main stage as the crew was putting final touches on the set.
Guest
Mary Zimmerman, director of the new musical adaptation of The Jungle Book
Transcript
Sacha Pfeiffer: Would you tell us a little bit about how you went about the adaptation? Because I think you traveled to India to prepare for this.
Mary Zimmerman: Yes, me and my design team, whenever we do a show, my creative team and I really love to go to the place where it is set — not for any kind of museum-like authenticity or imitation, but just for inspiration and just to be inspired.
I've read that you have a unique approach to your work in that you typically don't start rehearsals with a script; there is no script.
There is no script. But, you know, it's adaptation, so there's a base text behind it. I don't just go into a room [and say], "Oh, let's make up a story and make up a play, let's make up a show." There's a text in mind that we're trying to figure out how to put on stage. But it's true: I start with no script.
For people who love the music of The Jungle Book, will they get to hear all the songs?
Yes, definitely all the songs.
Live orchestra? Or are these recordings?
Every single thing is live, and we have six Indian instrumentalists and we have six western horn players, a drum set.
Kind of jazzy?
Yes, absolutely — the jazz from the film. My governing idea with the show, my number-one idea, was that there seemed to me something in common between those songs and the Indian dance music that I really loved. And I asked people who know more about these things than I, and my friend Roni, who's in the show, plays in the show, said to me, "Mary, Indian music is swing. It's all swing." And that was very affirming for me, that my hunch about that was sort of correct. And the blend is beautiful. It's perhaps the best thing about the show is the music and this blending of this American jazz with these Indian instruments. But the songs from the movie are utterly recognizable, utterly apprehendable as those songs. But they have different arrangements and different inflections.
The review of the Chicago show had a line that said that rather than dazzling the senses, this is a show that creates illusions to get people to see what the animals and characters are. What's an example of that? What's an illusion that lets you know what you're looking at?
I would say, and anyone who's seen my work knows that I'm a litle bit this way, that I like to use visual metaphor. This is like that, and let the audience complete the image rather than doing something completely realistic. One manifestation of that or expression of that is the big snake Kaa, which we do in three different ways. One is a big, giant, sort of puppet-y snake, but the other is a series of balls held by the actors that are smaller and smaller and smaller, and then two balls for a pair of eyes in front, and then just the way the actors move their arms and circle those balls is incredibly serpentine, so it does create the illusion of the snake.
So, in some sense, there's an adult aspect to this — having to recognize metaphor — but this is also a very kid-friendly production, or at least a lot of kids will come, I assume?
My theory about myself and metaphor on stage is I'm just still playing in the backyard. Children 100% understand, 'Let's use this for that. Let's take these plastic bowling pins, put them in our belt, and say they're a rocket pack.' That is what children know how to do and they get it.
Don't underestimate their ability.
It's not even underestimating them. They're making do with what they have. It's a survival thing to understand things like that, I feel like. They understand pretend — pretending this is that. They have to use symbolic language for the first three years of their lives so they understand all of that very, very well, I think. And when people ask me, "Is it for kids, is it for adults? Who did you make it for?" My answer is: I made it for myself. That's the only thing you can do. And then just hope that you have enough in common with other human beings that they, too, will like it in the way that you like it and love it in the way that you love it.
In this production, Mowgli is played by a 10-year-old boy. How has it been working with that young actor?
Akash Chopra is a little genius and he's so — I can't even describe. He's a really extraordinary boy on stage. He's emotionally incredibly intelligent and very, very present and very natural. There's nothing about him that has that somewhat sometimes little canned or rehearsed feel that children sometimes have on stage. And, in fact, he will give different line readings on different nights, and that's extraordinary in a child performer. He's not reciting; he's inventing. And there's even a couple of lines now in the show which he improvised — he just said them — and they're now part of the script, which my process allows for that kind of thing to happen.
Rudyard Kipling, who wrote the Jungle Book, was a very talented writer and unapologetically colonial, and he's been criticized for that, and this show has been criticized for that as a result. Did you have to take that into consideration at all as you adapted?
I feel that this particular story does not, that you're hard-pressed to look at the Jungle Book stories and read them through a deconstructive post-colonial lens. These stories — that is not their world view, and it's not the world view of the people doing it.
There's been criticism that some of the characters have racial stereotypes. Did that come into your mind?
Not really, although I was quite aware in casting Andre De Shields, who plays King Louie, who is an orangutan, that there is, of course, a discourse, a very ugly racial discourse, around evolution and race. And I talked to Andre De Shields at length about it before. He feels why should his body have to bear a history of white guilt? Like, why can he not play this part because of our own crimes of the past? And how do you move forward so that that seems so ridiculous that you would ever even make that comparison? There's, of course, a transitional period where it does feel maybe slightly edgier.
But the main thing I want to say about that is in 25 years I'd never seen an audition like he gave. And if I had not cast him because of his black skin, the irony of that is too grotesque. It's too grotesque. Yes, he sang everyone else out of the room, but no, I'm not going to use you because of what people might say about me and mistake my politics for, so you can't have the job and you can't enliven the show and bring your legendary — like he's a legendary figure in the American musical theater. And if I hadn't cast him, it would have been out of cowardice of this kind of question, this kind of accusation.
And, you know, oh my god, I feel like dissertations will be written about his performance in this show. It's so complicated. It's so powerful. It's ferocious. He sings, "I want to be like you, I want to walk like you, I want to talk like you," you know, an ape singing to a little boy. But the way he's doing it, he's singing and dancing so much better than 98% of the population of the planet can do that it has this profound ferocious irony to it. The last line is, "I want to be like you," and I told him, "Say that to the audience in the most ferocious way you can." And he does. And we sometimes get standing ovations at intermission because he's the curtain number in the first act and people stand for him. So to think I would have passed that up! He won the part. And also, my music director would have sort of killed me if I hadn't cast him, I think. Just killed me because she wanted to work with him so much!
More
The New York Times: "Ms. Zimmerman's suggestive, understated approach could be seen as risky in the high-stakes world of musical theater today. But what's most pleasurable about this production is its graceful simplicity, in contrast to the many high-budget (and often garish) stage adaptations of Disney animated movies. "
Watch
A video preview of the new musical:
This segment aired on September 5, 2013.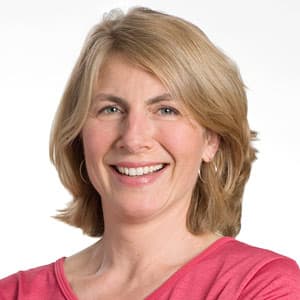 Sacha Pfeiffer Host, All Things Considered
Sacha Pfeiffer was formerly the host of WBUR's All Things Considered.