Defining America By Its Objects — 101 Of Them
Play
This article is more than 9 years old.
Imagine you were given a list of more than a hundred-million objects from American history — starting with prehistoric times and stretching all the way to today — and told to narrow it down to the top 101. Not an easy task. In fact, probably extremely difficult!
But that's exactly what Richard Kurin did. He's the Smithsonian Institution's Under Secretary for History, Art and Culture and he's written a book called "The Smithsonian's History of America in 101 Objects." It starts with some 500-million-year-old fossils and ends with a massive high-tech telescope.
In November, WBUR's Sacha Pfeiffer spoke with Kurin about how he winnowed down all those choices and which objects from New England made the cut.
Guest
Richard Kurin, undersecretary for history, art and culture at the Smithsonian Institution and author of "The Smithsonian's History Of America in 101 Objects."
AMERICAN HISTORY TOLD THROUGH 101 OBJECTS
1. BURGES SHALE FOSSILS – One of the most important geological discoveries of the twentieth century opens up a window onto life in America half a billion years ago.
2. BALD EAGLE – A majestic indigenous bird becomes a symbol of a nation's vital connection to the land.
3. CLOVIS STONE POINTS – Hunting tools reveal an extensive human presence in North America 13,500 years ago.
4. MISSISSIPPIAN BIRDMAN COPPER PLATE – A finely embossed decoration from about 1300 A.D. demonstrates the complexity and artistry of North American Native civilization.
5. CHRISTOPHER COLUMBUS' PORTRAIT – A historical engraving depicts the explorer whose voyage to the new world paved the way for European colonization of America.
6. SPANISH MISSION HIDE PAINTING OF SAINT ANTHONY – A religious painting from a colonial mission to the American Southwest is used to help convert Indians to Christianity.
7. POCAHONTAS'S PORTRAIT – A 1616 image of a famous Native American woman promotes the Jamestown colony in Virginia.
8. PLYMOUTH ROCK FRAGMENT – Early settlers turn their landing point into a legendary symbol of the journey to religious freedom and liberty.
9. SLAVE SHACKLES – Instruments of bondage speak to the unspeakable inhumanity of a worldwide trade that enslaved millions of Africans.
10. AMERICÆ NOVA TABULA MAP – An elaborately illustrated map of the Americas from about 1648 provides insight into how settlers see the new world.
11. DECLARATION OF INDEPENDENCE – A proclamation of freedom for a new nation is drafted on a portable desk in 1776 and decades later copied for preservation and wide dissemination.
12. GEORGE WASHINGTON'S UNIFORM AND SWORD – The military regalia of the first Commander of America's military says much about leadership and vision for the new nation.
13. BENJAMIN FRANKLIN'S WALKING STICK – A staff given to a beloved and respected scientist-statesman makes a powerful statement about American democracy.
14. GILBERT STUART'S LANSDOWNE PORTRAIT OF GEORGE WASHINGTON – The great portraitist of the young nation's political elite paints the iconic image of the first president and father of the country.
15. STAR-SPANGLED BANNER – A flag sewn in Baltimore becomes a treasured icon and inspires the national anthem.
16. THOMAS JEFFERSON'S BIBLE – A unique work expresses the still-controversial beliefs of the president and patriot who defined religious liberty for the nation.
17. CONESTOGA WAGON – A horse-drawn covered wagon moves goods between cities and the frontier of a young nation.
18. ELI WHITNEY'S COTTON GIN – A machine improves the processing of cotton and expands a slavery-driven agricultural economy.
19. JOHN DEERE'S STEEL PLOW – A modern innovation opens up the Midwest to agriculture and helps feed the nation and eventually the world.
20. ISAAC SINGER'S SEWING MACHINE – A practical mechanical innovation transforms industry as well as the role of women in the workforce and at home.
21. NAUVOO TEMPLE SUN STONE – Symbolic carvings reflect a religious tradition founded and persecuted by on American soil.
22. LEWIS AND CLARK'S POCKET COMPASS – A small hand-held instrument enables a legendary expedition to guide itself across the continent.
23. JOHN BULL STEAM LOCOMOTIVE – An engine initiates long-distance railroad service binding the country together and spurring the nation's industrial development.
24. SAMUEL COLT'S REVOLVER – A commercially manufactured hand gun plays a pivotal role in the history of the West.
25. MORSE-VAIL TELEGRAPH – An invention revolutionizes communications, bringing the nation closer together.
26. MEXICAN ARMY COAT – A misidentified trophy from the Mexican-American War tells a story of a pivotal moment in the western expansion of the United States.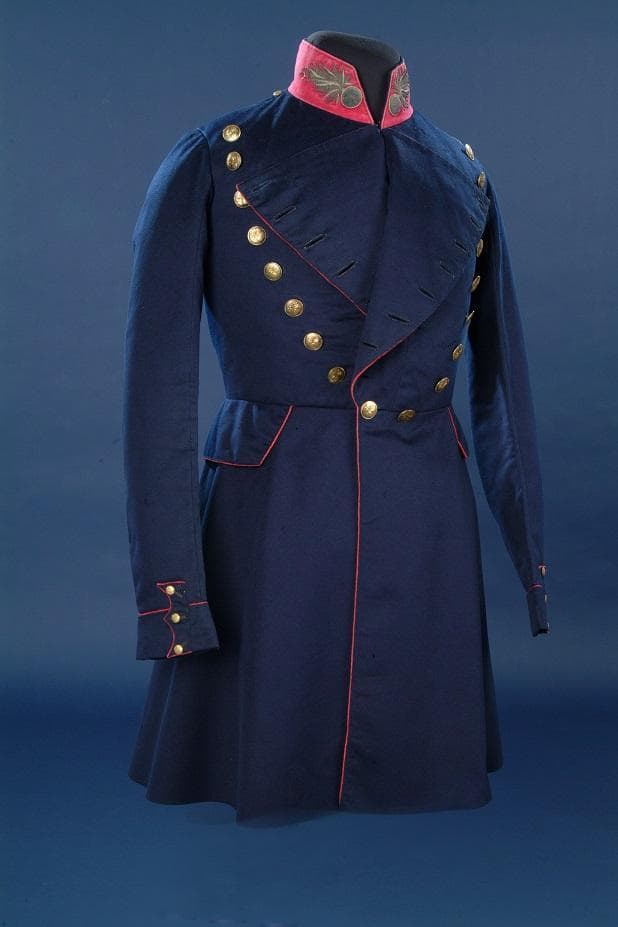 27. GOLD DISCOVERY FLAKE FROM SUTTER'S MILL – A small piece of yellow metal found in 1848 starts the California Gold Rush.
28. MARTHA, THE LAST PASSENGER PIGEON – The extinction of a bird species famously documented by John James Audubon marks the changes in America's ecology.
29. FREDERICK DOUGLASS'S AMBROTYPE PORTRAIT – A former slave who became the eloquent champion for human rights shapes his own image and that of African Americans.
30. HARRIET TUBMAN'S HYMNAL AND SHAWL – Artifacts associated with an American hero reflect the depth of her faith and the breadth of the acclaim for her accomplishments.
31. EMANCIPATION PROCLAMATION PAMPHLET – The historic order by President Abraham Lincoln, freeing slaves in the Confederacy, is widely disseminated.
32. CHRISTIAN FLEETWOOD'S MEDAL OF HONOR – The nation's highest military honor is awarded to an African American soldier during the Civil War and helps integrate the U.S. National Museum decades later.
33. APPOMATTOX COURT HOUSE FURNISHINGS – Generals Lee and Grant negotiate the end of America's most devastating war.
34. ABRAHAM LINCOLN'S HAT – The signature hat of the president who faced the nation's greatest challenge becomes a national treasure.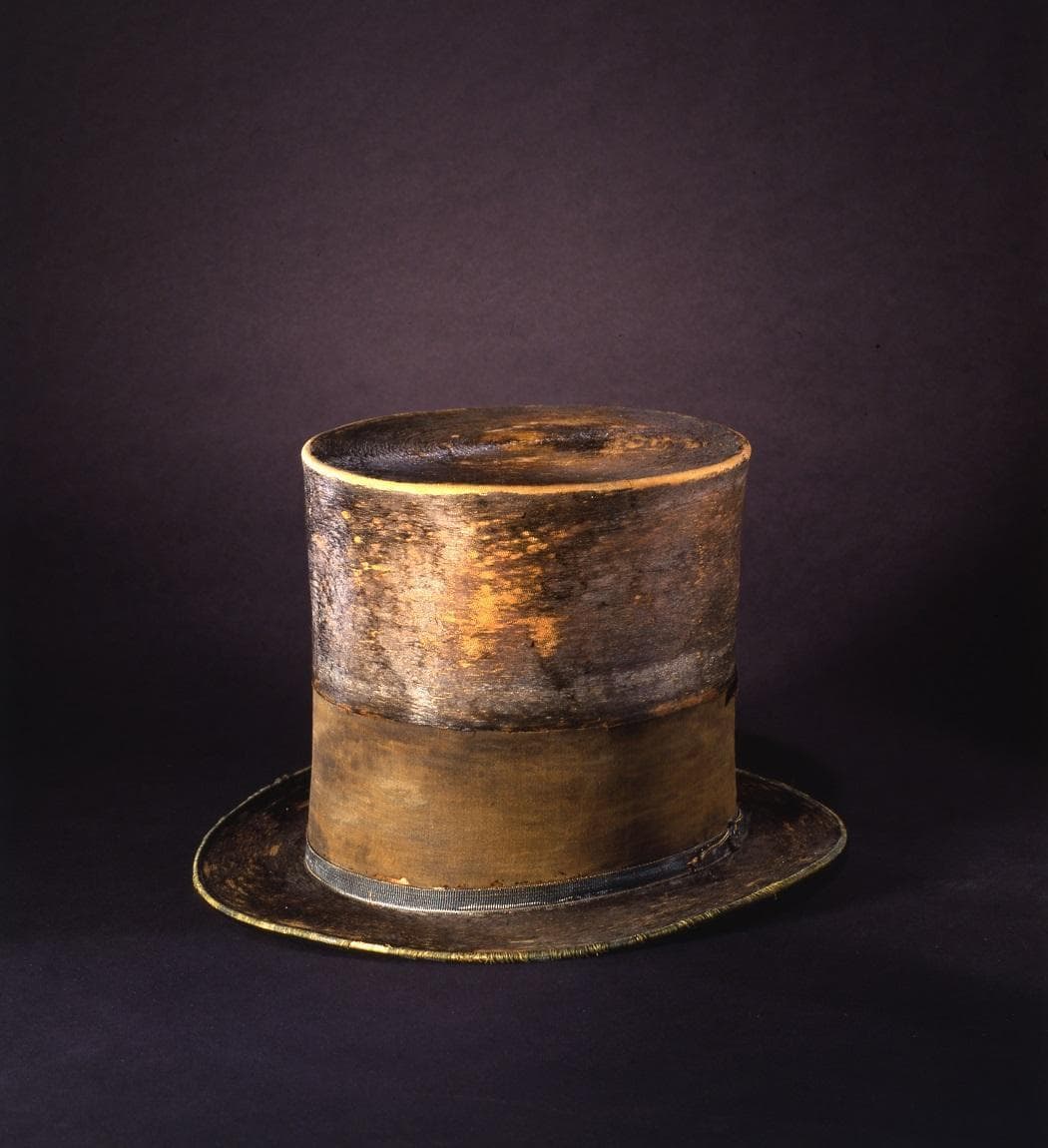 35. ALFRED BIERSTADT'S AMONG THE SIERRA NEVADA, CALIFORNIA – A painting of the western landscape gives Americans a visual sense of Manifest Destiny.
36. KING KAMEHAMEHA III'S FEATHER CAPE – A Hawaiian king bestows a gift to a people who would later dismantle his kingdom.
37. AMERICAN BUFFALO – An animal vitally important to Native peoples is commercially hunted-almost to extinction-before inspiring the conservation movement.
38. SITTING BULL'S DRAWING BOOK – A Native American leader documents his battles and exploits.
39. BUGLE FROM U.S.S. MAINE – A poignant relic is recovered from a destroyed ship that became a battle cry for expanded U.S. influence in the Caribbean and beyond.
40. ALEXANDER GRAHAM BELL'S TELEPHONE – A machine for producing "electric speech" revolutionizes worldwide telecommunications.
41. THOMAS EDISON'S LIGHTBULB – The incandescent lightbulb lights a nation.
42. FRÉDÉRIC BERTHOLDI'S LIBERTY – The model for a monument to international friendship that becomes a welcome sign to millions of immigrants.
43. ANDREW CARNEGIE'S MANSION – The Gilded Age New York home of America's richest industrialist embodies its era.
44. FORT MODEL T – The automobile that puts Americans on the road and drives its twentieth-century manufacturing economy.
45. WRIGHT BROTHERS' KITTY HAWK FLYER – A benchmark achievement born of careful research broadens horizons and the imagination.
46. BAKELIZER PLASTIC MAKER – A machine heralds the dawning of the age of plastics.
47. JAMES WHISTLER'S HARMONY IN BLUE AND GOLD: THE PEACOCK ROOM – A magnificently decorated room demonstrates creativity and an appreciation of cross-cultural artistic influences.
48. BERNICE PALMER'S KODAK BROWNIE CAMERA – A new device enables people, including a seventeen-year-old eyewitness to the Titanic disaster, to document their experiences.
49. HELEN KELLER'S WATCH – A timepiece with a simple but special feature helps a remarkable woman lead the way toward worldwide recognition for the disabled.
50. SUFFRAGISTS' "GREAT DEMAND" BANNER – A protest banner is unfurled by women to assert their right to vote.
51. KU KLUX KLAN ROBE AND HOOD – Disguises that wrought terror upon generations serve as reminders of the nation's legacy of intolerance.
52. WORLD WAR I GAS MASK – A necessary counter-measure is developed to defend against a horrific military innovation.
53. LOUIS ARMSTRONG'S TRUMPET – The instrument of a legendary musician helps develop a uniquely American music.
54. SCOPES "MONKEY TRIAL" PHOTOGRAPH – Two of America's foremost legal advocates face off in court over the teaching of Evolution in public schools.
55. SPIRIT OF SAINT LOUIS – The airplane makes the first solo nonstop flight across the Atlantic ocean, enthralling the world.
56. BABE RUTH AUTOGRAPHED BASEBALL – A souvenir marks America's embrace of a supremely talented sports hero.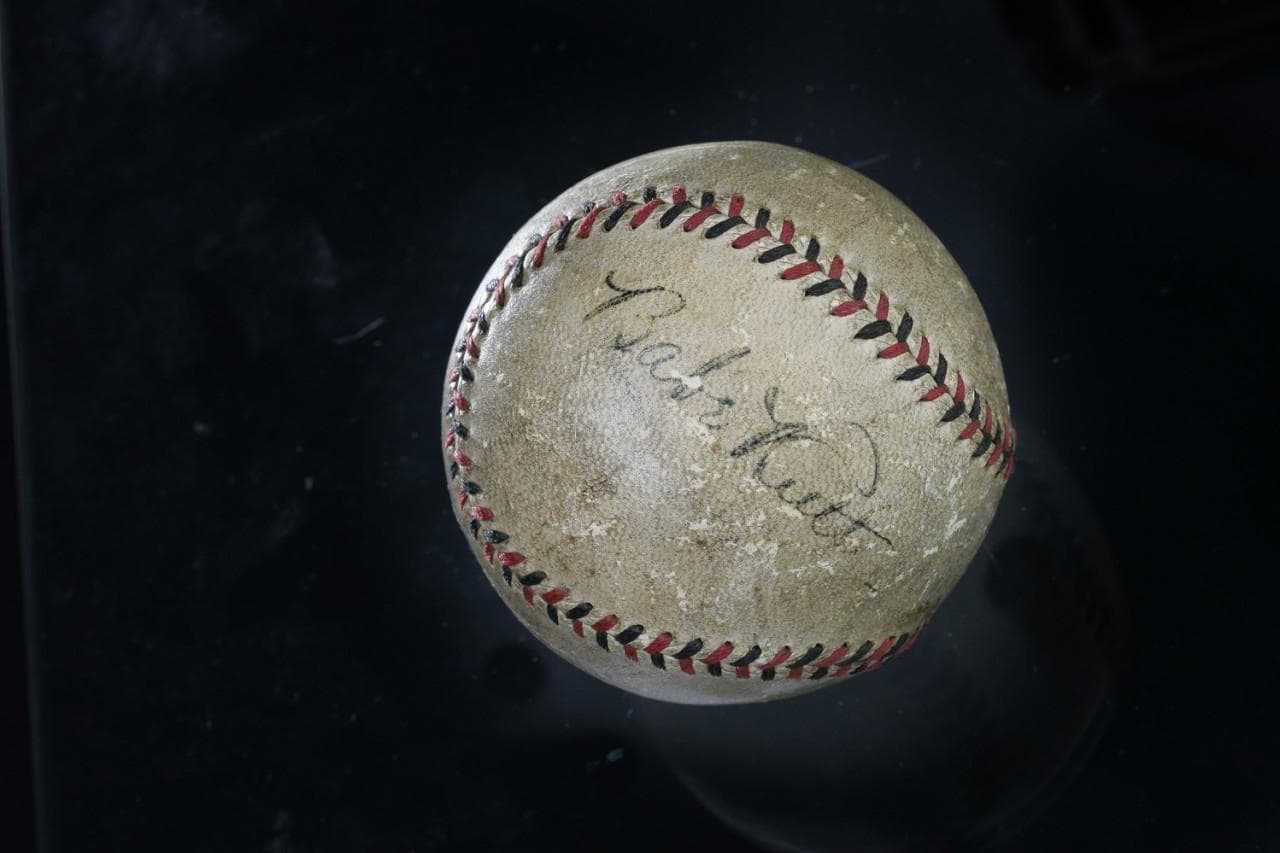 57. FRANKLIN D. ROOSEVELT'S "FIRESIDE CHAT" MICROPHONE – A newly elected president reassures the nation in the midst of economic collapse.
58. JOHN L. LEWIS'S UNION BADGE – A decoration symbolically acknowledges the American character of the labor movement at a pivotal time.
59. MARIAN ANDERSON'S MINK COAT – An event marred by racial prejudice is transformed into a moment of national acclaim and respect.
60. DOROTHY'S RUBY SLIPPERS – A young girl's fictional quest and her magical shoes remind America that there is "no place like home."
61. WOODY GUTHRIE'S "THIS LAND IS YOUR LAND" – An American balladeer pens and sings a populist anthem for a nation emerging from the Great Depression.
62. U.S.S. OKLAHOMA POSTAL HAND STAMPS – A simple item that helped connect servicemen to their loved ones survives the attack on Pearl Harbor.
63. SPIRIT OF TUSKEGEE – The vehicle for African American flyers to serve their country in World War II paves the way for the integration of America's armed services.
64. "WE CAN DO IT!" POSTER OF ROSE THE RIVETER – A World War II image points to the importance of women workers on the home front.
65. JAPANESE AMERICAN WORLD WAR II INTERNMENT ART – U.S. citizens and permanent residents, forcibly removed from their homes, express their anguish in confinement and their loyalty to the nation.
66. AUDIE MURPHY'S EISENHOWER JACKET – An innovation of a military leader well attuned to practicality and public perception sets a fashion trend.
67. ENOLA GAY – The bomber ends World War II in the Pacific, ushers the Atomic Age, and stirs controversy over its exhibition.
68. FALLOUT SHELTER – Americans try to cope with the uncertainty of the Cold War and the prospect of a nuclear attack.
69. MERCURY FRIENDSHIP 7¬ – John Glenn's orbital flight launches the United States into the space race and buoys the spirit of the American people.
70. HUEY HELICOPTER – The "workhorse" of the Vietnam War is remembered for its role in battle, rescue, and healing.
71. PANDAS FROM CHINA – Adorable mammals from China breed diplomacy with the United States and raise awareness about endangered species.
72. BERLIN WALL FRAGMENT – A barrier to freedom that defined the Cold War also signals its end.
73. VIALS OF JONAS SALK'S POLIO VACCINE –Experimental drug treatments lead to the defeat of a horrible disease feared by the American people.
74. JACQUELINE KENNEDY'S INAUGURAL BALL GOWN – A dress illustrates the style and youth of a new president and First Lady.
75. JULIA CHILD'S KITCHEN – An engaging woman's adventures with cooking French food in her home kitchen transforms the American palate.
76. THE PILL AND ITS DISPENSER – A drug long in the making gives women reproductive freedom, but not without controversy.
77. NEIL ARMSTRONG'S SPACE SUIT – Fulfilling President Kennedy's call, the United States puts a man on the moon.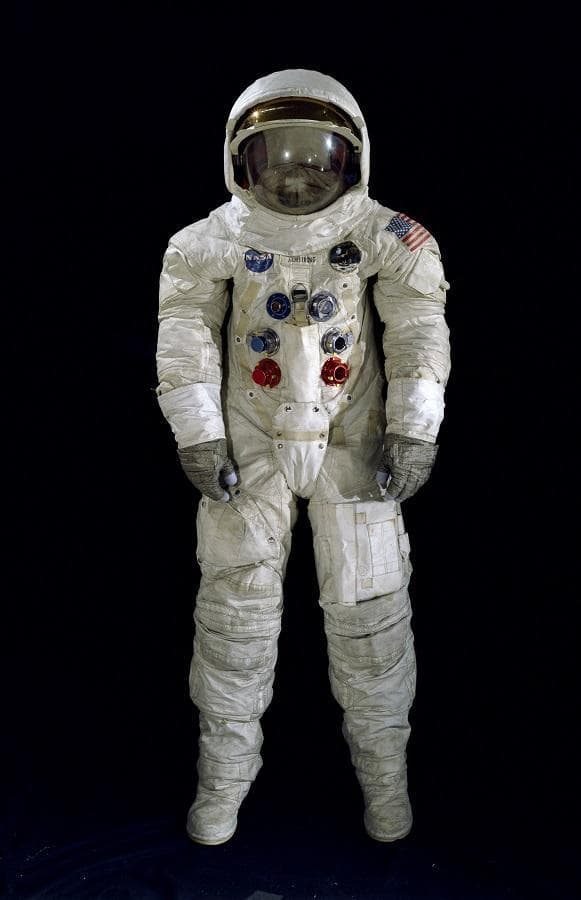 78. "MR. CYCLE" PCR MACHINE – A device that can replicate DNA enables a revolution in genetic science.
79. SPACE SHUTTLE DISCOVERY – A single spaceship travels almost 150 million miles to serve human exploration of space.
80. GREENSBORO LUNCH COUNTER – Four African American students began a sit-in to desegregate an eatery and energize the Civil Rights movement.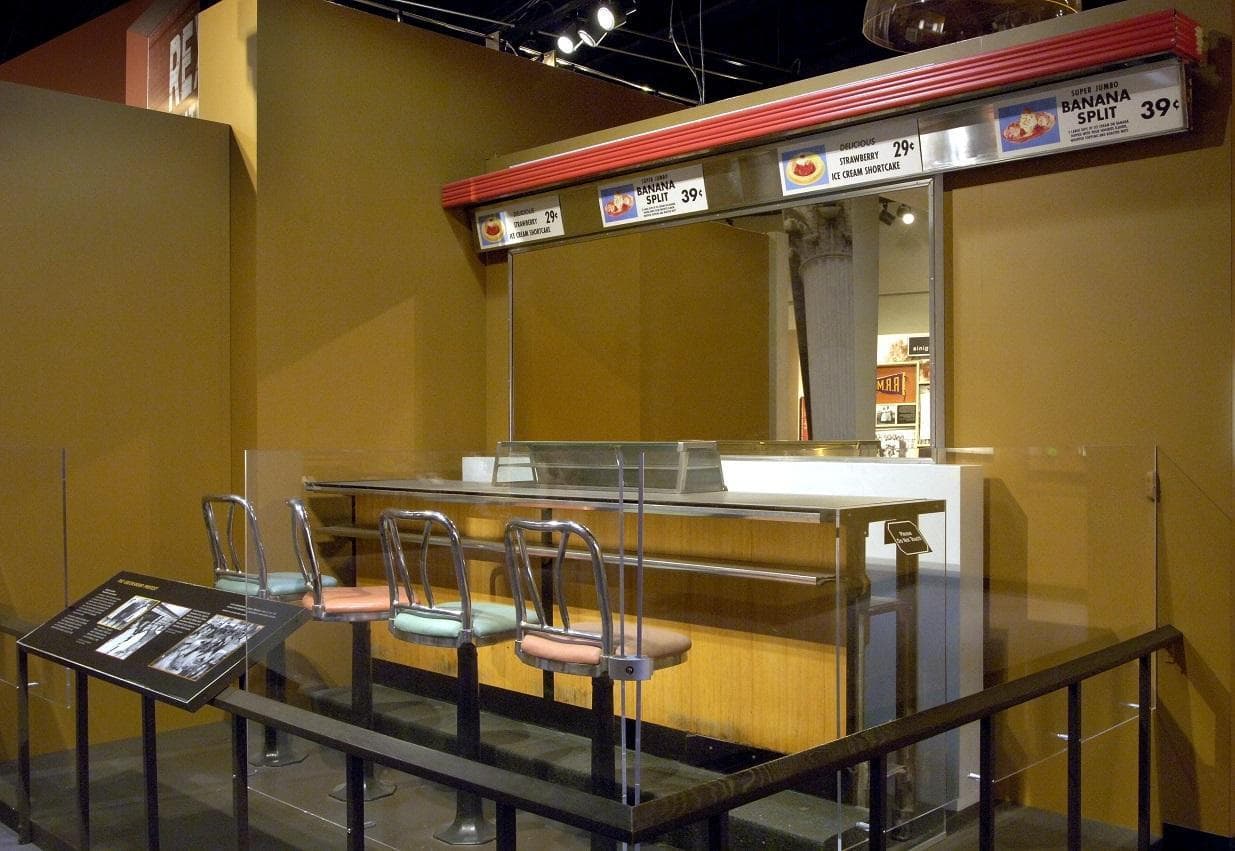 81. MUHAMMAD ALI'S BOXING GEAR – A heavy weight champion becomes a voice of conscience and a national hero.
82. BOB DYLAN POSTER BY MILTON GLASER – A portrait of the counter-culture's bard illustrates that the "times they are a-changin'."
83. CESAR CHAVEZ'S UNION JACKET – A labor activist wears an emblem for humanitarian treatment and economic justice.
84. GAY CIVIL RIGHTS PICKET SIGNS – Homemade signs of White House picketers prepare the way for the Gay Rights movement.
85. AIDS MEMORIAL QUILT PANEL – One cloth panel in the largest work of folk art ever created personalizes the impact of a tragic epidemic.
86. WALT DISNEY'S MICKEY MOUSE –A simple cartoon mouse inspires the film animation industry and propels a worldwide American entertainment giant.
87. RCA TELEVISION SET – The model that premiered at New York's 1939 World's Fair leads to a worldwide phenomenon.
88. CHUCK BERRY'S GIBSON GUITAR – An instrument defines a new sound called Rock and Roll.
89. KATHARINE HEPBURN'S OSCARS – A talented actress wins awards now synonymous with high-quality artistic achievement.
90. HOPE DIAMOND – An amazing gift becomes America's crown jewel.
91. ANDY WARHOL'S MARILYN MONROE – A contemporary artist provides insightful visual commentary on a popular sex symbol.
92. MCDONALD'S GOLDEN ARCHES SIGN – An American fast-food enterprise helps define contemporary globalism.
93. KERMIT THE FROG – The Muppet start helps children learn in a thoroughly engaging manner.
94. STAR WARS' R2-D2 AND C-3PO – Robotic characters with personality animate a huge movie and signal human attitudes toward technology.
95. ENIAC (ELECTRONIC NUMERICAL INTEGRATOR AND COMPUTER) – An electronic computer develops out of World War II computational needs and sets the pathway toward the Digital Age.
96. APPLE'S MACINTOSH COMPUTER – A marriage of high technology and great design, a desktop computer sets a new standard for successful digital products.
97. NAM JUNE PAIK'S ELECTRONIC SUPERHIGHWAY – A modern artwork reflects the high speed, electronically connected new age.
98. NEW YORK FIRE DEPARTMENT ENGINE DOOR FROM SEPTEMBER 11 – Crumpled and damaged artifacts point to the tragedy and heroism of America's most horrific day.
99. SHEPARD FAIREY'S BARACK OBAMA HOPE PORTRAIT – A ubiquitous image aids a historical presidential campaign.
100. DAVID BOXLEY'S TSIMSHIAN TOTEM POLE – A contemporary Native American artist preserved and extends his traditional culture.
101. GIANT MAGELLAN TELESCOPE – A telescope being built in Chile will allow unprecedented human exploration of the universe.
This segment aired on January 2, 2014.