The 'Contemplative Life' Of A Monastic Brewer
12:47
Play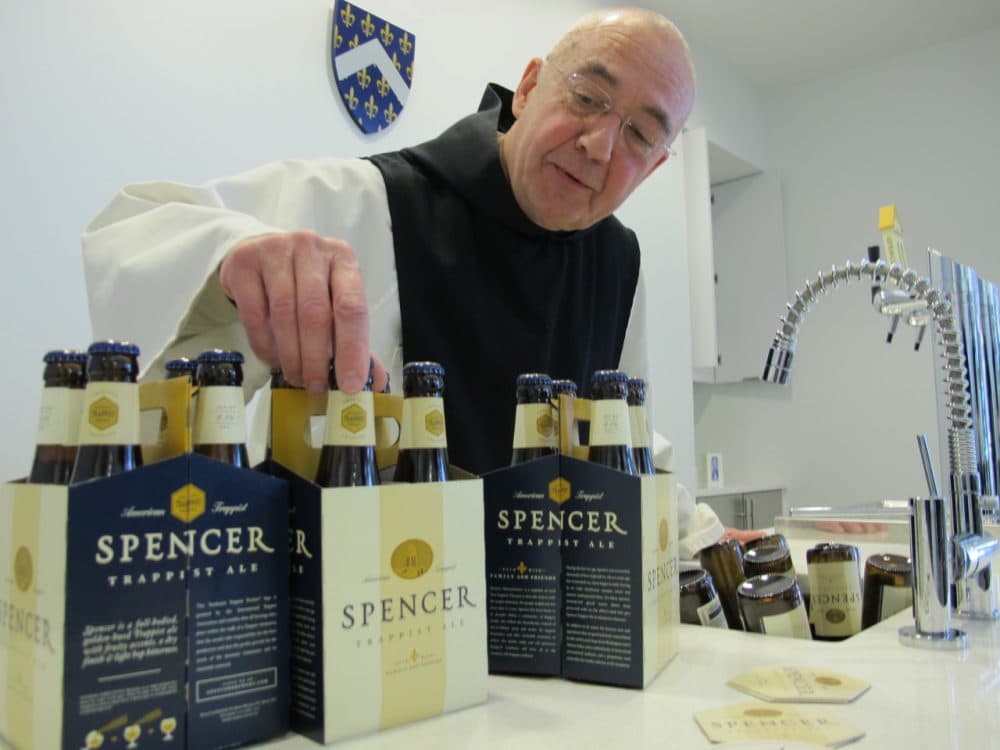 This article is more than 6 years old.
SPENCER, Mass. — For the last 63 years, the monks at St. Joseph's Abbey in the Massachusetts town of Spencer have followed the same routine: prayers at 3:30 in the morning, work from 9 until noon, more prayers, then rest, more work in the afternoon, and then more prayers.
But lately, that quiet, contemplative life has gotten a bit of a change.
Not far from the stone abbey, with its lovely bell tower, is a brand new state-of-the-art brewery. Trappist monks have a long tradition of brewing beer, but this is the first Trappist brewery in the United States. For the monks in Spencer, it represents an effort to remain financially viable.
"For us the primary intention was to be able to follow through on our basic commitment to be self-supporting and to earn a living by the work of our own hands," said Fr. Isaac Keeley, the brewery director.
For years the monks in Spencer have sold their own jams and jellies, which has been a pretty successful enterprise. But despite their cloistered ways, the monks are not immune to the laws of economics, including rising costs. So they needed an additional way to support themselves and their charitable work — which started them thinking about beer.
"One of the brothers who, many years ago, entered the monastery with a significant beer interest when he arrived, cultivated that idea among us for more than 10 years," Keeley said. "Once the monks really thought we should have a brewery, we had to convince the abbot and his board of advisers, who were not interested in a brewery."
The monks convinced the abbot and the board of advisers after giving them a batch brewed secretly as a Christmas present. Once the monks got the go-ahead, they sought out expertise, from local brewmakers to European experts.
Keeley says the monks' contemplative life remains — in a new way.
"If you notice a brewhouse is a pretty quiet place," he said. "Now that we're doing this on such a large scale it's even more understandable to us why monks in Belgium made this an integral part of their life for centuries. There's kind of a contemplative dimension to the whole brewing process. It's repetitive, you want to be very precise, and you have to take your time. One of the most interesting parts about the brewing process is before you turn it over to the yeast there's the rest. That's really part of the contemplative life, this rhythm between work and effort and rest and quiet."
Buildout by James Miller for WBUR
Guest
Fr. Isaac Keeley, director of Spencer Brewery
This article was originally published on February 03, 2014.
This segment aired on February 3, 2014.