Boston's George Stout — One Of The Real 'Monuments Men'
11:45
Play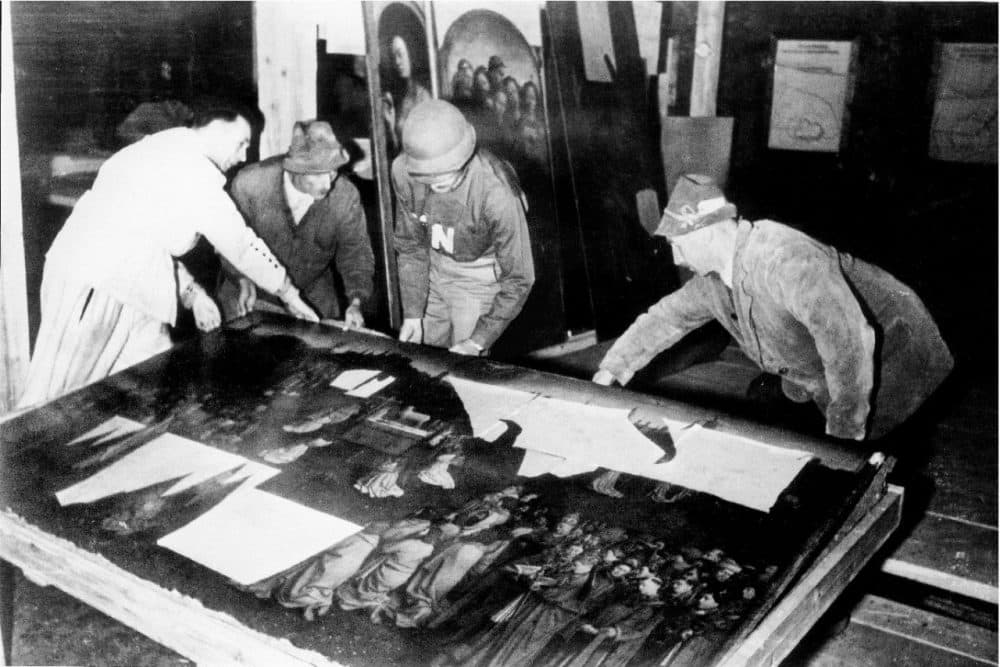 This article is more than 6 years old.
The film, "The Monuments Men," opens across the country today. It's based on the true story of the Monuments, Fine Arts and Archives section of the military — a group of American soldiers who worked to protect and recover cultural artifacts and art from the Nazis during World War II.
George Clooney directs and stars in the film, along with Matt Damon. Clooney's character is based on George Stout, who was a prominent lecturer and conservator at Harvard's Fogg Museum before the war. After the war, he directed the Worcester Art Museum and, later, the Isabella Stewart Gardner Museum in Boston.
Guests
Gianfranco Pocobene, head of conservation at the Isabella Stewart Gardner Museum.
Francesca Bewer, research curator at the Harvard Art Museums Straus Center for Conservation and Technical Studies.
More
NPR: Behind The Movie, Tales From The Real-Life 'Monuments Men'
"It's not often that a big-budget Hollywood film turns its attention to art historians and curators. But that's the subject of The Monuments Men, opening this weekend at a multiplex near you."
The New York Times: A-Team Tracks Nazi Plunder
"And here we thought that George Clooney was this era's Cary Grant even if, with his squinty smile and no-sweat insouciance, he's really closer to Clark Gable. As it turns out, Mr. Clooney seems to have been harboring a desire to tap into his inner Gregory Peck — noble, stolid, dull — as he does in 'The Monuments Men.'"
This segment aired on February 7, 2014.