Hacking And House Of Cards
13:16
Play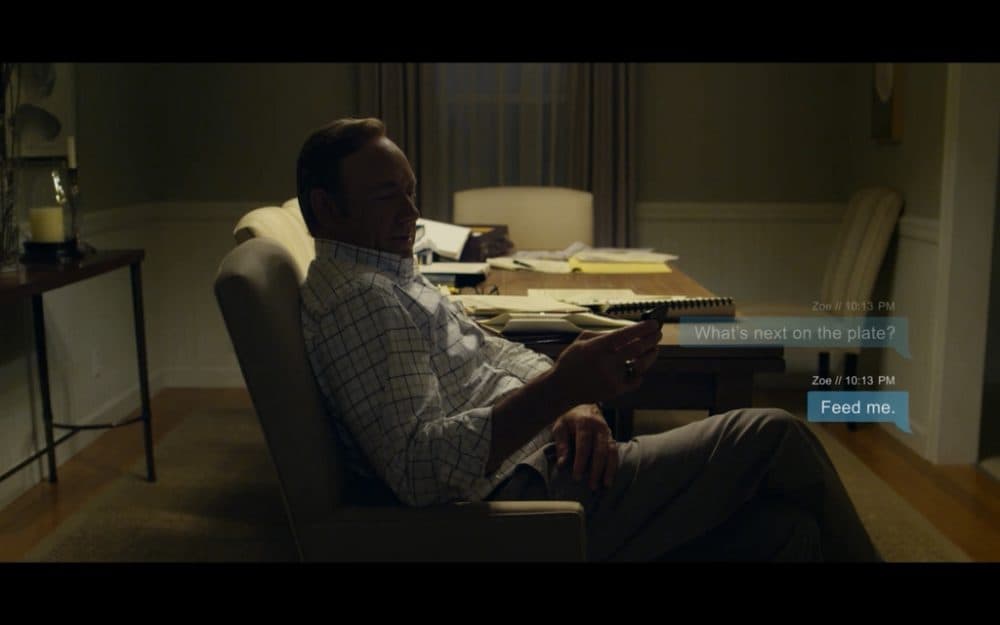 This article is more than 7 years old.
If you haven't finished the second season of House of Cards yet, beware of spoilers.
The Golden Globe and Emmy award-winning Netflix series has been out for three weeks now, and over half a million people burned through the thirteen-episode season its opening weekend. So, if you're not done yet, hurry up!
This season is a laden with manipulation, deal-making and — at one point — murder.
But a subplot focuses on a hacker — Gavin Orsay, played by Jimmi Simpson — who is under the thumb of the government, struggling to avoid a prison sentence.
"Most of my friends are locked up and rotting away because they poked the bear one too many times," says Orsay in one scene. "Why? They wanted to expose government surveillance, the prism program, embezzlement, abuse, torture, lies! We're soldiers."
One of those real-life "soldiers" is Gregg Housh, a Massachusetts hacker-turned consultant for the show. He spent three months in prison in 2007 on charges including copyright infringement.
He's been involved with Anonymous -- a loosely associated group of hackers — since its inception. And he spent much of the last year helping out with the hit Netflix show, kicking back with the likes of Kevin Spacey and Sebastian Arcelus.
Guest
Gregg Housh, hacker-turned-consultant for House of Cards. He tweets at @GreggHoush.
More
The Guardian: I Advised House Of Cards On Its Season Two Plot
"When I was first introduced to Gavin Orsay, a hacker activist forced to work for the FBI, he already had his wine collection and pet guinea pig, but he hadn't found his moral backbone. Now, I'm not going to go out there and say the final result is a good guy, but initially, he'd committed a cardinal sin of the hacking community: he had betrayed his friends who were fighting the good fight."
Boston.com: House Of Cards Called On Boston Hacker Gregg Housh To Give Series' Tech An Authentic Touch
"My favorite part was this scene in episode seven where the president and Spacey are in the White House in the Oval Office. In between takes, Spacey would turn around and just start talking to me. We're having this long conversation, and every time, the director is looking at me like, 'Turn him around please!' And Spacey really wanted to hang out, which was so cool 'cause he's my favorite actor."
Cnet.com: Really Francis? Here's Where 'House of Cards' Could Use IT Help
"With so much tech and hacker content in the storyline, and 'House of Cards' more or less a production of the Hollywood establishment (albeit Spacey and the awesome wing of said establishment), there were inevitably going to be some howlingly hilarious loopholes in how both are portrayed in the show."
This segment aired on March 7, 2014.