America's First Stool Bank — In Cambridge
11:00
Play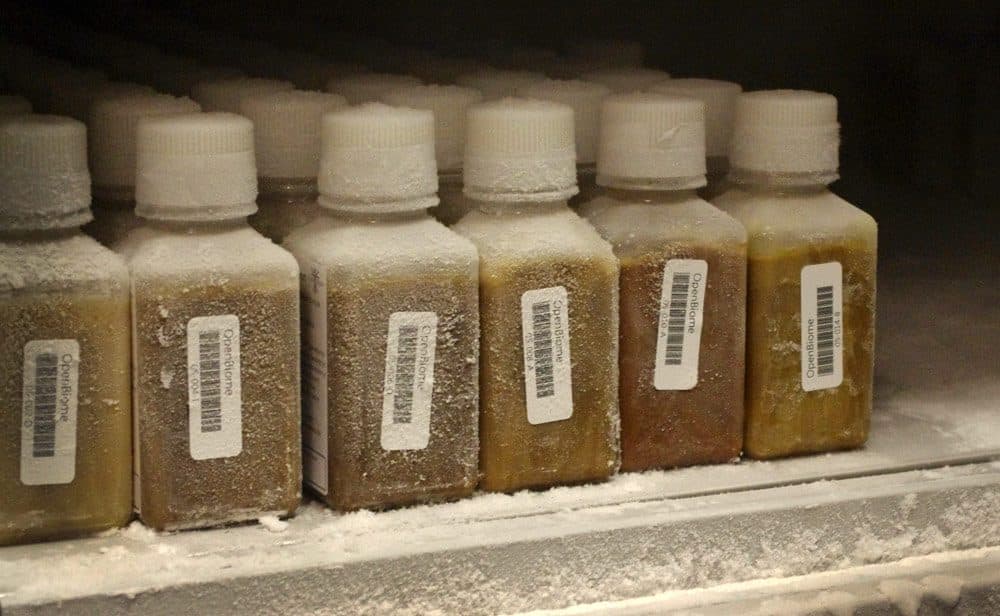 This article is more than 7 years old.
The Boston area is known for groundbreaking medical research and for pioneering new medical procedures. Well, here's one of the latest: fecal transplants. The thought might make you cringe, but it's a serious and promising procedure that can successfully treat a dangerous gastrointestinal infection known as Clostridium Difficile, or C-Diff, which kills at least 14,000 people a year.
Last fall, the first human stool bank in America opened its doors in Cambridge. It's a nonprofit called OpenBiome. Despite the fact that fecal transplants have proven effective, there are big questions about how to regulate the procedure.
Guests
Carey Goldberg, co-host of WBUR's CommonHealth blog. She tweets at @commonhealth.
Mark Smith, PhD candidate at MIT, and the co-founder of OpenBiome.
More
CommonHealth: MIT Lab Hosts Nation's First Stool Bank, But Will It Survive?
"You walk through a labyrinth of MIT buildings and into what looks like a typical laboratory: white walls and clean counters, the constant buzz of machines, the clutter of pipettes. In the corner, you open the door to a hulking freezer."
The New York Times: A New Kind Of Transplant Bank
"Around noon on a recent Friday, Donor Five, a healthy 31-year-old, walked across M.I.T.'s frigid, wind-swept campus to a third-floor restroom to make a contribution to public health."
The Boston Globe: Fecal Transplants Show Promise In Infection Fights
"The half-century old medical procedure has long been a measure of last resort, its mere mention enough to make a room full of doctors wrinkle their noses and laugh like schoolchildren: When a patient suffers from a gastrointestinal infection that keeps coming back, try transplanting someone else's feces into the gut to restore a normal balance of healthy bacteria."
This segment aired on March 10, 2014.