The People Behind Mass. Overdose Numbers
27:06
Play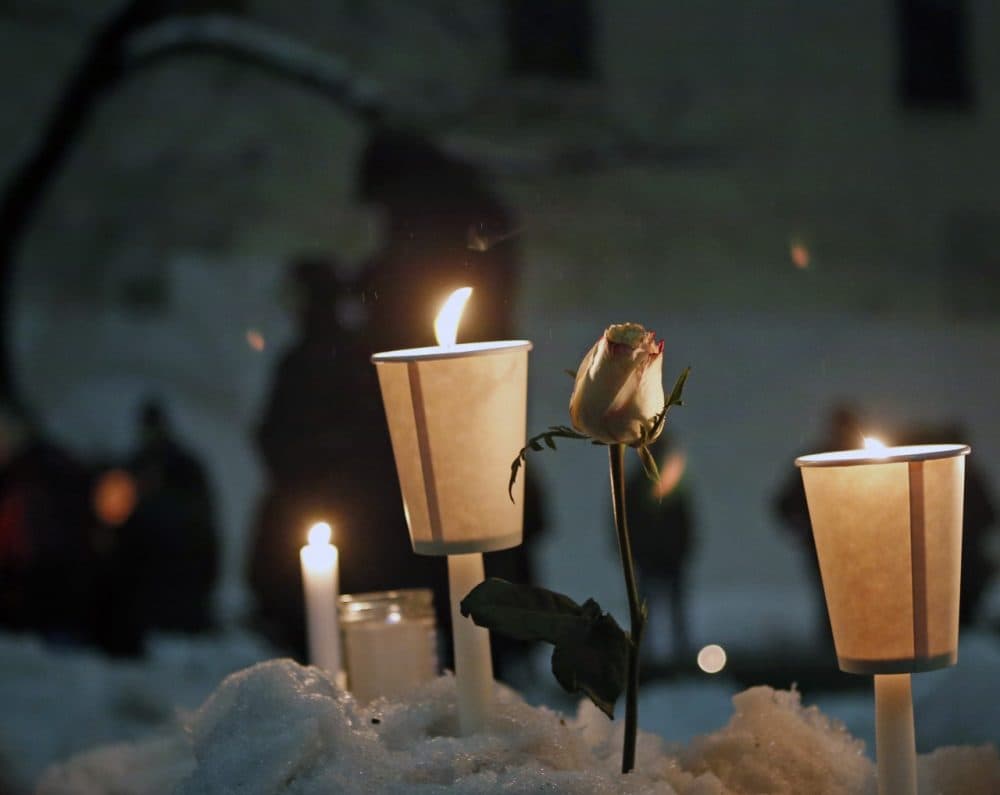 This article is more than 7 years old.
Over this past weekend, there were 15 drug overdose cases in Fall River. In a span of 24 hours last week, there were 15 in the city of New Bedford. These are just the most recent headlines from what public health officials are calling a "burgeoning public health crisis" across this state and region.
Last month, state police reported that at least 185 people died from suspected heroin overdoses in Massachusetts in less than four months. That doesn't include cases from the state's three largest cities — Boston, Springfield and Worcester.
The numbers tell a grim story. And it's important to remember that behind the numbers there are families — real people — coping with tragic loss and grief.
Some of these people say the deaths of their loved ones offer important lessons: about the shortage of treatment, about the stigma of drug addiction and about how drug addiction can hit anyone — regardless of race, class or neighborhood.
We spent some time talking about these lessons with the people who know too much about them.
Guests
Louise Griffin, her son, Zachary, was a promising high school athlete from Lowell. He became addicted to pills, then heroin. Eight months ago, he died of a morphine overdose in a Florida sober home. Since her son's death, Louise has established a Lowell chapter of the support group called GRASP — Grief Recovery After a Substance Passing.
Joanne Peterson, founder and executive director of Learn2Cope, a support group for parents and family members of those struggling with addiction. Joanne's son has been in recovery for eight years.
Highlights
On the development of her son's addiction:
Louise Griffin: When he was about 17 years old he hurt his ankle, and he was a hockey player. Of course the kids wanted him back on the team, and I think he was introduced to Percocets at that time. I don't think it was ever anything done with malicious intent—as a matter of fact I know it was not done with malicious intent. My son tried Percocets. Actually he liked Percocets. He liked the way they made him feel. During his senior year in high school he advanced from Percocets to Oxycontin and eventually it led to his use of heroin.
On the difficulty of detecting addiction:
LG: I think that's one of the most frightening things about the prescription pill epidemic. As a parent I had always looked for signs. Frankly, at least when I was growing up, alcohol was more of an issue than drugs so I would look for signs of drunkenness or something like that and never saw it. With prescription pills, though, it's a slight and subtle change.
You don't really notice that there's anything wrong with your son, and it wasn't until I started getting calls from school. Now he had gone through freshman, sophomore, junior year — I had never gotten a call from school about his behavior. He was a good student, a good athlete. And then in his senior year—about October or November of his senior year — I got a call from the headmaster. And from that point on things started spiraling out of control.
Joanne Peterson: It's really hard to catch because there's no smell to it. The symptoms to me — I thought he was going through some sort of mood disorder because he'd be up all night, sleep all day. Suddenly he lost all his ambition — wasn't wanting to really do anything that he used to do.
There was one day when he wasn't responding to me while he was sitting on my couch, and I called his name and he wouldn't respond so I went over to him and I nudged him, and when his head came up his eyes rolled into the back of his head, and then I knew I was dealing with some sort of drug. I just didn't know what.
On the difficulty of the recovery process:
JP: The first detox where I brought my son way back then, I thought that would be the cure myself. And then families and parents, they find out the hard way that it's probably the first of many, and it's a process. It takes quite a while for somebody to really have the will to get better when they're heavily addicted to the pills and then they turn to the heroin most of the time as well.
LG: When the addict's ready, the treatment must be ready for them. At the time, it was around February or March of last year, he was ready. We looked for opportunities in Massachusetts. Unfortunately all of the treatment centers and the beds were full. We found one and he went down to Florida. He was in recovery for 60 days. He seemed to be turning his life around. He finally had a job and called me on day 60. He was so proud of himself for achieving 60 days of sobriety, had a nice group of friends. The next day I came home. The Lowell Police Department was at my door to tell me that my son had passed away. So do I know what happened? I don't.
On the stigma of drug addiction:
LG: I've often said to people, and I'll say it again: if my son had had cancer people would have been lining up at my door to give me casseroles. When they found out my son was addicted or had an addiction disease people could not run away from me fast enough. This is the loneliest disease. It's lonely for the family because it's not just the addict or the addicted person who experiences this disease. It's the family also.
JP: It's a disease. It may not be something that someone's born with, but it certainly is something that people develop. If you could see our meetings, it doesn't matter what zip code you live in, what type of career you have, how well you've parented your sons or daughters. These drugs are just everywhere right now.
More
The Boston Globe: Overdoses Spur Plea From Mothers For More Treatment
"If my son had cancer, people would line up outside my door with casseroles... When people found out that he had an addiction, they couldn't run away fast enough."
WBUR: As Overdoses Spike In Mass., Demand For Narcan Rises
"What really happened in the last year is there is a realization that these are not two separate epidemics with prescription opioids and heroin users being different populations or different people... What we're seeing now is that the final common pathway for people who have opioid addiction is to use heroin."
NPR: Critics Question FDA's Approval Of Zohydro
"When Zohydro is released next month, it will be one of the most powerful prescription painkillers on the market. It's highest dosage will contain five to 10 times as much hydrocodone as the widely used Vicodin. The drug company's literature says an adult could overdose on two capsules. A child could die from swallowing just one pill."
This article was originally published on March 11, 2014.
This segment aired on March 11, 2014.