Loud Bicycle Horn Could Help Prevent Bike Accidents
06:07
Play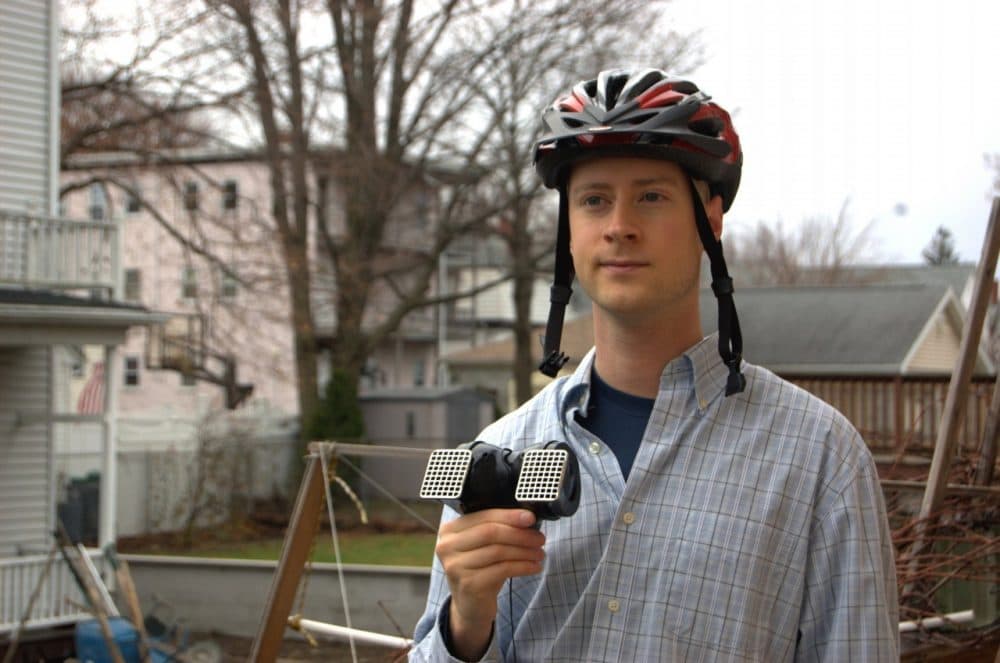 This article is more than 7 years old.
In the war of attrition between bicyclists and motorists, Jonathan Lansey has just upped the arms race. The 28-year-old engineer has designed a small, compact bicycle horn as loud as anything on the road. He used Kickstarter to raise $40,000 to develop the horn and he hopes to be selling it soon.
Guest
Jonathan Lansey, Loud Bicycle Horn inventor, research engineer and an avid city cyclist. He tweets at @JLansey.
Highlights
On how Jonathan invented the loud bicycle horn:
Jonathan Lansey: "So, I was biking along one day and I was about to get cut off by a car and so I felt like honking but I couldn't, of course, because I was on a bicycle. But I'm an engineer, so I thought, well, I could just make one. And so I went off to AutoZone, grabbed some car horns, went to Home Depot, got a few pipe fittings and attached it to my bicycle with rubber bands and a bunch of other things. You know, I was biking around with a car horn, and was really amazed at how effective it was."
On the effectiveness of the Loud Bicycle Horn:
JL: "Drivers are really tuned into the sound of a car horn. They're sensitized to it. When they hear it they've got well-trained reflexes to react immediately and do exactly what they're supposed to do. So if they're, say, backing out of a driveway, if they hear a horn, they're going to stop immediately. As a cyclist, that's exactly the reaction that you want them to have...The problem is reaction times. So, with yelling, it takes a lot longer for the driver to think, 'Oh, someone's yelling? Oh, they're yelling because of me?' Whereas, if they hear a horn, they know exactly what to do right away. And sometimes, with reaction times, those few seconds can make a really big difference."
On Jonathan's personal experience with the Loud Bicycle Horn:
JL: "Yeah, so I've been biking with it for about two years now so I've had plenty of experience and it's really fun. Typically, drivers are really scared because they think they're about to get into an accident with another car but then they're really relieved when they see me go by because they realize that there's been no accident. But then they're also super confused. This one time, this guy was pulling out of a parallel parking spot, so I was really close, I was right up against his window, and I honked. When he heard me right there he didn't know what to think. It was like he was expecting a wizard to be standing there."
On whether the Loud Bicycle Horn might make bicyclists too aggressive on the road:
JL: "Some drivers are concerned about that but I'd like to quote one of my backers on the Kickstarter, Calvin Bean who, I think he said it best, when he said that, 'I'd rather deal face an angry driver than a kind EMT.'"
More
The Boston Globe: In The Bike-Car Wars, Bikes Getting A New Tool
"Looks like the power balance in the motorist-bicyclist turf battle is about to shift. After a successful Kickstarter campaign, veteran bike commuter and engineer Jonathan Lansey is poised to release his Loud Bicycle Horn."
The New York Times: Gadgets To Boost Bike Safety
"One of the biggest grievances of all these cyclists is not being seen. Jonathan Lansey, 28, spent so much time dodging cars on his daily commute in Boston that he began a Kickstarter campaign to finance production of a bike horn that could not fail to get drivers' attention."
This segment aired on March 20, 2014.