Boston's Leaky Gas Pipes Pose Safety Risks
07:59
Play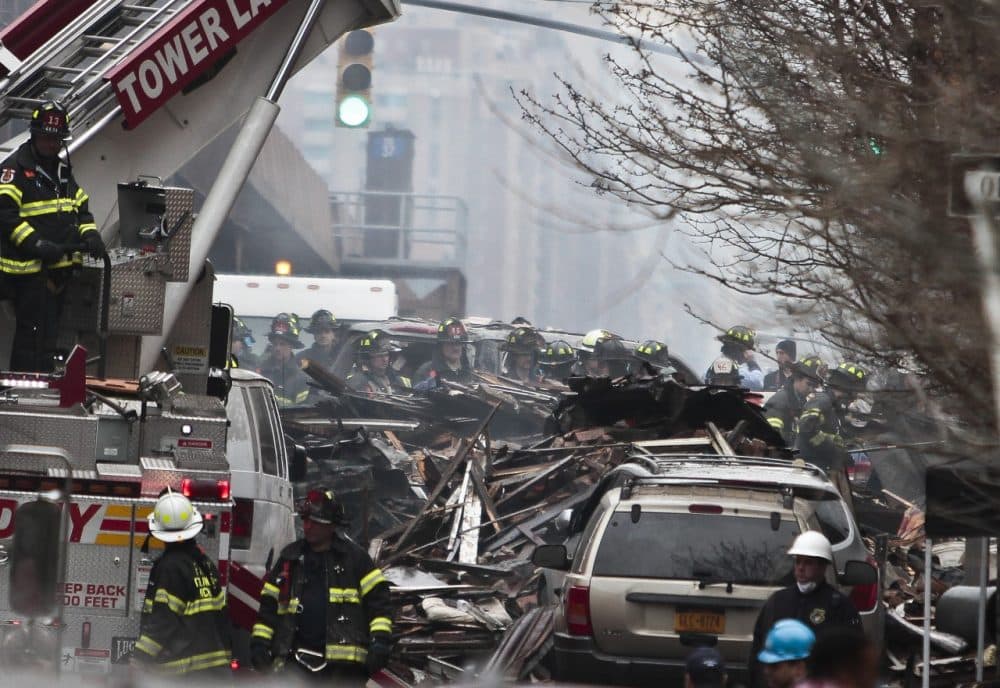 This article is more than 5 years old.
Wednesday night there was an explosion in Dorchester that injured a dozen people, two of them seriously. The explosion and three-alarm fire are thought to have been caused by a possible gas leak. Crews from National Grid were on the scene before the fire because of reports of a gas odor.
National Grid is a major gas supplier in greater Boston, and a recent federal study found that almost 40 percent of gas mains running under the streets of the city were installed before 1940. And for every 100 miles of mains, there are at least 69 known leaks.
Guest
Nathan Phillips, professor in Boston University's department of earth and environment, and director of BU's Sustainable Neighborhood Laboratory. He recently worked with the advocacy group the Conservation Law Foundation to map gas leaks across Boston.
Highlights
On what we know about what caused the Dorchester explosion:
Nathan Phillips: "I've been reading the news media just like everyone else. There's a lot that we don't know. It appears to be gas. As you mentioned, a gas odor was called in and National Grid was on the scene prior to, it sounds like, the explosion. But where the leak originated from is unclear at this point, whether it was inside the house, in a service line going to the building or on the gas main in the street, it's unclear at this point."
On his assessment of Boston's gas infrastructure:
NP: "Well, Boston, as you know, is an old city and it has old infrastructure. And like much of our infrastructure around the nation — we have aging roads and bridges, but the infrastructure below ground, the stuff we cannot see, is also aging. And Boston has very old pipe networks that include cast-iron, which is leaky and many decades old."
On having pipes that might be as old as 150 years:
NP: "That would probably be the limit of the age but certainly there are pipes in Boston that are over a century old."
On having leak-prone infrastructure in Boston:
NP: "The eastern seaboard as a whole has old infrastructure. We completed a study in Washington, D.C., for example, that showed that the problem there is just as bad if not worse than in Boston. Other driving surveys that we've made in other cities and towns throughout Massachusetts and New England and down the seaboard show the same pattern."
More
Conservation Law Foundation: Gas Leaks By Grade Level
"At any given time, thousands of natural gas leaks sit unrepaired across the Commonwealth. And that's only the ones we know about. Right now, federal guidelines only require that the most hazardous leaks be repaired immediately. Massachusetts does not currently have a uniform leak grading system or a timeline for repairs of less hazardous leaks in place. Moreover, the state's programs to detect, monitor and report on gas leaks are insufficient. That means there are accidents waiting to happen throughout the state. And they do."
The Boston Globe: Gas Leak Suspected After 12 Hurt In Dorchester Home Explosion
"At least 12 people, including some elderly and children, were injured Wednesday night when a duplex exploded and shook a Dorchester neighborhood after a possible gas leak, authorities said."
The New York Times: Beneath Cities, A Decaying Tangle Of Gas Pipes
"It is a danger hidden beneath the streets of New York City, unseen and rarely noticed: 6,302 miles of pipes transporting natural gas."
This segment aired on April 17, 2014.