In Western Mass., Doula For Incarcerated Women Pushes Anti-Shackling Law
07:58
Play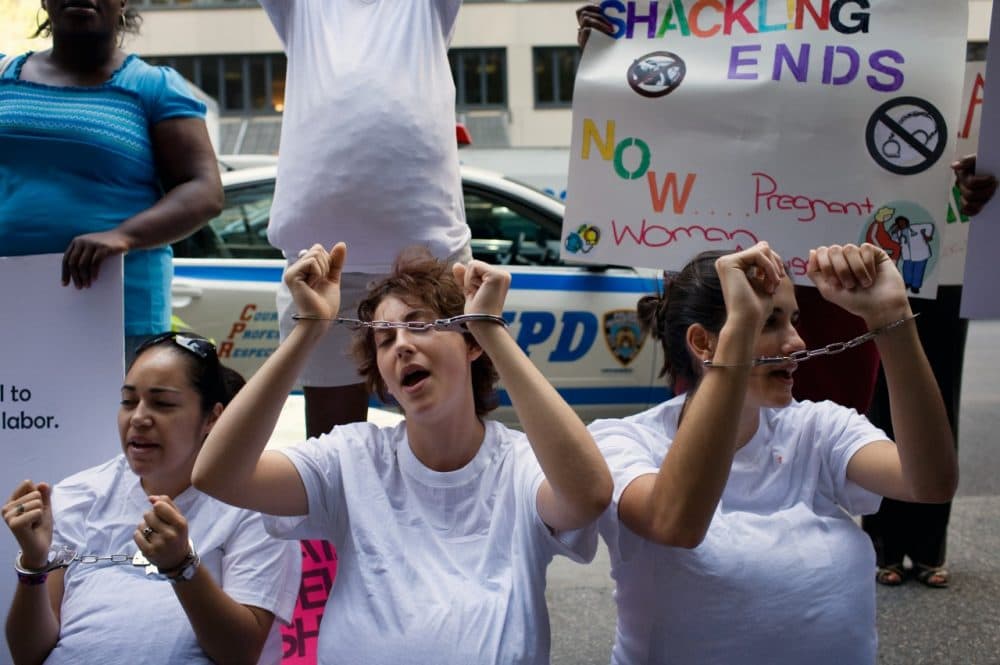 This article is more than 5 years old.
Massachusetts is on the verge of outlawing a practice that many call barbaric. At issue is the routine shackling of pregnant prisoners to hospital beds during childbirth. 18 states ban the practice. Here in Massachusetts, advocates have been pushing for a similar ban for the past 12 years.
Now they're almost there: Gov. Patrick recently filed emergency regulations to ban the practice. The Massachusetts House and Senate have both approved legislation to ban shackling of pregnant inmates — though lawmakers still have to reconcile the two bills. And Tuesday, the Department of Corrections held a hearing on how to implement an eventual ban.
Guest
Marianne Bullock, co-founder and program director of the Prison Birth Project. She's also a doula for incarcerated women. She tweets at @bullockmarianne.
More
The Boston Globe: Pregnant Prisoners Are Losing Their Shackles
"Massachusetts is poised to ban the restraining of inmates during labor and delivery. It's part of a change in how we treat women doing time and giving birth."
CommonHealth: Ban On Handcuffing Pregnant Inmates In Labor Clears Hurdle In Mass. Legislature
"A proposal to prohibit the scary practice of handcuffing pregnant inmates during labor has cleared its first hurdle through the Massachusetts Legislature. If passed, the so-called "anti-shackling bill" would "create uniform laws in county jails and the state prison system banning the shackling of pregnant women during childbirth and post-delivery recuperation — unless they present a specific safety or flight risk," according to an earlier WBUR report."
Nation Inside: Co-Founder Marianne Bullock From The Prison Birth Project
"After they give birth, they often shower with legs chained together, they shuffle across the room in leg irons to give their babies their first baths and then what is often the most devastating moment of all – when they hand the baby over to a care giver, they are put back in five point restraints and shackled ankle to ankle, ankle to belly, belly to wrist and wrist to wrist and walked out of the hospital, with a deflated belly and leaky breasts, many with stitches from hard deliveries and demoralized after being forced to let go of their newborns."
This segment aired on April 22, 2014.