Fenway's Great Pine Tar Controversy
05:16
Play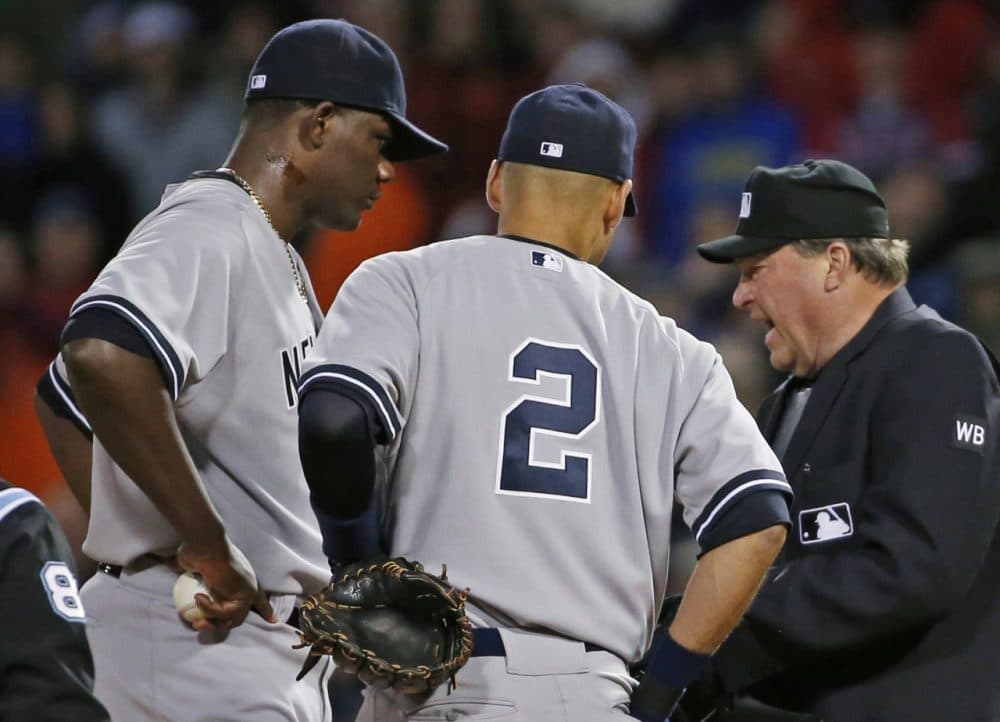 This article is more than 5 years old.
Wednesday night, the Boston Red Sox squared off against against their arch rivals, the New York Yankees, beating the pinstripes 5 to 1 at Fenway.
But the drama of the night was in the second inning, when Yankee's pitcher Michael Pineda got himself into a sticky situation.
Pineda was ejected from the game when home plate umpire Gerry Davis inspected his neck and found pine tar — a banned substance that can help pitchers with their grip on the ball.
Guest
Tom Beady, co-founder and writer for Red Sox blog survivinggrady.com, where he blogs as "Denton."
More
WBUR: Red Sox Beat Yanks 5-1 After Getting Pineda Tossed
"The Boston Red Sox made sure the umpires noticed something on New York pitcher Michael Pineda this time."
Surviving Grady: John Lackey: Stopper And The Pine Tar Follies
"A couple weeks ago, as John Lackey lumbered off the mound in the Bronx after being tagged for 10 hits and six runs in his first loss of the season, you kinda got the feeling that he'd be spending all his spare time in an off-the-grid dojo, practicing judo kicks on mannequins dressed in Yankees jerseys."
The Boston Globe: Baseball Should Legalize Pine Tar, Not Wink At It
"If pine tar makes baseball safer, and many pitchers use it or a similar substance anyway, then why exactly is it against the rules?"
This segment aired on April 24, 2014.