'Pay As You Earn' Student Debt Program Challenges Federal Government
07:52
Play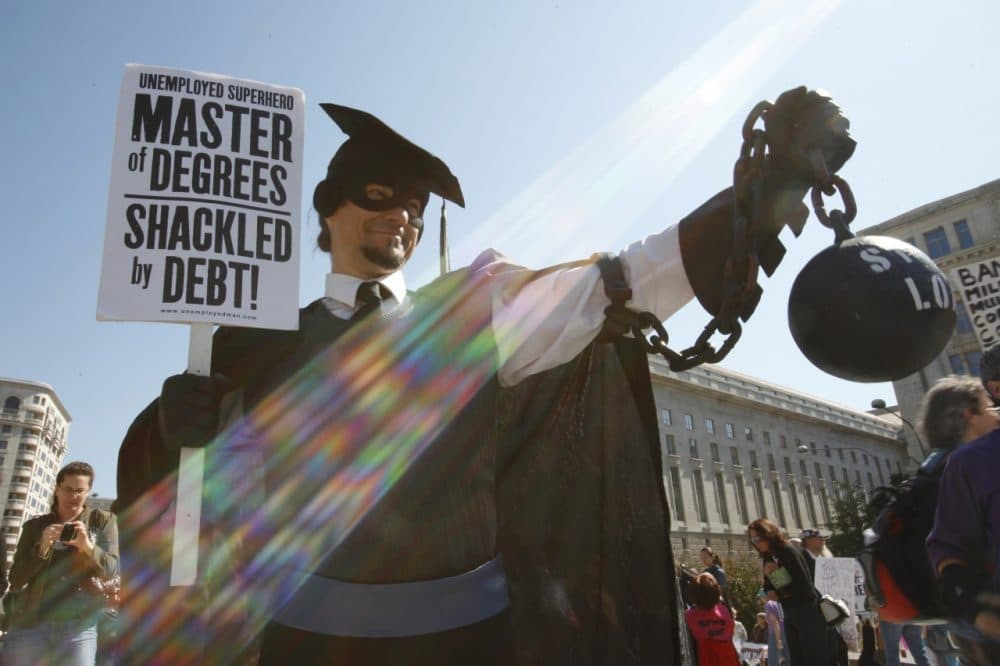 This article is more than 5 years old.
We've talked a lot on Radio Boston about what some people are calling the next great economic bubble in America: student loan debt. It's now at more than $1.1 trillion and counting.
A few years ago, President Obama pushed to revamp a federal loan forgiveness program, saying that even he and the first lady knew first-hand about the burden of big student debts. "By the time we both graduated from law school, we had, between us, about $120,000 worth of debt," Obama said. "We combined and got poorer together."
The issue is, of course, no laughing matter. Especially in light of news this month about new problems with the debt forgiveness programs championed by the president. The federal "pay as you earn" program is so popular that enrollment has soared almost 40 percent in the last six months.
That's 1.3 million Americans with $72 billion in student loan debt. And we're talking about a debt forgiveness program, which means that, after some time, it's the federal government — the U.S. taxpayer — that's left holding the bag.
The costs have grown so quickly that the Obama administration now wants to rein it in.
Guest
Beth Akers, fellow at the Brookings Institution's Brown Center on Education Policy. She's also the co-author of a new report on some income-based repayment programs. She tweets at @BethAkersEd.
More
Brookings: Student Loan Safety Nets: Estimating The Costs And Benefits Of Income-Based Repayment
"The plight of underemployed college graduates struggling to make their student loan payments has received a great deal of media attention throughout the recent economic recession. The primary safety net available to borrowers of federal loans facing unaffordable monthly payments is income-based repayment, in which borrowers make monthly payments based on their earnings rather than a traditional schedule of flat payments."
The Boston Globe: Sloppy Planning Led To Student Loan Crisis
"When President Obama released his budget recommendations last month, they landed in Congress with a dull thud. After cutting a deal last fall, the House and Senate don't need anything from the president to move ahead with their spending bills, and election-year politics makes serious spending reform a long shot — a really long shot."
Wall Street Journal: Enrollment In Student-Debt Forgiveness Programs Soars In 2014
"Two federal programs that offer to wipe away huge accumulations of student debt have grown at a rapid clip this year, putting them among the government's fastest-growing forms of financial assistance."
This segment aired on April 30, 2014.