Vermont Gov. Signs GMO Labeling Bill Into Law
08:39
Play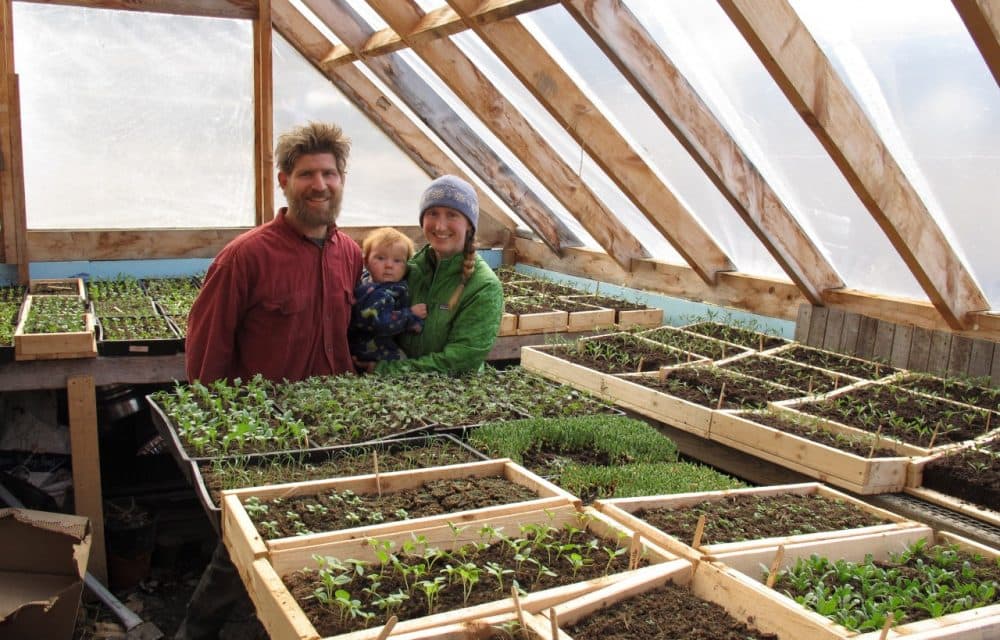 This article is more than 7 years old.
Thursday, Vermont became the first state in the country to fully enact and implement a GMO food labeling law. It requires food producers to label products that contain any ingredients that have been genetically engineered. Gov. Peter Shumlin signed the bill Thursday afternoon.
Similar legislation is pending in at least 13 other states and the food industry is pushing back hard. Vermont expects major manufacturers to file suit against the state and has launched a $1.5 million defense fund for the new law.
Guest
Sen. David Zuckerman Vermont state senator representing the Chittenden district. Sponsor of the Senate version of the GMO labeling bill. Farmer at Full Moon Farm, a NOFA-certified organic farm, which he runs with his wife in Hinesberg, Vt. He tweets at @DaveZuckermanVT.
Highlights
On why Sen. Zuckerman decided to be the Senate sponsor of Vermont's GMO labeling bill:
Sen. David Zuckerman: "Historically, some of our laws have been around the seeds themselves and how they're used in the state. But also, we've heard more and more calls from constituents, and Vermonters in general and frankly even people across the country, really looking to know what's in their food. This is the one way you can do that."
On why it's important for people to know whether ingredients have been genetically modified:
DZ: "There's more and more science raising some questions around what the human impacts may be of direct consumption of GMOs and some folks may choose that they'd rather not be guinea pigs until this is further understood. The second reason is environmental. In the last few years, it's become very apparent that the overuse of GMOs in some parts of the country have actually led to stronger weeds that are resistant to some of the herbicides and now they're going to start using stronger herbicides, so from an environmental perspective we're going to start seeing more toxic chemicals being used, not less. And that's a direction that many people don't want us to go."
On critics who say food prices will go up when GMOs are labeled:
DZ: "That was brought up but really, in that kind of number, you're looking at almost an 8 to 10 percent food bill increase and that's, frankly, ludicrous. Companies reformulate their packaging on a regular basis. Look at Coca Cola, they change their cans and bottles every holiday season. So, it's really not that big an expense. Now, if some of those companies choose to find non-GMO ingredients so that they don't have to put the label then that's a consumer-driven scenario. And if consumers are willing to pay more to not have GMO and it costs more to do that then that's what the free market will determine."
On GMOs' impact on human health and safety:
DZ: "Until we know that it's not harmful, I think it's important for some people to be able to have that choice. When you look at the food ailments people are having in their digestive systems, many of those — and again, it's correlation not causation — those food ailments, gastrointestinal ailments and so forth, have gone up exactly the same pace as the use of GMOs in our diet. Does that mean they're the cause? No. But until we know better, I think it's important that people have a right to choose not to be a guinea pig."
On food companies' push for national labeling guidelines:
DZ: "They've been trying that for a couple of years and both our senatorial delegation — Bernie Sanders and Sen. Leahy — as well as other senators around the country have helped thwart that, believing that states do have a right to implement these kinds of laws. I know that a lot of those companies say, 'Well, we should have a national system.' And I would argue, go ahead and use our platform and label your food all across the country and you would have a national system, so if they actually meant it, they could do that. But they don't mean it. They want to not have labeling and so those are really red herrings on their part."
More
The New York Times: Leave 'Organic' Out Of It
"The ever-increasing number of people working to improve the growing, processing, transporting, marketing, distributing and eating of food must think through our messages more thoroughly and get them across more clearly. I don't pretend to have all the answers, but I can say that a couple of buzzwords represent issues that are far more nuanced than we often make them appear. These are "organic" and "G.M.O.'s" (genetically modified organisms)."
Grist: What I Learned From Six Months Of GMO Research: None Of It Matters
"It's a little awkward to admit this, after devoting so much time to this project, but I think Beth was right. The most astonishing thing about the vicious public brawl over GMOs is that the stakes are so low."
Bloomberg: Food Industry Braces For Vermont's GMO Labeling Law
"The Vermont law would impose $1,000 per day fines for violations, though it wouldn't apply to many food categories, including meat, milk, restaurant fare and raw agricultural commodities that aren't grown with genetically modified seed. The proceeds would help pay Vermont's legal expenses if opponents sue over the law."
This segment aired on May 8, 2014.