After Rough First Season, Celtics Coach Brad Stevens Prepares To Bounce Back
15:20
Play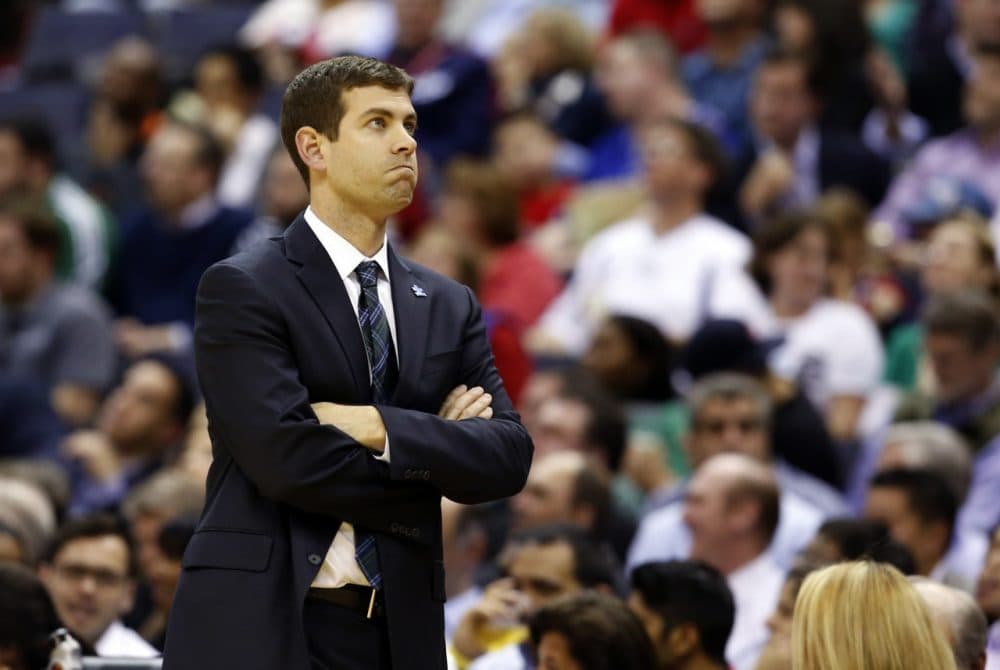 This article is more than 7 years old.
Brad Stevens is used to winning. He broke the NCAA record for most wins during his first three years as coach of Butler University's men's basketball team.
But in his first year as head coach of the Boston Celtics, Stevens was in unfamiliar territory. It was his first time coaching in the NBA and the Celtics are in the middle of a rebuilding campaign with the departure of the "big three" — Paul Pierce, Kevin Garnett and Ray Allen. The Celtics lost 57 games and won only 25.
While Stevens takes the losses to heart, he is focused on getting better for this next season.
Guest
Brad Stevens, head coach of the Boston Celtics. He tweets at @BCCoachStevens.
Highlights
On losing:
Brad Stevens: "The losing season bothers me. 25 and 57 doesn't sit well with anybody who's competitive, obviously. But I've never judged much based purely on results. I've judged it purely based on growth. On, are we getting better? Are we moving in the right direction? We learned what we need to do so that we can be better than next time."
On Rajon Rondo, who said of Stevens, "He did the best that he could do. A lot of different rotations thrown at him. A lot of guys that didn't play before. For the most part, he did an excellent job":
BS: "It's nice of him to say that but I've never coached in a season where I was satisfied with how it went yet. And I guess that's why you go and you get started again in September and try it again."
On adjusting from coaching college to coaching NBA:
BS: "The biggest difference is the schedule. You start with training camp. You get five days before your first pre-season game. The pre-season games come in a flurry. Hits you like a ton of bricks. Then you get about a week to prepare for your first game, then it's off and running. After that you hardly ever get any practice time. I've got to do a better job of managing the early part of the season so that if we need to make tweaks and changes we can do them more on the fly later on."
On what qualities he's looking for in players:
BS: "Ultimately, I'm not the person that makes that ultimate decision. But what I really look for in players, generally, is I think any team benefits from, obviously, great stewards of their community. Great representatives of their organization who, when they get between those lines are competitive and tough and resilient. I think that those qualities are going to stand out as we look in this year's draft."
On when he realized he was interested in coaching:
BS: "I was working at Eli Lilly and making a very good living doing that right out of college, but I was 22 years old or 23 years old and wasn't really inspired by the day-to-day operations of being a marketing associate at a pharm company. I learned a ton and I look back on it and if I was 30 with a wife and kids I probably would never have left. But I had some money saved up, I had a couple of buddies that were going to let me move in for a couple hundred bucks a month rent and so I kind of took a leap of faith and I was going to start waiting at Applebees. Luckily, I was able to get an $18,000 a year job as the guy who coordinates travel and monitors academics and from that point on I held every job in that office until the head coaching job, which I thought was really good in helping me develop as a coach and a person who understood every role in the office."
More
This segment aired on May 13, 2014.