Journalist Glenn Greenwald On Edward Snowden And The NSA
27:03
Play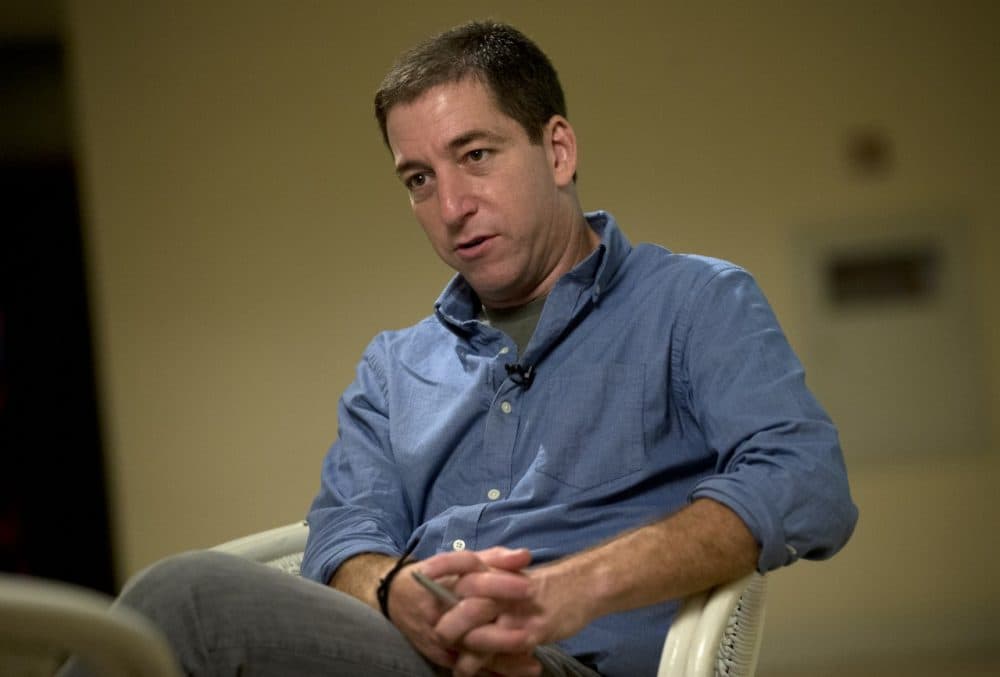 This article is more than 7 years old.
Journalist Glenn Greenwald, along with The Guardian and The Washington Post, recently broke a series of stories about the National Security Agency and mass worldwide surveillance. And they did so through a treasure trove of documents provided by former NSA contractor Edward Snowden.
In his new book, No Place to Hide: Edward Snowden, the NSA, and the U.S. Surveillance State, Greenwald tells the story of his first clandestine contacts and meetings with Snowden. And, he reveals a disturbing new set of NSA programs that describe an information collection apparatus of a virtually unimaginable scale. In the epigraph, Greenwald quotes Sen. Frank Church, who in 1975 said, "Such is the capability to monitor everything. There would be no place to hide."
Guest
Glenn Greenwald, journalist and author of No Place to Hide: Edward Snowden, the NSA, and the U.S. Surveillance State. He tweets at @ggreenwald.
Highlights
On what convinced Greenwald that Snowden was "the real deal":
Glenn Greenwald: "I wouldn't say I was utterly convinced that he was the real deal until I actually got to Hong Kong and met with him and began speaking with him, but I certainly had a strong indication that he was reliable prior to my arrival there. In part, it was because of those lengthy discussions that he and I were having on the Internet prior to that time. He was insistent right from the very first day that we spoke that he wanted to identify himself as the source. He wanted to come forward and explain to the world why he did what he did, which of course is extraordinarily unusual for a source who typically wants to remain anonymous when they're giving you top secret documents. But he had a very compelling reason, which is, he felt like what he was doing was the right thing and he didn't want to hide. He wanted to stand up and explain why he did it, so he kept asking me to come to Hong Kong. I finally told him that, before I did, I wanted to see some evidence that he had what he said he had. He then sent me roughly two dozen documents which he emphasized were the very tip of the iceberg, and those were explosive and amazing. That's how I knew it was worth making the trip."
On what he was thinking on the flight from New York to Hong Kong:
GG: "That was definitely one of the most surreal experiences of my life. I had been writing about surveillance for many years. I wrote a book about the NSA back in 2006 and I had been a person who believed and had been saying that I thought this was an out of control agency — that there was indiscriminate and wild amounts of surveillance taking place. But to see them in action and to see it quantified with such exactitude... I mean, it's 3 billion in each month just by the U.S. systems by one unit, but it's a 150 billion emails and calls around the world on any given day that they can sometimes collect. To see that degree of, just, extreme behavior that takes place in complete secrecy, and then be reading about it at a top secret level on an airplane with all of it on my laptop, and then seeing that Snowden hadn't leaked two dozen documents or 100 documents but many tens of thousands — that really made me understand the magnitude of what this story was going to be."
On what his first in-person meeting with Snowden was like:
GG: "The meeting that I had with him when I first actually met with him was really disorienting because I had been assuming for a variety of reasons that this was somebody who was very senior in the U.S. government. Probably somebody in their 60s or 70s... He shows up and he's 29 but he looks at least 5 years younger. Everyone has seen him on video but he was wearing jeans and a t-shirt, he's a bit scrawny, he hadn't left his hotel in several weeks because he was concerned about what would happen if he did, so he was very pale and kind of awkward. I think we've all had the experience where we talk to somebody or meet somebody online and have a mental picture of what they're like, and then it turns out when we meet them that it's wildly different. That was certainly the case here. So I was disoriented, I was also a bit more suspicious at this point because I couldn't understand how somebody that age could have developed such a sophisticated insight into this agency, and into spy craft generally, and also how they got access to that number of documents. So my skepticism was increased and my first goal when we got back to his hotel room was to sit him down for as many hours as I needed to, it turned out to be five or six, and just to very aggressively interrogate him without letting him go to the bathroom or without giving him a glass of water, just to put him under the most severe stress test I could, to see whether his story would hold up. I could instantly see, which I already knew, that he was very, very intelligent. But more importantly, he never hesitated in answering any of my questions. There was no calculation going on in terms of what he would try and tell me. It was all very organic and very fluent, and after several hours, I just intuitively knew what he was telling me was the truth and that I could rely on him as a source."
On Edward Snowden's fear that people would see these documents and shrug:
GG: "I think that he believes that the debate that has been galvanized has been more intense and more sustained and more consequential than what we expected, even in our wildest dreams back in Hong Kong. I think there's all kinds of hopes for reform, not just from the U.S. government but from other countries banding together, from tech companies pressuring the government, from citizens — individuals protecting their communications with encryption and the like. I think there'll be lots of changes over time."
More
WBUR: Greenwald On NSA Leaks: 'We've Erred On The Side Of Excess Caution'
"When Edward Snowden was ready to leak the classified documents he'd stolen from the National Security Agency, the first journalist he contacted was Glenn Greenwald. Snowden knew of Greenwald through his coverage of the National Security Agency's warrantless wiretapping scandal, and he said he believed Greenwald could be counted on to understand the dangers of mass surveillance and not back down in the face of government pressure."
The Atlantic: No Place To Hide: A Conservative Critique Of A Radical NSA
"Glenn Greenwald's new book is far more grounded in traditional American norms, laws, and values than the surveillance programs it is critiquing."
This segment aired on May 15, 2014.