Turner's Fascination With The Sea On Display At Peabody Essex Museum
Resume
The Peabody Essex Museum opens at 10 a.m. on Thursdays and, typically, that's not a busy time for museum-goers.
But when we stopped by last week, visitors were streaming in the moment the doors opened to see some electrifying paintings of the sea by one of Britain's most famous painters: J.M.W. Turner.
"Part of the process of organizing the show has been a surprise, in that people who I didn't think would care a wit about Turner, or even know anything at all about Turner, have come out of the woodwork and said, 'Oh, I love that artist. He's my favorite artist. He changed my life, he's influenced my career,'" says Dan Finamore, the Russell W. Knight Curator of Maritime Art and History at the Peabody Essex Museum. This exhibit — "Turner and the Sea" — has given him new appreciation of just how popular Turner's work is today.
In his day, at the start of the 19th century — even as a very young artist — Turner attracted a lot of attention.
"From the time he was a teenager, people noticed his work," says Finamore.
When Turner was just 21, he submitted an oil painting to the Royal Academy for the first time.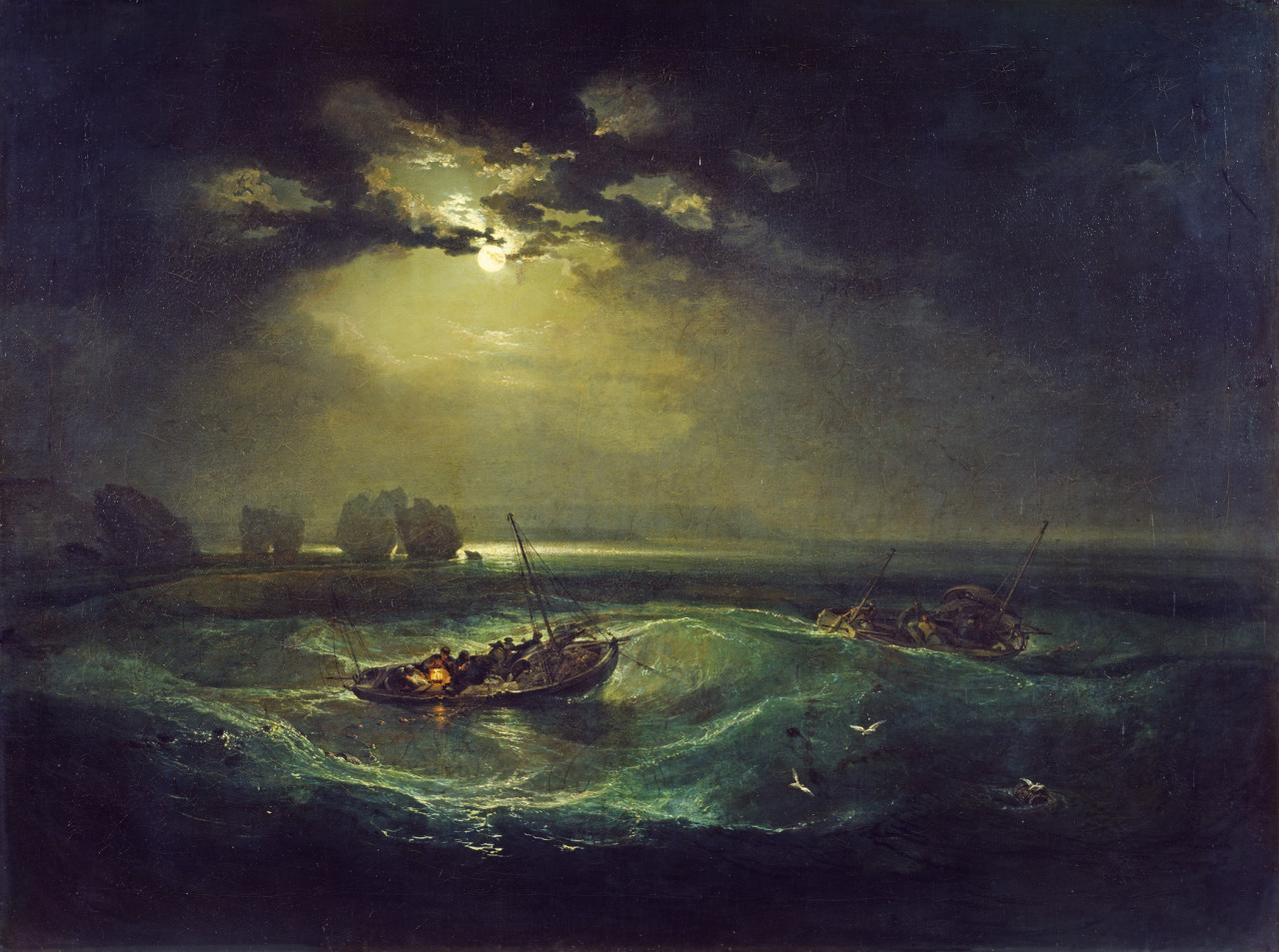 It's called "Fishermen at Sea." Curator Finamore says it made the statement: "I've mastered classic marine painting."
"Here, he was creating a moonlit watery scene with a swell in the foreground that actually makes your stomach sort of leap a little bit," says Finamore. "There are the fisherman working amid that watery scape. He has accomplished, at a very high level, something that other artists would have spent their entire careers trying to accomplish."
Like so many of his paintings that followed, "Fishermen at Sea" depicts the power and mystery of the ocean. Turner's work spoke to an island nation — defined by sea and sea power — and this painting proved that he was a master. It was also a point of departure for him, and he quickly moved on.
He experimented with brushwork, presentation and pigments. And Turner pushed the boundaries — ignoring many artistic conventions of the time. Many of his naval scenes dispense with historical accuracy and, instead, embrace a kind of wild impressionism well ahead of its time.
"He took that value that he knew the public would be assessing his works on and just threw it out the window and did his own thing," says Finamore. "Because, at the end of the day, people were buying his paintings and people continued to pay attention to him."
Turner also worked to keep his methods as mysterious as possible.
"He would work in his studio without assistants," says Finamore. "His father became his studio assistant and kept his secrets, so to speak. He was mixing pigments and he was laying down paint in a way that he didn't necessarily want other people to know about."
Which is not to say that Turner always painted alone.
"When he painted in public it was for performance," says Finamore. "It was with a sense of bravura that people were very impressed by and was very well practiced on his part."
But that sense of bravura, which attracted the public to Turner's work, also made many of his fellow artists jealous. And he seemed to relish the competition.
"On varnishing day, he would go in and he would look at the paintings that were hanging next to him in the exhibition galleries. Everyone was supposed to come in and varnish their paintings and be done," says Finamore. "But he would look at the neighboring paintings and then he would take out his paints and he would continue to work on his paintings to make sure that they stood out. So he would add color, he would add context, he would add content. And then he would varnish it and the other artists were very annoyed with that. They weren't capable of doing that at the last minute."
The exhibit at the Peabody Essex Museum includes some historical context of Turner's world in the form of poster-sized mock-ups of 19th century London tabloids. They have names like "The Improper Londonian" splashed with headlines about Turner's work and his personal life — often the source of sensational gossip.
"He didn't marry, but he lived with a couple of mistresses," says Finamore. "In his sketchbooks there's images of naked women — I could be describing most male artists of the last 300 years. But he was critiqued over that, and people plumbed those aspects of his life because they didn't have a lot of other things to work with."
One thing we do know for sure about Turner's personal life was his love of travel.
"He was an inveterate traveler," says Finamore. "He spent several months every single year traveling. He would go to the seaside, he would walk down the coasts, he would take carriage rides through the landscape, he crossed the channel after the Napoleonic wars, he traveled all through France and down to Italy — Italy several times. Several months a year of his entire life, he was traveling."
And he was always painting what he saw. His trips abroad allowed him to depict uncommon scenes that few other artists were inspired to paint.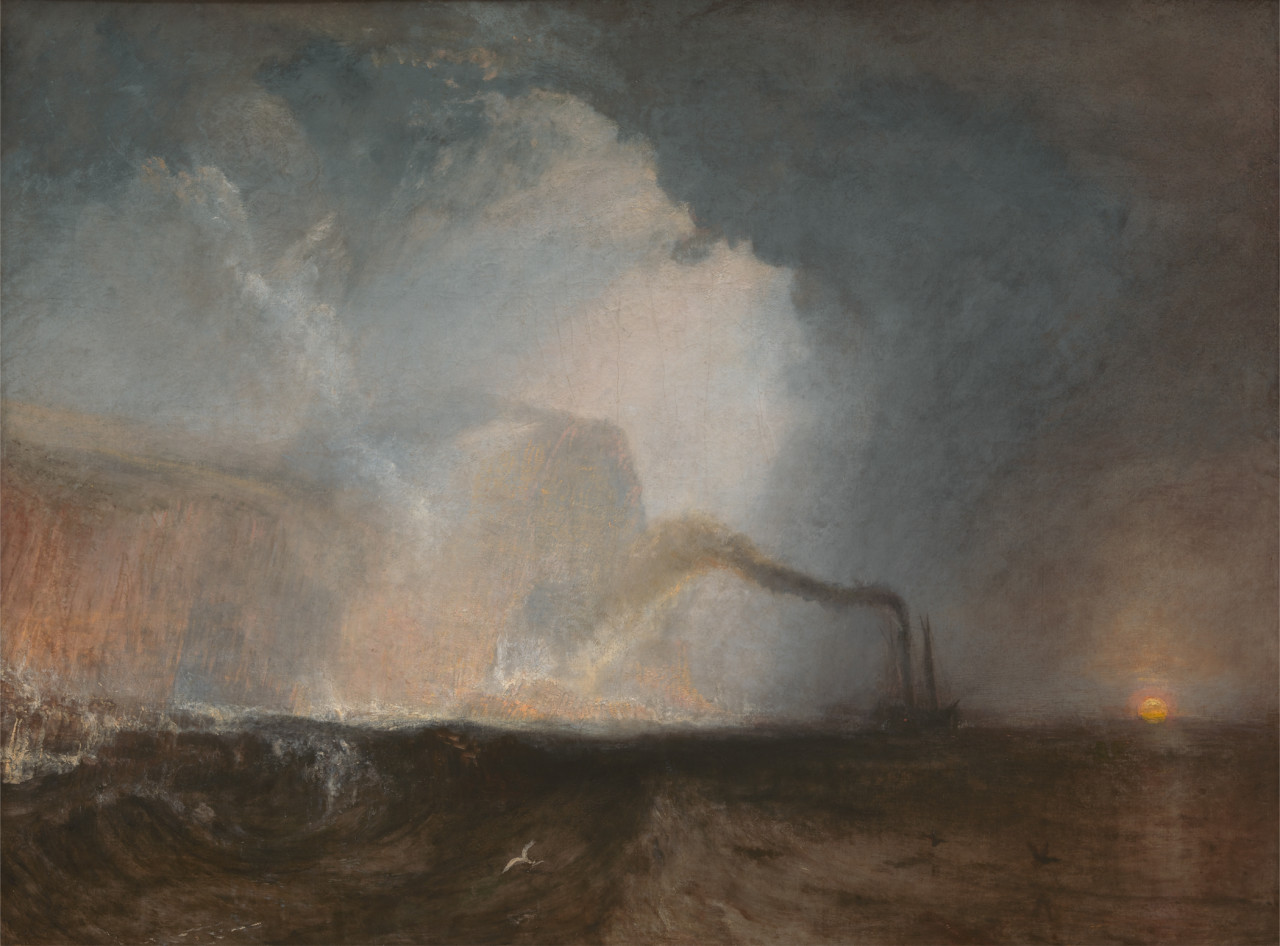 For example, the beautifully mysterious painting called "Staffa, Fingal's Cave." It's a rendering of a foggy day off the Scottish coast. A steam ship plows through choppy waters and has an almost ephemeral aspect, it's exhaust mingling in the grey mist and clouds.
"He's painting modern technology, which in and of itself is a challenging subject," says Finamore. "As the smoke sort of dissipates off toward the left of the painting, it seems just there it leads your eye towards the mouth of a cave. But you really only see that vague shadow."
The thin shadow at the bottom of the cliff is Fingal's Cave — named after Scottish mythology.
"His titling of it being 'Fingal's Cave' gives it a reference to something with great depth to it that it otherwise wouldn't have," says Finamore.
An avid New York art collector at the time, Colonel James Lenox, sent an agent to London to make an offer to buy the paining. Turner was initially unimpressed — and dismissed the very idea of "American" art collectors.
"They love my works but they never come up with the scratch," Turner said.
In the end, the American bought the painting. And, whether or not they had the scratch, many Americans were interested in Turner's work.
"It was becoming a very common activity for Americans to make the pilgrimage," says Finamore. "It was well-entrenched in American ideas about self-education. But Turner became a major part of that — especially for artists, but also for poets and others."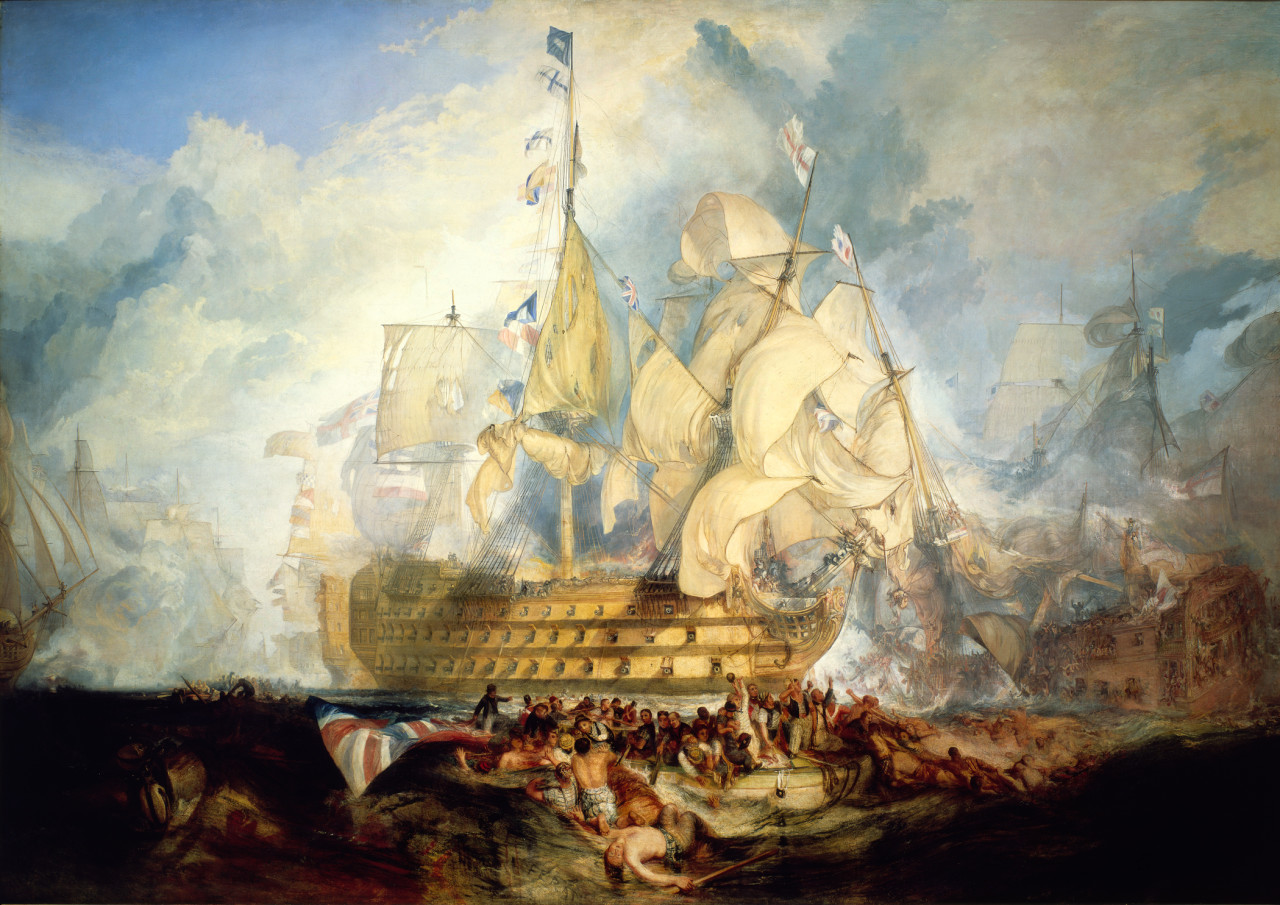 The center of the exhibit is a huge canvas depicting "The Battle of Trafalgar" — the great and decisive British naval victory over the French.
It's impressive and big — 12 feet tall and over 8 feet wide — dominating one entire room of the exhibit.
"Painting on this scale had to have been a major challenge for him," says Finamore. "He painted very large canvases generally, but this is an order of its own. Crafting a composition that he could lay down on a canvas this big was a unique challenge, even for him."
Finamore says it was also a unique challenge just getting this huge painting to Salem.
"There isn't an airplane with a cargo door large enough that flies from Heathrow to Boston," says Finamore. "Those large padded crates were put on a truck to the channel tunnel and sent by train over to the continent and then by truck to Luxembourg and then put on an airplane that flew to New York and then on a truck that came up to Salem. But it's well worth it, I think."
Well worth it, indeed. Many artists had already painted the Battle of Trafalgar — but Turner was determined to do it in a new way — his way. So instead of depicting one battle scene with a sense of historical accuracy, he created a summary of the entire battle.
"He's got this triangular composition of the ship with the mast rising up and a single ship as the center of the topic rather than an enormous fleet action," says Finamore. "There were hundreds of ships involved, and so many people had focused upon that. But what Turner chose to focus on was the human costs of that battle because, instead of acts of heroism, we see dead and dying people in the water washing forwards — one of them literally hanging out before you like they're about to wash out of the frame into the space of the visitors."
When you look at "The Battle of Trafalgor," you don't see victory. Instead, you see destruction and sadness. The reddish tones of the scene communicate not so much a sense of glorious victory — but of chaos and death.
"The more I look at these works, the more new things that I see," says Finamore. "There are new emotions these things raise up that I hadn't experienced the first time around. The complexity of these works is really astounding to me."
Like many curators and art experts, Dan Finamore has spent a lot of time studying Turner's work. But he says organizing this exhibit at the Peabody Essex Museum has been a source of big surprises.
"Nothing prepared me for actually opening the crates here in Salem, taking the paintings out and putting them against our walls, our wall color, with our lighting. You'd hang the painting and go into the next room and the lighting guys would come in and they would start putting spots on the painting and I could hear them as they were putting spots on the painting, gasping, yelling 'Oh my God, look at that!' The paintings came to life when you moved the lighting around on it. I can't walk through without feeling my spine tingle, it's incredible."
Guest
Dan Finamore, Russell W. Knight Curator of Maritime Art and History at the Peabody Essex Museum.
More
The Boston Globe: Turner's Maritime Impressions Flood The Senses In Salem
"No one seemed to know much of anything about J.M.W. Turner in the early 1790s, when he began exhibiting a series of drawings and watercolors at London's Royal Academy. But people were impressed — "strong indications of a first rate ability" noted one critic — and itching to know more."
The official trailer for the upcoming film, "Mr. Turner":
This segment aired on June 18, 2014.