New Documentary Highlights Stark Realities Of Paying For College
23:29
Play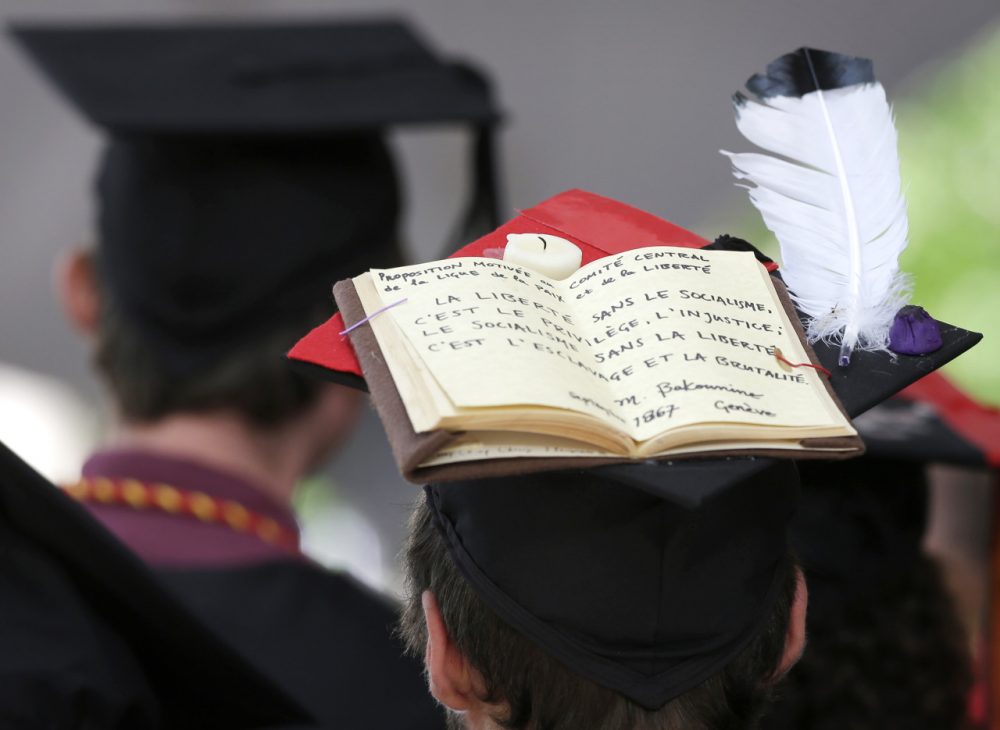 This article is more than 6 years old.
The numbers are enough to make anyone sit up and take notice. Simply put, the cost of attending college at a public university has more than tripled in the past three decades, while the average family's income has barely budged. In fact, the cost of college is rising faster than any other good or service in America.
For private schools, that increase is much, much higher. Sticker shock is very real and it's hangover is brutal: over $1 trillion in debt now rests on the backs of former and current American students.
And we may be coming to a point where that's no longer sustainable. That's the contention of a new film called "Ivory Tower," which opened in theaters just recently, directed by Andrew Rossi.
Guests
Andrew Rossi, filmmaker and director. He tweets @a_rossi.
Michael Horn, co-founder of the Clayton Christensen Institute, which tweets @ChristensenInst, and serves as the executive director of its education program.
Highlights
On the erosion of the right to a higher education:
Andrew Rossi: "In the 1970s, conservative governors like Ronald Reagan of California suggested that the state should not be subsidizing intellectual curiosity. It's in that period when state funding starts to decline and, indeed, from 1980 to the present day, we see that state funding has gone down by about 40 percent to public universities. It's part of a broader shift that orients the philosophy about higher education away from its role as a public good in our society — providing educated citizens in a democracy and, rather, to a conception of college as the ticket to a wage premium. And, indeed, that is a very enduring statistic about the value of college. The fact that median lifetime earnings for those who go to college and get a B.A. make about $1 million more than those who only have a high school diploma."
On the film, "Ivory Tower":
Michael Horn: "The challenges facing higher education right now are multifaceted in nature and extremely complex. I thought the movie did a good job for someone coming to this problem thinking about the depths of it for the first time. It really laid out those different story lines in really good detail and gave you an overall picture — or primer — of all these challenges. I thought it was masterful in the way it introduced characters to make those problems also come to life in a way that I think a lot of the op-eds or studies often miss."
On the unsustainable nature of the higher education system:
MH: "We should characterize the most elite schools differently than other schools. I think, too often, the conversation around higher education ignores that tapestry of colleges and just thinks about the grassy green quads in four-year residential experience at places like Harvard and MIT. If you look below those 200 institutions, everyone's business model is under assault right now. As tuition, government dollars, contributions from alumni and endowment returns are unable to keep up with the rising costs inherent in this arms race and trying to manage research with teaching with all the social experiences — it's just a very complicated model. And the costs themselves underlying it are actually out of control."
On the hope of a better higher education system:
AR: "There is a strata of elite schools at the top which have endowments large enough to sustain this type of growth, to become bigger and better but to also provide financial aid so that students can attend, particularly in the case of Harvard, with all their needs taken care of. At that level, higher education is still performing fantastically. What's interesting is the Bunker Hill model, in which there is a flipped classroom powered by technology. That also provides a lot of hope. And community colleges in general, as a part of the sector that is most willing to experiment because they have so many fewer resources, I think there's a lot of hope to be found there. You mentioned Cooper Union which is the formerly free school in New York City. The student activists at that school who are working to counter and protest the institution of tuition at their school also give us hope, I think. Students are no longer seeing themselves as victims, as Peter Thiel, who appears in the film, describes them, and instead are trying to seize the narrative and control, themselves."
More
Newsweek: Shooting At The Ivory Tower: A New Documentary Sets Its Sights On America's Higher Education Crisis
"Documentarian Andrew Rossi has an odd eye for institutions in crisis. His last feature, the 2011 film Page One: Inside the New York Times, was a tour of the Gray Lady at a 150-year business low, when print advertising revenue had dwindled beyond repair and buyouts loomed. Recent scuffles aside, the Times has mostly righted its path—or at least avoided a shipwreck—since then."
The Boston Globe: Higher Education Under A Microscope In 'Ivory Tower'
"Is a college education worth it? Is the college model broken? Are online courses any good? Do state universities pimp their party reputations to attract out-of-state students? Are college presidents paid too much? Are adjunct professors paid too little? Can Cooper Union remain free?"
This article was originally published on June 26, 2014.
This segment aired on June 26, 2014.