How To Increase The Number Of Black Male Teachers In Boston Public Schools
Play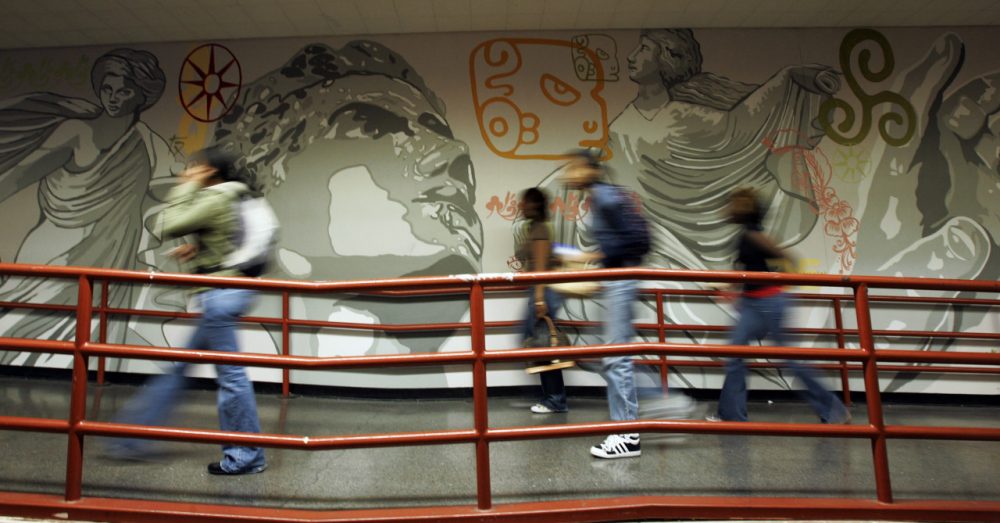 This article is more than 8 years old.
Boston has struggled for decades over how to make its corps of public school teachers better reflect the diversity of the students who attend its schools.
The majority of the 4,400 Boston Public Schools teachers are white, while 87 percent of students are not.
But, if you dig even deeper, it's clear that black male teachers are a distinct minority within a minority. Just about 6 percent of BPS teachers are black men.
Guests
Travis Bristol, former high school English teacher in New York City public schools and teacher educator for secondary English with the Boston Teacher Residency program. He's a postdoctoral research fellow at the Stanford Center for Opportunity Policy in Education. He tweets @TJacksonBristol.
Hayden Frederick-Clarke, public school teacher in Charlestown.
Highlights
On studying the numbers of black male teachers in Boston Public Schools:
Travis Bristol: "One of the things that inspired me to begin this study was Secretary Arne Duncan's decision to launch a black male teacher recruitment campaign, calling black men to the blackboard. At Morehouse, Arne Duncan said that, faced with the fact that black males represent 6 percent of the population and 35 percent of the prison population, it is troubling that black male teachers are only 2 percent of all teachers. So, I became interested in this idea of not only recruiting teachers, but thinking about their experiences and thinking, also, about retention. So I wanted to try to understand, is it simply about recruitment? Or are black male teachers more likely to leave? A subsequent study by Richard Ingersoll found that, indeed, black male teachers had higher rates of turnover, and this qualitative study... was an attempt to understand why teachers came into the profession, how they experience schools, and why they decided to leave."
On why black male teachers are leaving:
TB: "The experience of black male teachers [in Boston] really represents a microcosm of what's happening to black male teachers across urban centers the United States: black teachers are disappearing. In Chicago in 2000, 52 percent of all teachers in Chicago Public Schools were black. Today, 25 percent of teachers in Chicago Public Schools are black. New Orleans: 75 percent of teachers in 2004 were black, and currently in 2013, 54 percent are black. So black teachers are disappearing, and what I found here — looking at 27 black male teaches in Boston Public Schools — was that teachers who are teaching in the most challenging schools were more likely to leave."
On the significance of the shortage of black male teachers:
TB: "There is data that would suggest that having a black male teacher improves learning outcomes for black students. But one could also imagine that black male teachers aren't only good for black male students, but are good for the entire teaching profession. They bring ideas to the organization that can benefit their colleagues. And so, having more black male teachers, it's central to allowing schools to improve the learning outcomes of students who stand at the margins — the black and Latino students."
Hayden Frederick-Clarke: "I'd stress the importance of role models and the importance of students having examples of success in front of them that reflect their background, reflect their experiences, reflect their circumstances. It is very important and it can be a transformative moment for many students who are battling issues of self-esteem, battling issues of circumscribed ambition. To have someone who 'defeated the odds' is an example of how you can overcome certain obstacles and find a path to whatever your dream or goal might be, regardless of circumstances that might be out of your control."
On the reason black male teachers are disappearing:
TB: "They are disappearing because of the working conditions. They are teaching in the most challenging schools. In Boston, black male teachers are concentrated in turnaround schools. These are schools that have been historically failing... What I found in my study — I had 27 black male teachers, seven of which were the only black male teachers [in their schools] — and at the end of the study, I looped back with those teachers and I found that those seven teachers actually stayed. I had nine teachers leave and all of those were teaching in schools with many more black male teachers and the reasons they suggested for having left had to do with the working conditions."
On schools addressing problems:
HFC: In my particular view, my frustration comes from the reality that the school still does not address many of the lived problems that our students face. In casual conversation with other African-American male teachers, it's a pretty ubiquitous sentiment that we're here, we're working hard, but at the end of the day, the life chances and the outcomes of our students aren't where we'd like them to be and that's in part because it's bigger than a person. The system seemed ill-designed to seriously and immediately ameliorate what our students are experiencing and their future outcomes in terms of employment and education once they leave secondary school. The larger questions aren't being addressed sufficiently and that leaves some frustration at the ground floor."
On becoming a teacher:
HFC: "I realized the importance of accessible, influential role models at a young age. I grew up with five friends, and if you chart where their adult male model went... and then follow [my friends'] trajectory, it followed just about in sync. So, to be frank, my friend's older brother's cousins were heavily involved in the drug trade, street violence, gangs, so forth. So it's no coincidence that three out of that five followed suit. Myself, and my best friend who is now a teacher as well, had role models who happened to be doing things that were positive and constructive and working to impact the community in a positive way. My older brother was a big influence, and everything he did I wanted to do. College was just another one of those notches on the list... Generally speaking, teaching isn't viewed as a hallowed profession. If you're smart, you're a doctor or a lawyer, you go to Wall Street or perhaps you're an engineer. But in terms of the intellectual capacity, the talent, the interpersonal skills and so on... I don't think the general populace understands the responsibilities and the gravity in being able to shape and mold someone's mind and ultimately their future. I don't think we are as respected as we should be and so until, nationally, teachers are held in higher esteem, we'll continue to see a shortage in teachers in general. I still don't think we get the best talent across the board, again, because of the stigmas attached to teaching in general.
On engaging with students:
HFC: "I think I'm very different from a number of my colleagues... Since my first year, I've made it a point to be myself and, even though I teach math, to target students and meet them where they're at, so to speak. So I have no problem finding students and engaging them in conversations that are outside the curriculum. I've been reprimanded for it before because it wasn't in line with the scope and sequence, because it was a 'waste of time.' But some issues are so important because it's something on students' minds and until you start to address them, you can't clear the muck out of their ears to get to quadratic functions and trig functions and so on... It can be anything from helping kids process the Trayvon Martin verdict to something as minor as an incident that happened in their neighborhood, a street beef, frankly, whatever it is. Until an adult has the capacity to meet them there and have candid conversations about it and help them go through what ever cathartic process, stimulating, or helpful process, you kind of can't get to the curriculum."
On moving forward:
TB: "Much of the district's efforts seemed to be focused on bringing black male teachers into the pipeline... but if there's a leak in the pipe, the solution is not to focus on adding more water, the solution is to use a patch. So I think that if urban districts want to focus on bringing more black male teachers in, they have to give more attention to retention... I think that the district... needs to spend time not only trying to bring black male teachers in, but also in supporting the principals. One of my findings was that black male teachers see themselves as more likely to be behavior managers than teachers, or police officers than teachers. So I think there needs to be more training with principals to understand the roles they are casting black men in. And those roles take away from the work they're being evaluated on. Black men teachers are not being evaluated to be police officers, they're being evaluated to be teachers.
More
The Boston Globe: Procedures Roil Faculty At Boston Latin Academy
"In a letter sent to the interim superintendent, dozens of teachers raised a series of issues, accusing the headmaster and other administrators of lowering academic standards, penalizing those who refuse to comply, and otherwise 'creating fear and insecurity amongst faculty.'"
CBS: Controversy Surrounds Boston Public School Teacher Evaluations
"The just-released report evaluates 90 percent of Boston Public School teachers, and shows that Black, Hispanic and male teachers have high percentages of unsatisfactory results."
This article was originally published on July 10, 2014.
This segment aired on July 10, 2014.