'Every Turtle Counts': New Children's Book Combines Autism Story With Cape Cod Science
Play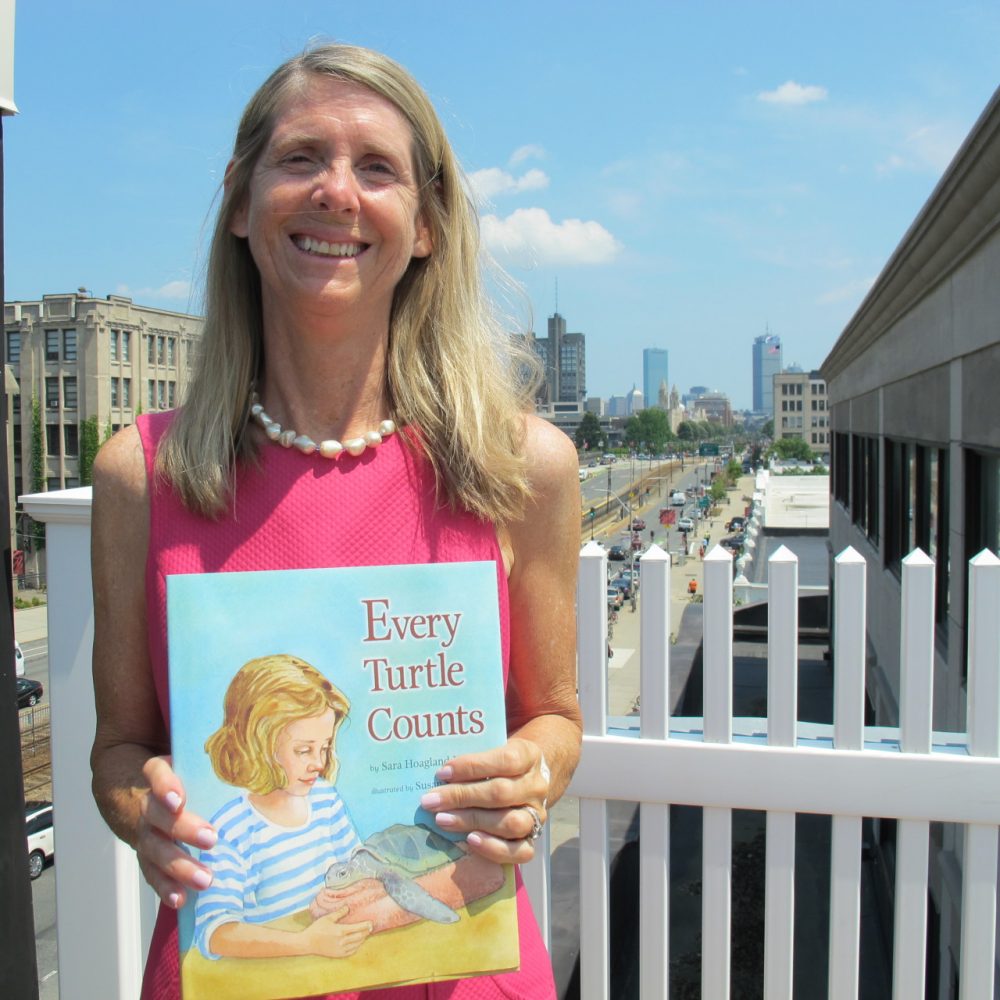 This article is more than 8 years old.
Statistics on the prevalence of autism in children are widely cited but still startling: an estimated one of every 68 kids has some kind of autism spectrum disorder, according to the Centers for Disease Control. So it's no surprise that a huge amount of autism research is underway and much has been written about the illness.
Now, add another book to that canon — but this one is a children's book.
Written by award-winning Boston and Cape Cod author Sara Hoagland Hunter, it tells the story of an autistic girl who finds an injured rare Kemp's ridley sea turtle on a Cape Cod beach. "Every Turtle Counts" is part nature story and partly an insight into how the mind of an autistic child works.
"I gravitate towards realistic fiction, true stories of unsung heroes," says Hunter, who's also written children's books about the Navajo Code Talkers of World War II ("The Unbreakable Code") and the real-life story of a man who airdropped gifts to New England lighthouse keepers ("The Lighthouse Santa"). The unsung hero in "Every Turtle Counts" is Bob Prescott, director of the Massachusetts Audubon Society's Wellfleet Bay Wildlife Sanctuary, who directs Mass Audubon's turtle rescue efforts in Wellfleet.

For reasons scientists are still trying to determine, Kemp's ridley turtles sometimes wash up on Cape Cod beaches between Thanksgiving and Christmas. "It's still quite mysterious," Hunter explains, "but the theory is that these turtles' GPS goes haywire when they get inside the hook of Cape Cod on the north side. The water temperature drops in October and November, and they know they should go south, but they bump up against Cape Cod and don't realize they've got to go north to Provincetown to go south to Florida in warmer waters."
In "Every Turtle Counts," 7-year-old Mimi — a character based on Hunter's now-24-year-old niece — finds one of those stranded turtles, which appears to be dead. In fact, it's simply "cold-stunned," and it's brought back to life with Prescott's help. In the process, Mimi blossoms.
Still, says Hunter, "it's not a book about autism. It's about a particular individual with gifts and challenges, as you would recognize any friend or relative and their quirks or strengths. Children growing up in elementary school are used to seeing special needs kids in their classes, but the kids aren't all about their issue. I mean, they are allowed to star in their own adventure every once in a while!
"So, basically, what I did is what any writer should be doing, which is just observing someone and expressing what you know well to be their qualities, but not saying, 'She's autistic. Here's an educational book about autism.' Because Mimi, when she was growing up, as many special education kids or any of us, doesn't particularly like reading about her issues. I mean, who does? It's a story about hope that we can be looking for ways to support people who are different."
Sara Hoagland Hunter joins WBUR's Sacha Pfeiffer to talk about her book.
Hunter will be offering copies of her book for sale at an event by Autism Speaks at the Cambridge Hyatt on July 31 and a portion of the proceeds will go to the nonprofit organization. Additional upcoming appearances by Hunter are listed here.
Guest
Sara Hoagland Hunter, Boston/Cape Cod children's book writer, author of "Every Turtle Counts"
More
This book trailer for "Every Turtle Counts" is narrated by Hunter's niece
Q&A with Hunter conducted by the nonprofit group Autism Speaks
This segment aired on July 25, 2014.