Babson Beats Harvard In New College Ranking System
25:32
Play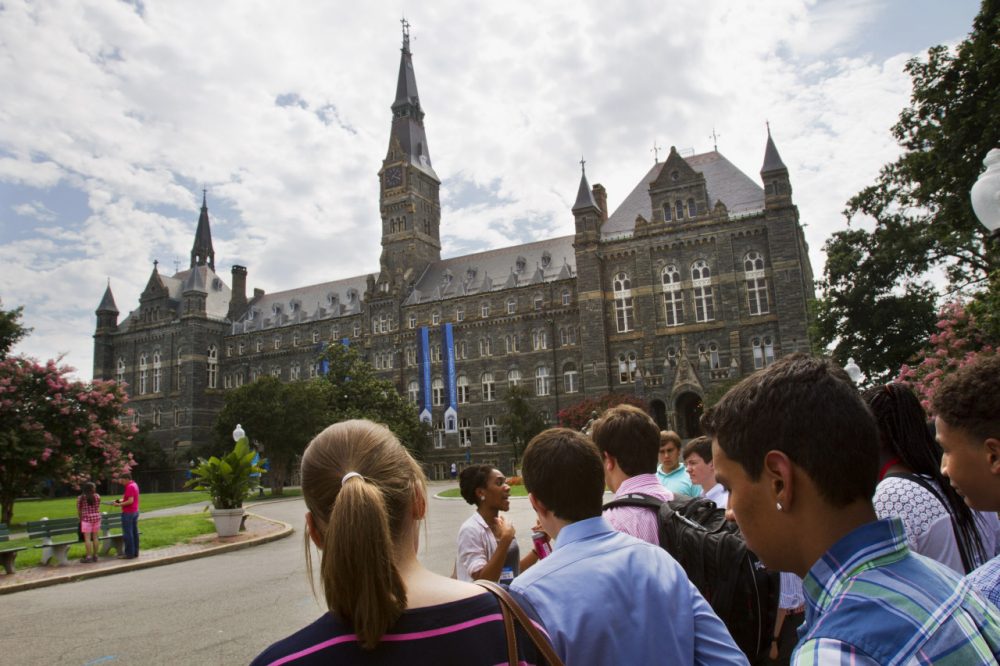 This article is more than 6 years old.
When choosing a college or university, students and their families are looking for a lot of things — a place that enlightens the mind and nourishes the soul.
But let's face it, in this day and age, people are looking for an institution that helps propel graduates into well-paying jobs. Families everywhere are asking: is the cost of this university actually worth it? In other words: what will be the return on our investment?"
ROI is a metric most often used in business or finance but rarely, if ever, in the world of college rankings. For years, U.S. News and World Report's ultra-popular and powerful annual college rankings have used grades, SAT scores and similar inputs as their primary measure. Now, Money Magazine has ventured into the fray. This week, they've put out a new list that ranks colleges according to outcomes — that return on your tuition dollar investment.
And who tops the list? Well, it's not perennial U.S. News favorites Harvard or Princeton. It's another Massachusetts school: Babson College which, according to Money Magazine, is the best college for your money in America.
Guests
Mark Schneider, vice president of the American Institute Of Research and creator of Money magazine's rankings.
Kevin Carey, director of the Education Policy Program at the New America Foundation. He tweets @kevincarey1.
Highlights
On what Money magazine looked at for their college rankings:
Mark Schneider: "Mostly, existing rankings deal with things like reputation or input measures... What kinds of students are going in, what's the SAT scores, what's their GPA, what's their class standing... What do people think about the school? In contrast, the Money magazine rating is much more about... objective data. Measures of graduation rates, measures of salary, measures of the true cost of attaining the degree. So it's much more based on objective measures as compared to reputational measures... And given Money magazine's focus, not surprisingly, it's all about the return on the investment. How much do students make after they graduate and how much did it cost to get that degree?"
On how Babson ended up ahead of Harvard in Money's rankings:
MS: "First of all, [Babson] accepts a lot more students. A much higher percentage of... students than either MIT or Harvard. So, for example, Babson admits about 30 percent of the students that applied, compared with 9 percent for MIT and 6 percent for Harvard. They're all roughly about the same net price to get the degree... On early career earnings, Babson's graduates make about $60,000 about two years after graduation. Harvard's... graduates [make] about $55,000. If you think about it this way, Harvard and Babson cost about the same amount of money to get the degree. Harvard students are, by most measures... going to be higher ranked than Babson's but, at the end of the day, Babson students, on average, are making more money than Harvard's. So, you put in the same amount of money and you end up making about $4,000 or $5,000 a year more and that puts Babson higher. So what are they doing? ...It's sort of the same kind of thing that drives MIT above Harvard, and that is that they're concentrating in areas in which there are high salaries. So, Babson's business, MIT is... science and engineering. And one of the things that we try to do in this ranking is to control for the... majors that students take so we try to take into account, the fact that Babson puts out... high-paying business majors and MIT puts out high-paying engineers. And even after we take that into account, and then we take into account that Babson is admitting many, many more students than Harvard or MIT, and we look at the salaries... we think that Babson is a higher value add."
On how relevant ROI college rankings are:
Kevin Carey: "You're going to be paying for college and very likely you're going to be borrowing money to go to college and part of the rankings also look at borrowing rates and student loan default rates. So, I think it does have that basic money-focused perspective. Now, earning a living isn't the only reason that people go to college. There are important elements of higher education that have to do with your civic life and lots of different parts of the way that you live your life, not just the kind of job you get. But given the fact that college is becoming more expensive, increasingly it's a debt-financed activity, it's certainly important to understand the dollars and cents part of it, whether you're going to be a business major or an engineering major."
On the federal government's effort to create its own set of rankings:
KC: "It's a work in progress. They're in the middle of trying to figure out what the best system would be. They've gotten a lot of input from various stakeholders in the process. The higher education lobby here in Washington, D.C., which is very influential, has raised many, many objections to the whole idea because, frankly, they would rather stick with the current — get $150 billion and not be accountable for it — system, which I suppose is understandable but not really excusable given the amount of money and the stakes involved. So, it's like anything — when you want to regulate an unregulated industry, you should expect that their lobbyists will object to it. They do have a lot of information, and actually, information that no one else has access to. The federal government knows how much money you make because, for people who are part of the social security system, which is the vast majority of workers, information is reported from your employer to the social security system about your earnings because that's part of the calculation of your social security benefits in the long term. And, in fact, the federal government is already linking that information to higher education programs through its ongoing efforts to regulate the for-profit higher education industry. So, it's a relatively straight-forward thing... methodologically, to calculate for a given college what the earnings are of their graduates. The more complicated question is, what do you do with that information? And, off the federal government, for example, apply the kind of statistical adjustments that Mark Schneider did and Money magazine did, looking at, for example, differences in the average earnings of people from different kinds of academic programs."
On the risk of outcomes-based rankings:
MS: "It is a very large risk for the federal government to get involved in this risk-adjusted metrics business, which has to be done if they're going to tie... aid to outcomes. If you don't like what I did in Money magazine, throw the magazine away. If the federal government's in the business, you can't just throw it away."
More
Money: The Best Colleges For Your Money
"Using unique measures of educational quality, affordability, and career outcomes, MONEY's new value rankings will help you and your child find the right school at the right price."
The New York Times: Building A Better College Ranking System. Wait, Babson Beats Harvard?
"The mark of a good new college rankings system — or, at least, an interesting one — is a deft combination of familiarity and surprise. Publish a list of nothing but unknown colleges and you lose credibility. Simply replicate the U.S. News hierarchy and you haven't done anything worthy of attention. By this measure, the Money rankings are successful."
This article was originally published on July 29, 2014.
This segment aired on July 29, 2014.