Marlborough Company's 'Exoskeleton' Lets Some Paraplegics Walk Again
08:26
Play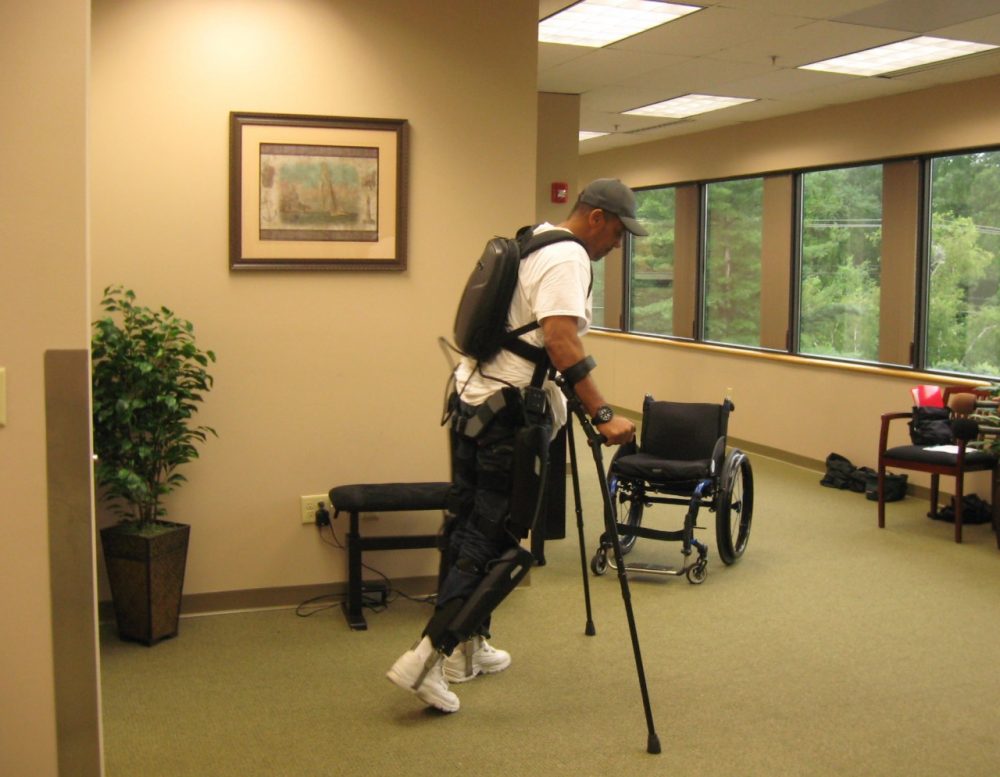 This article is more than 6 years old.
WBUR's Jamie Bologna produced this story.
One of the great dreams of the medical research world is to help paralyzed people who are unable to use their legs be able to walk again. Implanting electrode stimulation into injured spinal cords has shown some promise. Stem cell spinal cord regeneration has been elusive so far.
But one company, based in Marlborough, Mass., is taking a completely different approach. ReWalk Robotics has built a motorized exoskeleton that gives some people with debilitating spinal injuries the ability to walk — and in June it became the first such device to receive approval from the U.S. Food and Drug Administration.
At ReWalk's Marlborough office — the U.S. headquarters of its Israeli parent company, Argo Medical Technologies — Gene Laureano demonstrates how the device works. He's a 51-year-old Army veteran who's been in a wheelchair ever since he fell during a welding job in Manhattan in 2001.
"I felt the ladder go from under me," he recalls. "I remember hitting the ladder...Then I remember trying to get up, and the way I tried to get up — it didn't seem right. And passing out again. Next time I woke up, I was in the hospital. They were pumping my stomach."
For nearly a decade after that accident, Laureano spent his days in a wheelchair. Then he became part of a clinical study for the ReWalk exoskeleton, which weighs almost 50 pounds and consists of leg braces, motors, hefty Velcro straps, a wristband remote control and a backpack containing a rechargeable battery.
With the push of a button, the device is able to thrust Laureano from seating position onto his feet. Aided by crutch-like arm braces for balance, he then stands upright.
The battery backpack also contains the brains of the device: a computer that's able to sense when Laureano leans slightly forward and, once that's detected, automatically move his legs.
And with that, Laureano slowly makes his way across the room.
"I would describe it, I guess, as watching my kids learning how to walk," he says. "It's the same thing. You're relearning your balance and all that. And also the stretching is a factor, because when you're sitting for so long your hips, your tendons get tight. So when I first got up, I felt like as if I was tied to two horses and they're stretching me. You feel that stretch."
Laureano says when he wears the suit in public, he gets called all sorts of nicknames by amazed onlookers, from "RoboCop" to "Iron Man." But he doesn't mind the good-natured ribbing, he says, especially because in addition to enabling him to walk, the device gives him something else that might not mean much to you or me: it allows him to meet people on their level, literally.
"Once I'm in this, I feel like you," he explains. "I stand up. I talk to people eye to eye."
Laureano doesn't own a ReWalk, but now that the device has FDA approval he hopes the Veterans Administration will buy him one.
One of the limitations of the ReWalk device is that it only works for paraplegics with some types of spinal cord injuries, and it doesn't work at all for quadriplegics. It also requires a certain level of physical fitness — one that can be hard to meet for someone who's been in a wheelchair for many years. The biggest hurdle may be that the ReWalk exoskeleton costs about $70,000 and is rarely covered by insurance.
"It's expensive in one sense, but I think this is actually a cost saver to the medical society and medical system," says ReWalk Robotics CEO Larry Jasinski.
"We reduce the amount of costs for medications," he explains. "We reduce the cost of many complications that have to be treated...I'll give you an example: for a pressure ulcer to be treated in an American hospital, the average cost is $79,000. This device, which lasts for five years, is $69,500. Between medications and avoided medical complications that require hospitalization, this probably reduces the money that insurance companies or individuals have to spend."
Jasinski says reports from ReWalk users have been heartwarming.
"The first user in the United States, when she put her suit on in her home for the first time, stood up and looked out her kitchen window for the first time in years, she had tears running down her face," he recounts. "The funny part was, in that same kitchen, after she looked out the window, she's walking and looking in the cabinets, and she has a partner that lives with her, she found a secret stash of candy hidden up in the cabinet, that she couldn't see for the last number of years."
The next step for ReWalk is to try to get its device into the hands of more users. That means pushing for more insurance coverage; so far only a handful of insurance companies are on board.
Jasinski also says ReWalk hopes to develop a device that would work for people with quadriplegia.
"I have a 28-year-old daughter and I know some day she'll get married. I would like to have one to walk her down the aisle as opposed to rolling behind her."

Gene Laureano
An estimated 273,000 people in the U.S. have some kind of spinal cord injury and about two million people in the country rely on wheelchairs. Considering those numbers, Jasinski says, "one of the future dreams of this technology for all of us that are beginning in the space — the idea of using a wearable robot to help with an injury, to help with an illness, to help with other things that have limited you in life — is that these are going to almost become common."
Both Jasinski and Laureano compare the potential of ReWalk to cell phones, which have become smaller and more powerful as they've evolved. They hope the exoskeleton will evolve in the same way.
"I think we're going to make it more portable," Jasinski says. "Right now it's wonderful for them to use it around the community and at home...But to get on an airplane, to take it around the world or wherever they want to go in their travels, we'd like to make it a little more compact, and we've had them ask for other things that we probably can't do. Sometimes they want to speed it up. We've had one ask if they could dance in it! But that's a little harder in the software side."
Currently, the ReWalk device can move at about three miles an hour, a bit slower than your average sidewalk stroll.
If the VA comes through and Gene Laureano gets a ReWalk exoskeleton of his own, he says he has lots of plans.
"Believe me: the day that I get mine I have so many errands to do," he says. "If I don't have errands that day, errands will pop up!"
But the very first thing he'd do, he says, would be go to church. And there's this dream also: "I have a 28-year-old daughter and I know some day she'll get married. I would like to have one to walk her down the aisle as opposed to rolling behind her. That would be cool, too."
More
CBC News: ReWalk Robotics Exoskeleton Helps Paraplegics To Walk
"The unit sells for about $69,500, a cost ReWalk Robotics hopes both public and private sector insurers will eventually agree to shoulder."
Wired Magazine: This Computerized Exoskeleton Could Help Millions Of People Walk Again
"The ReWalk isn't the first device of its kind. Other devices like the Ekso and the Indego are currently being used in rehab and research centers around the world, and recently a paraplegic man used a mind-controlled exoskeleton developed at Duke University to make the first kick at the World Cup. But the ReWalk is the first device of its kind that paraplegic people in the U.S. can actually buy — albeit for the hefty price of $69,500 — using it to walk wherever and whenever they want."
This article was originally published on August 20, 2014.
This segment aired on August 20, 2014.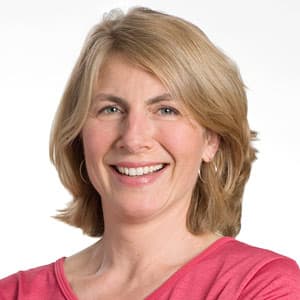 Sacha Pfeiffer Host, All Things Considered
Sacha Pfeiffer was formerly the host of WBUR's All Things Considered.