WWI Exhibit Focuses On Newton Woman Who Volunteered In War Effort
11:19
Play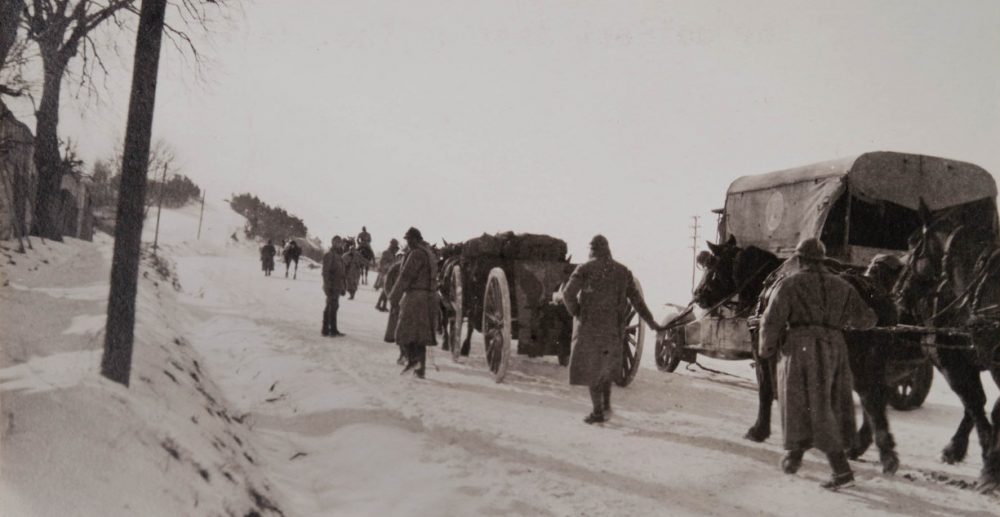 This article is more than 7 years old.
To observe this year's centennial of World War I, the Massachusetts Historical Society has organized an exhibition on women from the state who volunteered in the war effort.
One of them is Newton native Margaret Hall, a Red Cross volunteer who traveled to France in 1918 to help U.S. and European forces. A women's suffragist, Hall was unmarried, 42 years old, highly educated and running her late father's woolen mill when she left her affluent life to go to Europe. She was motivated partly by a call to service and partly by a desire for adventure, and she documented her time overseas in a voluminous collection of letters, diary entries and photographs.
Hall's writings and pictures make up the core of the Mass Historical Society's exhibit and have also been packaged into a book, and MHS librarian Peter Drummey gave WBUR's Sacha Pfeiffer a tour of "Letters and Photographs From the Battle Country."
Guest
Peter Drummey, librarian at the Massachusetts Historical Society, which tweets @MHS1791.
Highlights
On the types of volunteer roles women played overseas during World War One:
Peter Drummey: Many were working as nurses, often not with U.S. forces but with the French army or the British army, but also working in aid and comfort for soldiers. Margaret Hall worked at a canteen, a sort of rest stop at a railroad junction behind the front, so she served food and drink to soldiers passing through, who would be soldiers from all the Allied nations. She said at one point that she saved donuts so when American soldiers came through there would be donuts for them...This was a brutal war that by the time she arrived had been going on for more than four years. These are soldiers who were living in the subterranean world along the battle front, the trenches, and where she's serving is only maybe 15-20 miles behind that battle front. Where she's living is bombed from the air, and the artillery bombardment is visible on the horizon. She's essentially working in an enormous cafeteria that's serving thousands of soldiers, but also thousands of injured and wounded soldiers are passing through. So it's relief — small things that can be given to those soldiers, as well.
On the writings and photos Margaret Hall compiled during and after the war:
PD: People near the battle front were not supposed to keep diaries — lest they be captured and their diaries be found and reveal useful military information — or take pictures. She, perhaps being a mature women, did exactly what she wanted and both took photographs and kept a diary — and got away with it — and illustrated her account with her own photographs that she had taken...This is essentially a handmade book, page after page of long, detailed records drawn from her experience in France of her observations, first as her experience as a volunteer, and then after the Armistice in the fall 1919 she spent months traveling the entire length of the entire battle front, essentially from Switzerland to the English Channel, carefully describing the places soldiers had fought.
On the battle scenes that made the strongest impression on Margaret Hall:
PD: She was especially touched, as she traveled through it, that she'd come across lonely graves decorated with the rosetta of the French army, or the Teutonic cross for German soldiers, with their helmets...When she got to Verdun, and she got there months after the end of the war, she's struck by the awful splendor of it. It's sort of like a gigantic, ruined landscape. She calls it 'the greatest nightmare of my life.' But at the same time she's struck by how, when she's walking across this desolate landscape pockmarked with shell holes — she says in some places with a skeleton in every shell hole — the fields are covered with violets. So you have this contrast...Where she served in the Champagne country, underneath the top soil the land is chalk, so when the land was blow away it really does look like the moon. I don't think there's anything essentially like it in human history: this enormous swath of land had just been made essentially unrecognizable to the human eye.
Further Reading
View Margaret Hall's photography and other memorabilia
"Society: How Women Stepped Up In World War I," Wall Street Journal
More Information on the Exhibit: Letters and Photographs from the Battle Country: Massachusetts Women in the First World War
This segment aired on August 22, 2014.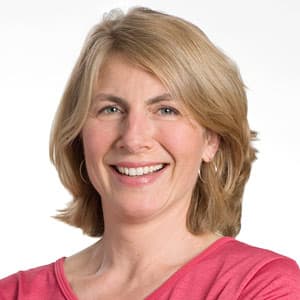 Sacha Pfeiffer Host, All Things Considered
Sacha Pfeiffer was formerly the host of WBUR's All Things Considered.