Writer Mark Kurlansky Cooks Around The World With His Daughter For 'International Night'
16:59
Play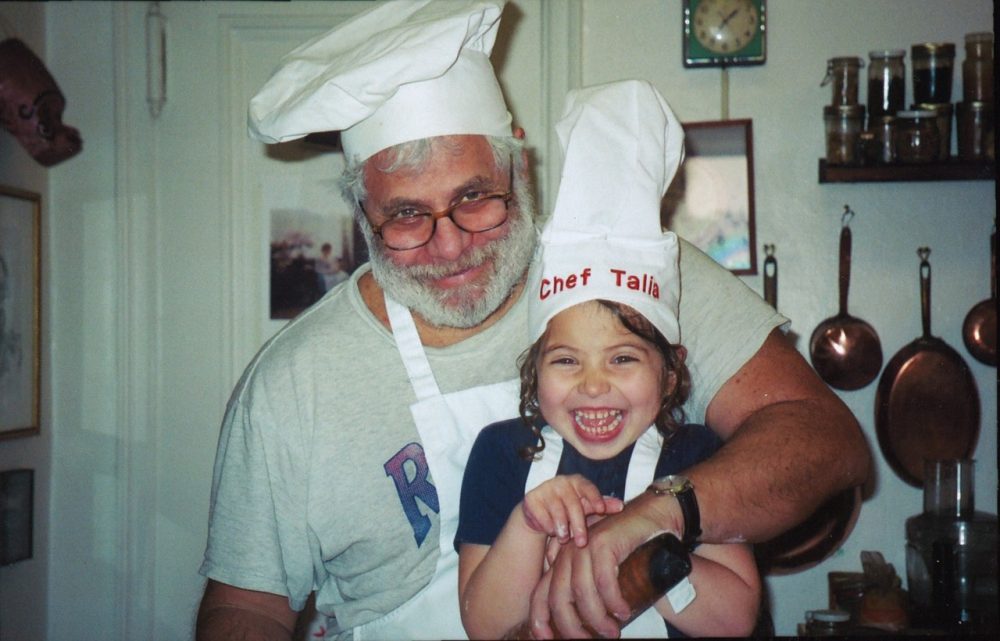 This article is more than 6 years old.
In the Kurlansky home, there's a Friday night tradition. Father Mark Kurlansky spins a globe and 9th-grade daughter Talia Kurlansky closes her eyes and jabs her finger at a random part of the world. Then, the cooking commences.
Of course, Mark Kurlansky is also the highly acclaimed, award-winning food writer — his best selling books include, "Cod," "Salt," "The Basque History of the World" and "Big Oyster."
So, what started as just a family game turned into a cookbook when Mark and Talia realized they had 52 meals from around the world to share with other families who want to expand their culinary horizons. The meals are inspired by the cuisine of the Philippines, Kazakhstan, China, Mexico, Morocco, Algeria, Quebec, Newfoundland, Jamaica and Ethiopia, just to name a few.
The new book is "International Night: A Father and Daughter Cook Their Way around the World."
Mark and Talia Kurlansky will be speaking at Brookline Booksmith Tuesday at 7 p.m.
Guests
Mark Kurlansky, co-author of "International Night: A Father and Daughter Cook Their Way around the World," his first cookbook. He's also the New York Times bestselling author of "Cod," "Salt," "The Basque History of the World" and "Big Oyster," among other books. He tweets @codlansky.
Talia Kurlansky, 9th-grader who often cooks with her father. This is her first book.
Highlights
On the origins of "International Night":
Mark Kurlansky: "It was just something that we thought would be fun to do. And as time went on, the game got more and more elaborate. Talia started wearing costumes, we had music, we had hints to tell my wife, Marian. We wouldn't tell her what we were doing that night, but we would give her hints, which are in the book. Geographic, mainly. Some of them she picked up on quite quickly, we're expecting a call at any minute when she figures out what Tanzania night is. And there's a lot of storytelling in the book because I've been to, I think, 41 of these 52 places. And I'm always telling Talia stories...And Talia's always said I should put these stories in a book."
On the assumption that most kids are picky eaters:
Talia Kurlansky: "I don't like the idea of saying 'most kids.' I think every kid, just like any other person, they're just little people. We all have different taste buds, we all like different kinds of foods. Some kids like more spicy, some kids like soup, some like vegetables...Whenever I'm in a restaurant, I hate it when someone hands me a children's menu because they always have the same couple foods — pizza, mac and cheese, hamburger...chicken fingers. There's no exotic flavors."
MK: "They don't allow for the individual quirks of children, just like grown-ups. When Talia was 4 years old she discovered that she loved fresh grilled sardines and has been eating them ever since. We have something like eight or nine sardine recipes in the book because she loves sardines. I would not have expected her to love sardines when she was 4 years old but she did, and became very skilled at filleting them at the table. And you can't predict what kids will like. If you do, what you're doing is you're cutting them off. You're limiting them."
On their favorite recipes in "International Night":
TK: "One of my favorites is a salad from Morocco, actually, called the zaalouk salad. And it's just made with eggplant, tomato, garlic and a bunch of spices and it's all mashed and mushed together and it's delicious — I love it. It's really simple and easy to make, but it's really good."
MK: "And one of my all-time favorite dishes, we did [it] in French Guiana night, is called blaff d'oursins. It's sea urchins that are poached in a broth. And it's just such a wonderful dish. A lot of the dishes in here that are old recipes of mine that I've been doing for years, [I've] refused to give to anybody. When people come over for dinner and they say, 'Oh, give me this recipe.' I'd sort of hem and haw and change the subject and never give out these recipes. This book was a different kind of experience for me because I've never really written about myself. So I decided it was time to give out some of these recipes and tell all these stories about myself."
On the educational benefits of "International Night":
TK: "I got a better understanding of geography and where things are and the different kinds of spices that are used in different countries. I discovered almost every country has its own kind of pepper and...I discovered that in Japan there's more food than sushi."
MK: "Although, sushi was fun to make."
On the future of "International Night":
TK: "At this moment, we're just going back to some of our favorites. But soon, hopefully, we'll get back at it."
MK: "We have this book of all these dishes that we love. And so we're spending some time going back to some of these, but we'll get back to spinning the globe."
More
The Boston Globe: Mark And Talia Kurlansky Cook Their Way Around The Globe
"For Mark Kurlansky and his family, dinner is more than just eating a meal together and catching up on the day's events. The author and his daughter Talia, 14, began cooking together when she was young and eventually developed a Friday night ritual of 'international night,' in which they explored a new cuisine each week."
This article was originally published on August 25, 2014.
This segment aired on August 25, 2014.